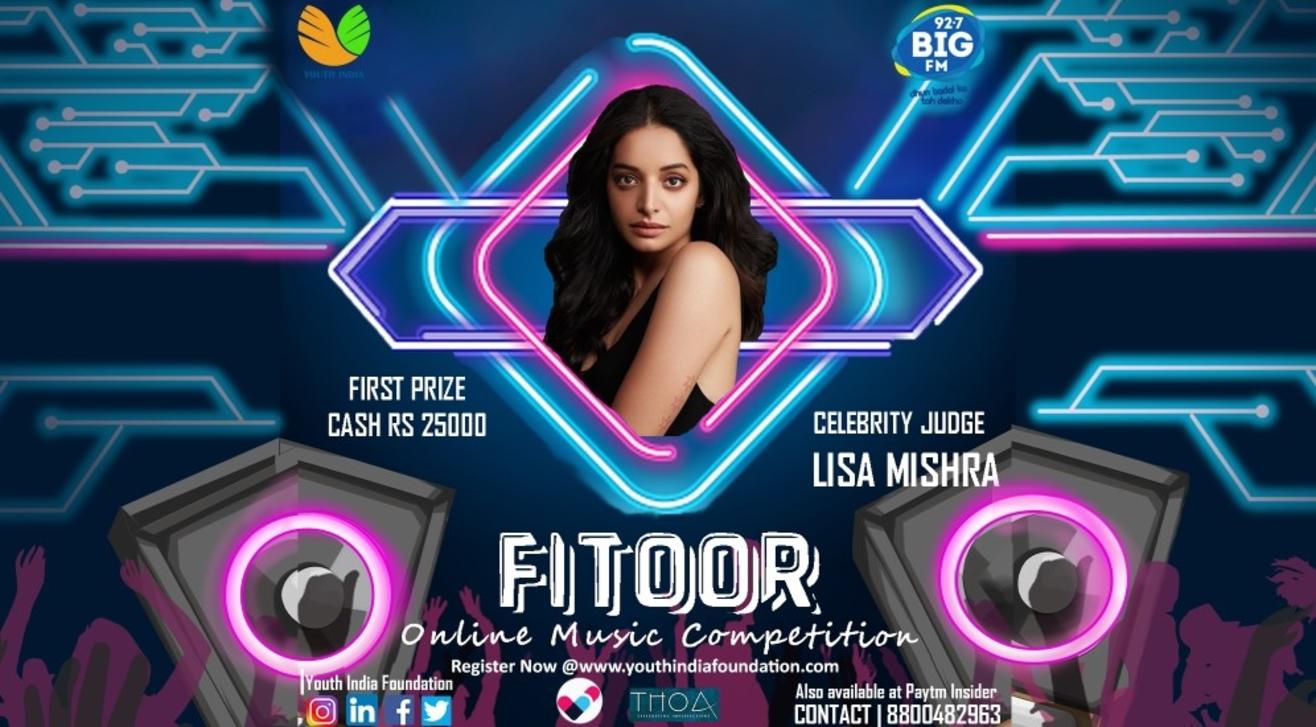 Fitoor-Online Music Competition
Invite your friends
and enjoy a shared experience
Fitoor-Online Music Competition
Invite your friends
and enjoy a shared experience
Invite your friends
and enjoy a shared experience
Gear yourselves up, for we bring to you India's fresh new *Music Carnival – "Fitoor"!*
Youth India Foundation's unparalleled *Solo Singing Competition* for all the up-and-coming singers out there!


The winner gets an amazing *cash prize of Rs. 25000.*
2nd Prize is a grand amount of Rs 10000
3rd Prize is a grand amount of Rs 5000
The winner gets an exclusive interview on BIG FM.
Hold your horses, because the surprises haven't finished yet….
*The judge for the finale is _Lisa Mishra_ , who stole our hearts with the reprise version of _Tareefan_ .*
So, what are you waiting for? Register for the contest NOW.
For more information checkout www.youthindiafoundation.com
Or @youthindiafoundation on instagram
*The Rules for Round 1 are:*
• The age limit for the competition is 16-26 years.
•The genres allowed are Hindi Bollywood, Hindi Semi-Classical and Hindi Classical.
•The participants have to mail their videos or video links on submission.fitoor@gmail.com within 3 days of their registration.
•Participants must mention their name, city and contact number in the mail or the entry may not be considered.
•The video should be of at least 2 minutes but should not exceed 3 minutes.
•No auto-tuning or editing of video is allowed.
•Use of karaoke or one accompanying instrument is allowed but the voice should be clear.
•The registration fee for the competition is ₹150 (₹170 through Paytm)
But here's a sweet deal for you :
(For registrations after 7pm, 15th June)
1) If your friend has registered before 7pm on 15th June, you can get a cashback of ₹50/-
OR
2) If you can get 2 or more friends to participate in the contest, you can get a cashback of ₹50 and your registration fee will be reduced to ₹100/-
OR
3) If you are a friend of a Youth India Foundation member, you can still get the cashback of ₹50/-
Don't forget to add the name of your reference in the form.
Sounds good? Register asap!
All the *proceeds collected will be donated to The House of Artisans, an organization working towards the upliftment of rural craftsmen.* So don't shy away and seize the opportunity today, because this may be your shot to make it in the music industry!!
For queries contact:
Shraddha Gupta: +91 8800482963
Fitoor-Online Music Competition
Invite your friends
and enjoy a shared experience