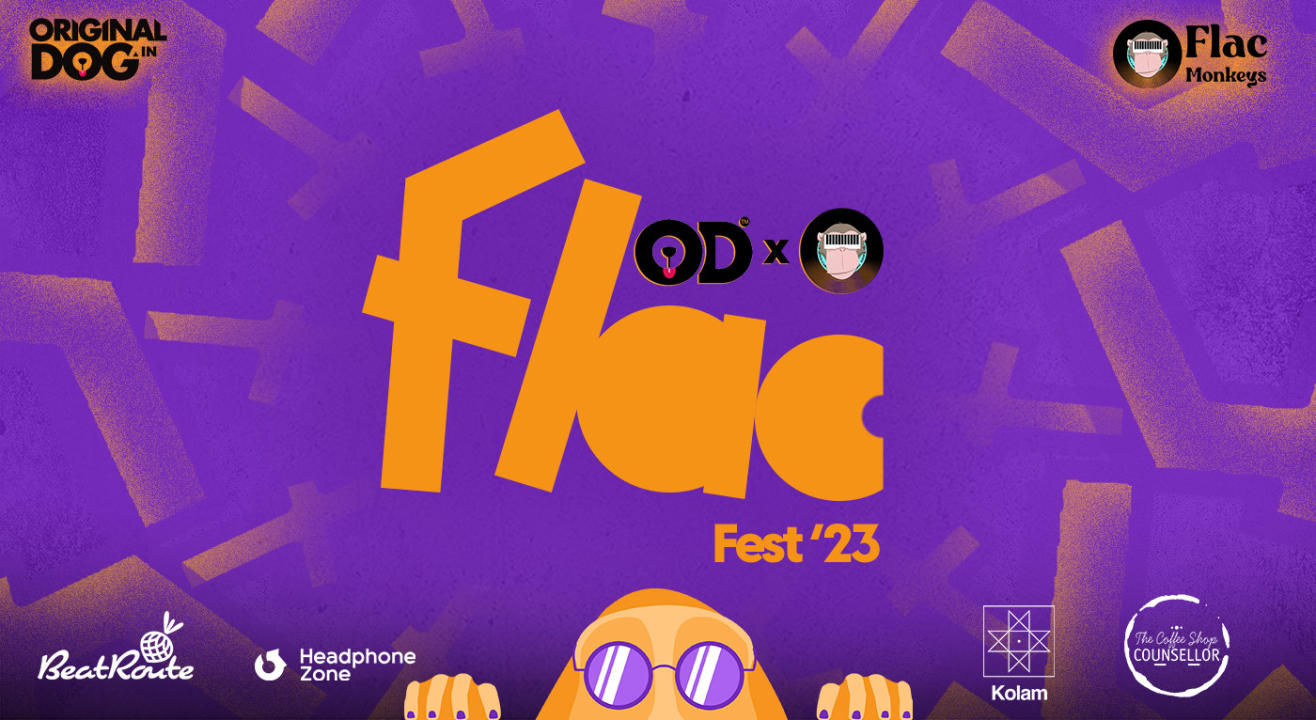 YMCA Ground, Nandanam, Chennai
Event Guide
For Age(s)
Family Friendly
Live Performance
Enjoy a unique experience
Invite your friends
and enjoy a shared experience
YMCA Ground, Nandanam, Chennai
Event Guide
For Age(s)
Family Friendly
Live Performance
Enjoy a unique experience
Invite your friends
and enjoy a shared experience
Event Guide
For Age(s)
Family Friendly
Live Performance
Enjoy a unique experience
Covid 19 Safety Measures
This event adheres to the following

Health & safety measures
Invite your friends
and enjoy a shared experience
Covid 19 Safety Measures
This event adheres to the following

Health & safety measures
FLAC Fest – where India goes to meet its next favourite artist
The Chennai music scene has long been dominated by the film industry – but this leaves out a vast and untapped universe of indie musicians and fans looking for a platform of their own. With FLAC Fest, this thriving subculture comes of age.
The line up includes:
Frizzell D'souza
M.S.Krsna
Thara Local Pasanga
Goutham Vasu Venkatesan
Underdogz
Mangas and the Mango men
Kelithee
The Worst Case Scenario.
We are about to showcase an array of incredible upcoming artists to an enthralled audience of music lovers. FLAC Fest is the brainchild of Original Dog and FLAC Monkeys, indie pioneers who have unearthed some of the finest talents in India today. Together, they have created a unique event – built from the ground up as a showcase for talented young artists, with an unstinting focus on the audience experience.
This is a concert like no other, a chance to meet the stars of tomorrow before they sign onto their first label. Join us as we build a new landmark on the indie scene
FLAC Fest Fan Guide
Welcome to the FLAC Fest community! Our festival is designed with the fan in mind, and we've collaborated with global indie promoters to make this India's best fan experience. As the countdown to FLAC Fest begins, here are some tips to make sure you'll have an unforgettable time.
Dress light – because it's Chennai
Chennai will be hot and humid, though the evenings tend to get cooler. Wear something light – think t-shirts, shorts, baggy trousers, palazzos or a breezy frock – and carry a cap or a hat. If you need a last-minute change of wardrobe, we've got your back. Just head to the Merchandise Stall and get yourself a cool t-shirt from your favourite artists or the official FLAC Fest range!
Expect to stand – so wear comfy shoes
As with all great music festivals, there are no seats, because we want people to move and dance and sway to the music. That means you'll be on your feet for a long time. Besides, our fantastic amphitheatre venue features multiple viewing levels, so you'll walk around a lot to find your favorite spot. Wear comfortable shoes and sandals, and carry a shoe sack in case you decide to kick them off and go barefoot.
Travel light – and expect the unexpected
Carry a small bag for essentials and/or a pouch for keys, sunglasses etc. Rain cannot be ruled out, so we recommend a small foldable umbrella (or just let your hair down!)
Carry cash – it's still king
We know India's going cashless, and we will have UPI and card access too – but at festivals, cash is quickest. You don't want to be kept waiting when you're hungry because the page is still loading!
Bring your own bottle (for nature's sake)…
Water will not be sold in bottles at the venue, but there will be plenty of refilling stations, so please bring a reusable water-bottle. You'll be doing the earth a huge favour by ditching single-use plastics!
… but not your own food (we have something better for you)
Unfortunately, the venue's rules do not allow any outside food – but don't worry, we'll have a wide range of fantastic food options which will be open for the duration of the festival.
Bring some wet-wipes – they're a life-saver
There will be plenty of public restrooms at the venue, but cleansing wipes are always recommended. They're great to help you clean up in a pinch, or wipe your hands after a meal. A small soap or face-wash will also help keep you fresh throughout the gig.
Stay sustainable – let's be a festival with a difference
Let's have fun, but responsibly. Please avoid using single-use plastics, and discard litter in the bins which will be dotted around the venue. If you are in the middle of the crowd and need to get rid of something, just hold on to it for a while and dispose of it responsibly in the downtime between acts.
Take care of yourself – you're among friends
For many of you this might be the first time attending a music festival. Now, firstly, we're delighted that you're starting with the best ;) But more importantly, we know that you might feel a little anxious in a huge crowd. Worry not – we are India's first music festival with an official Mental Health partner. Just walk over to the Partner Kiosk and talk to the wonderful people of The Coffeeshop Counsellor (check them out on Instagram @thecoffeeshopcounsellor)
And most importantly, enjoy yourself!
This is a festival by music fans, for music fans, with no stuffy restrictions on what you can and can't do. Feel free to take pictures, videos, behind-the-scene videos or even do a vlog of your entire journey! Please do tag the artist you're covering, as well as the official FLAC Fest Insta handle (@flacfest), and make sure your friends, families and followers feel the FOMO!
See you at FLAC Fest 2023!
YMCA Ground, Nandanam
26HR+324, Y.M.C.A College of Physical Education, Nandanam, Chennai, Tamil Nadu 600035, India
GET DIRECTIONS
YMCA Ground, Nandanam, Chennai
Event Guide
For Age(s)
Family Friendly
Live Performance
Enjoy a unique experience
Invite your friends
and enjoy a shared experience