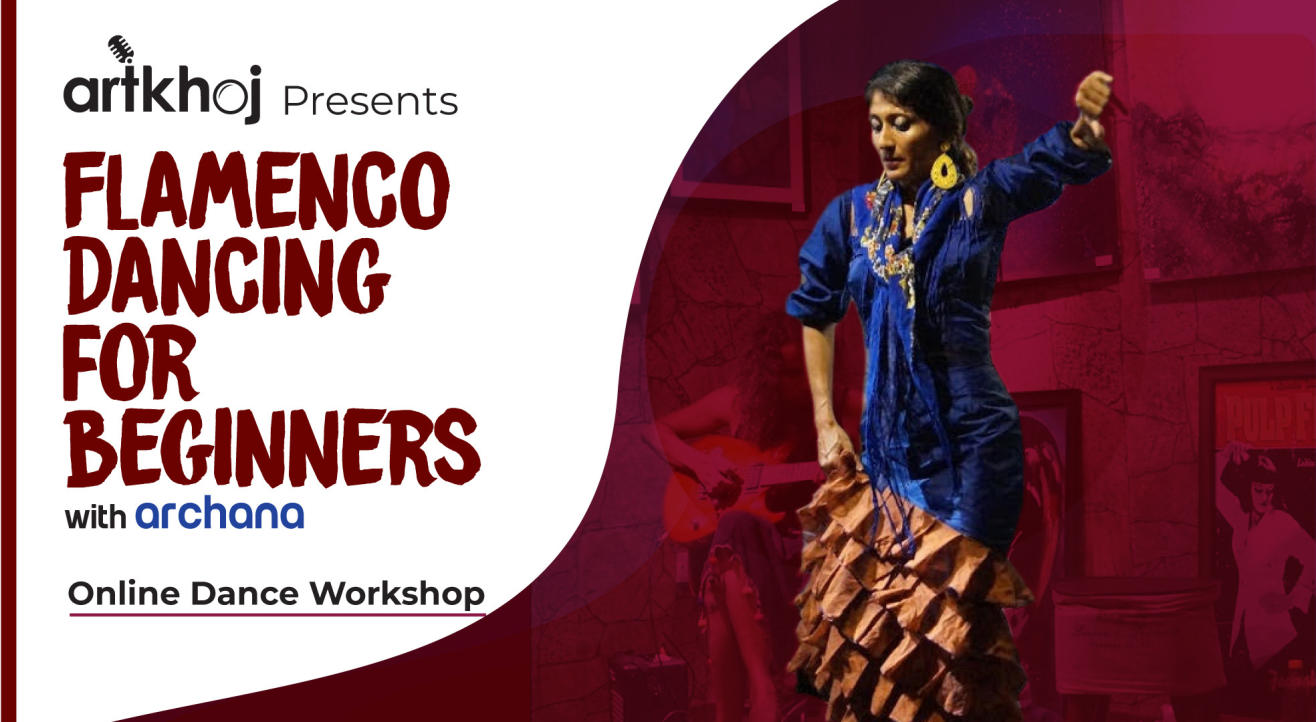 Flamenco Dancing for Beginners - An Online Workshop by Artkhoj
Invite your friends
and enjoy a shared experience
Invite your friends
and enjoy a shared experience
About the Event
Artkhoj brings you an Online Flamenco Dancing workshop for total beginner's which can be attended from your home.
No prior experience is required.
What is Flamenco Dancing:
Flamenco dance (baile) is a highly-expressive, Spanish dance form. The flamenco is a solo dance characterized by hand clapping, percussive footwork, and intricate hand, arm, and body movements. The dance is usually accompanied by a singer and guitar player.
With roots in Indian, Arabic, and Spanish culture, flamenco dance is known for its sweeping arm movements and rhythmic feet stomping.
About the workshop:
The workshop is open to ANYONE, with or without any dance/ movement experience!
If you'd like to gather some insight about "Flamenco", join in!
We will begin with A little introduction to the history of the form and its connection with India.
We will learn & focus on
upper body movements - of arms and palms, torso and hips, with simple footwork patterns
Using primarily Alegrias compas, and a bit of introduction to Tangos Compás
What to wear:
Comfortable clothing.
No shoes or comfortable dance sneakers are ok. (Not required to wear Flamenco Shoes).
An open area where you can practice easily with the instructor.
Stand on any type of flooring
About the artist:
Archana Kumar is an independent performing artist & teacher, whose expertise span from Baratanatyam to Butoh.
A Bangalore based artist, she's perhaps the only artist who has begun to spread Flamenco, the evocative & classical form of Spain to bring out its beauty and similarity with her classical dance expertise-Kathak, in which she has over 2 decades of experience.
Most recently, she was part of an Online Collaboration for Amnesty International video "we are all in the Same Dance".
About the workshop:
The workshop will be conducted online through Zoom.
Upon successful registration we will be sharing a link and instructions to join on the day of the workshop.
The workshop is applicable to individuals of all ages.
About Organizers:
Artkhoj is an aggregator of artists hosts vendors and art institutes across the country. Artkhoj provides opportunities to artists from all the genres thus helping them pursue their passion.
Artkhoj also helps hosts (corporate colleges apartments etc) find the right talent/artists for their requirements thus making the event experience smooth and fun.
Feel free to reach out to us if you also want to book an artist or conduct a workshop.