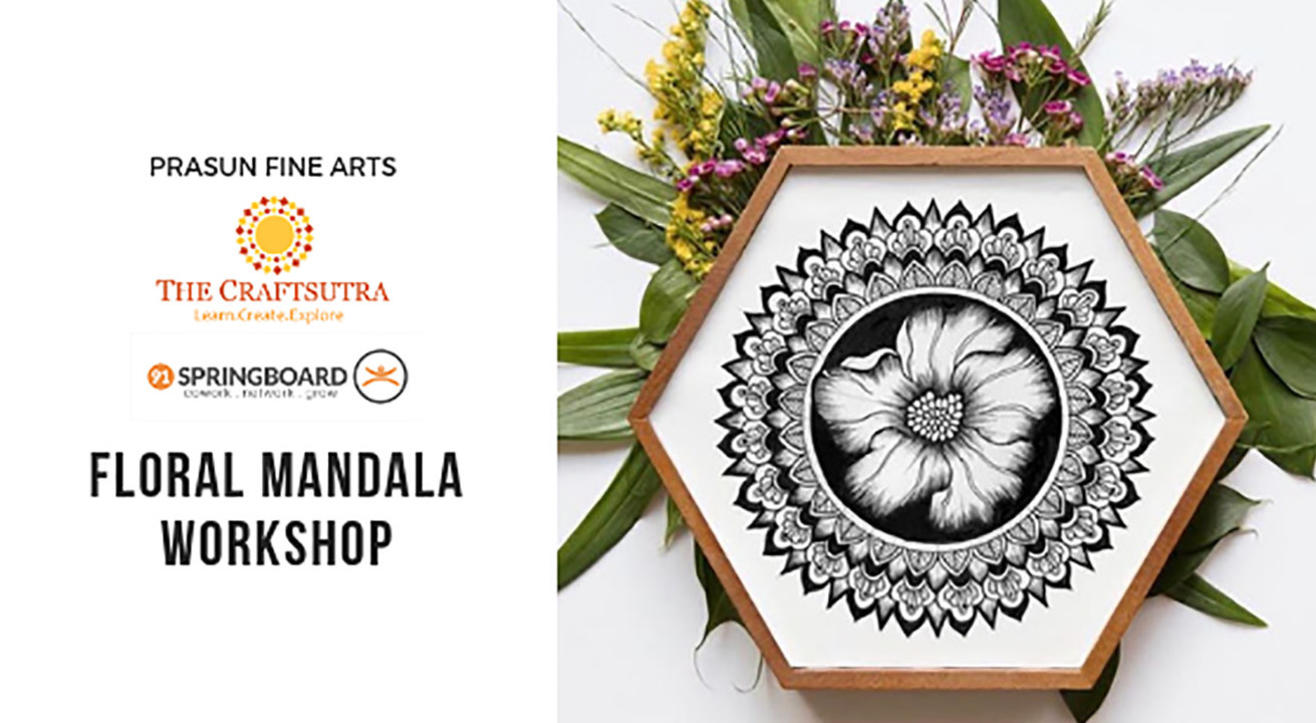 Art
Floral Mandala Art Workshop
91 Springboard, MG Road, Bangalore
About
Spend a Sunday creating beautiful Floral Mandala and experience three hours of color therapy, learning and self-integration with Mandala Artist Prasun Balasubramaniam, who will guide you through the process to understand and articulate your individual Mandala painting.

Mandala art can give us the access to our intuitive core. It not only helps you relax & focus but is great fun too. As with most art, its not about the final product - its about the journey. When you reach your destination, you will have a representation of something meaningful and personal.

You will be taken through a guided session and that will inspire and set you up to create your individual Mandala Art form in a fun environment.

You will be provided with all the required material, so just bring your artsy personality! Anyone can join. You don't need any prior painting or sketching experience.

Key takeaways:

Floral Illustration

Basics of Mandala drawing

New mandala patterning

Pen Shading techniques

Doodling techniques

Thinking creatively
Prasun Balasubramaniam, Founder of 'Prasun Fine Arts' is a full time Mandala artist. Her work can be viewed here on Instagram- Awarded the 5th Best Doodler Nationwide in the Red Bull Doodle Art Competition, Prasun says that Mandala art acts as an on-paper yoga and brings inner peace whoever practices it.
In her endeavour to spread awareness about handmade mandala art and mental health she has been conducting group coaching sessions in Coimbatore, Bangalore, Chennai, Hyderabad, Mumbai and Salem through which she helps people to experience the inner peace and calmness through the practice.
She has a Mandala Colouring book named Mindfulness Magic: One Mandala at a Time, which compiles all her Mandalas and will be available nationwide for all ages. Through this therapeutic art-form, she also intends to bring awareness about mental health and help people come out of depression and anxiety.
'The Craftsutra' provides a platform for people to engage in Arts, discover things about themselves and awareness for increasing art appreciation through a wide range of mediums. We believe that anyone can paint and look forward to offering you the opportunity to paint, create, learn and explore art in a way like never before.

- Share our love for art- bring it alive with us
- Create a memory that brings with it warmth and contentment

We also believe when a bunch of people creates art together, it creates a positive environment & bond of understanding. The act of creating something together is the best way to build harmony in a diverse group of friends, co-workers or even relatives!
Venue
91 Springboard, MG Road, Bangalore
Gopala Krishna Complex, 45/3, Residency Road, MG Road, Shanthala Nagar, Ashok Nagar, Bengaluru, Karnataka 560025