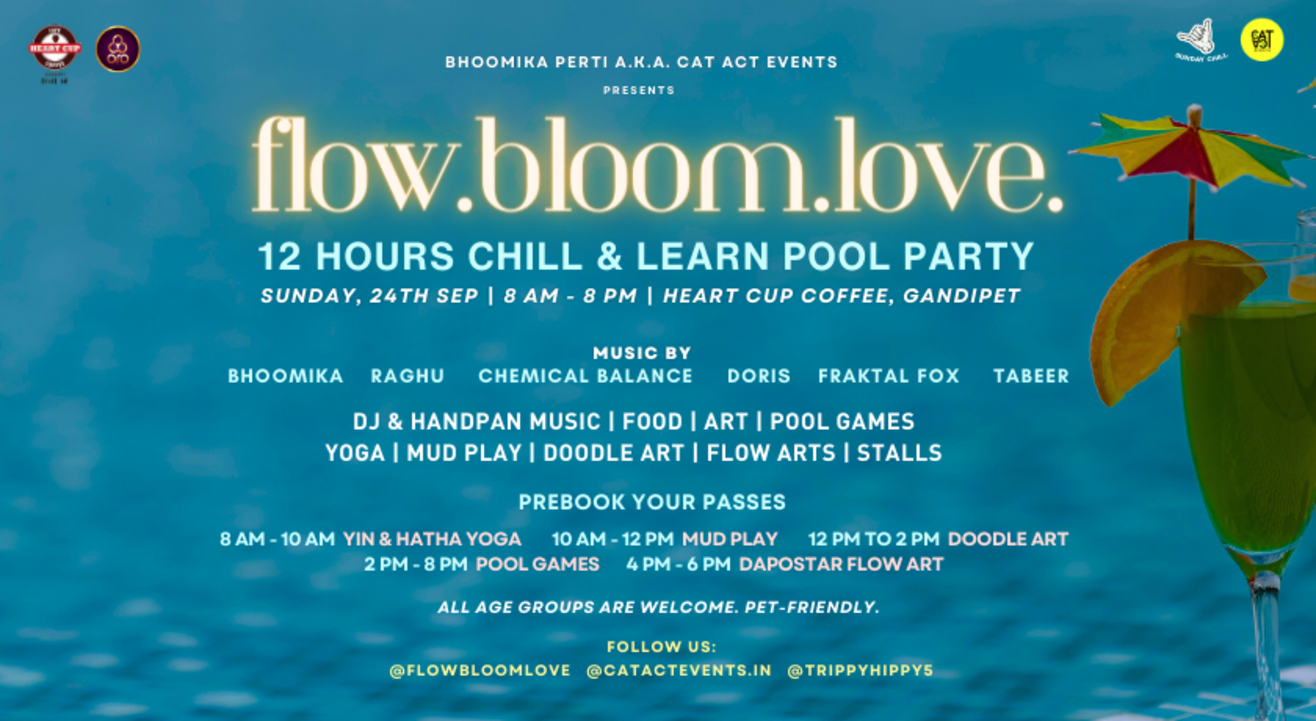 Flow. Bloom. Love. - 12 Hour Pool Party + Learning Sessions
Heart Cup Coffee, Gandipet, Hyderabad
Event Guide
Language
English, Hindi, Hinglish, Telugu
Getaways
Enjoy the outdoors
Invite your friends
and enjoy a shared experience
Flow. Bloom. Love. - 12 Hour Pool Party + Learning Sessions
Heart Cup Coffee, Gandipet, Hyderabad
Event Guide
Language
English, Hindi, Hinglish, Telugu
Getaways
Enjoy the outdoors
Invite your friends
and enjoy a shared experience
Event Guide
Language
English, Hindi, Hinglish, Telugu
Getaways
Enjoy the outdoors
Invite your friends
and enjoy a shared experience
The most awaited - 12-hour Chill Pool Party + Learning Sessions have arrived!!!
We spread the love for all humans & living beings, as we come together to celebrate our 12-hour Chill Pool Party + Learning Sessions this Sunday at Heart Cup Coffee.
🏊‍♂️🍻🍹🍸🍷🎊🎉💥😎🪅🪩🕺🥂💠🌱
Summer is almost over so take a dip and enjoy!!!!
A pool 🏊‍♂️
Good food 🍧
Groovy music 🎧
Like-minded people 🫂
Activities 🃏
And more...
Come take a day off with friends, family, or just by yourself, vibe with like-minded people, and bring the child in you alive, as you play with people of all age groups and make friends with them :)
It's a great time to offer and create a safe space for everyone around you to express yourself fully.
This one-of-a-kind gathering will allow you to remove inhibitions and flow with everything beautiful around you - the music, the people, and of course nature!!!
Join us for the best pool party of the season!!!!!
Food | Live Art | Music | Flow Arts | Stalls
Workshops:
Yoga | Mud Play | Doodle Art | Dapostar
⛱️ Sunday
🗓️ 24th September 2023
🕰️ 8 am - 8 pm
Venue: Heart Cup Coffee Gandipet


Let's celebrate joys.
Let's celebrate love.
Let's celebrate togetherness.
And most of all let's celebrate our existence and all that we do!!!!
Save the date, get ready to jump in the pool, and make your Sunday merry!!! 💃💃💃🪩🪩🪩🕺🕺🕺
#pool #sunday #sundowner #poolparty #food #music #djmusic #sundayplans #reels #reelsvideo #splash #bikini #swimwear #connection #cocreate #collaborate #igers #partytime #reelsindia #reelingitfeelingit #funday #sundayfunday #rainbow #prideparty #pridemonth #rainbowparty #flowarts #mudplay
Instructions
Get your tickets at the entrance.
All age groups are welcome. Non- transferable ticket.
We will have open canvas and flow props available, but please bring your own things you would like to chill with.
Please carry the following for a seamless experience for yourself:
Clothing and accessories:
Swimming Costume
Towel
Scarf/Sarong
Hat/Cap
Extra Pair of Clothes
Non-slip footwear
Sunglasses
Bag for wet clothes
Self-Care:
Sunscreen
Shampoo
Conditioner
Body Wash
Face wash
Moisturizer
Tanning Oil
Entertainment:
Flow Props
Musical Instruments
Art Books
Paints
Dry Colors
Pencils
Pen
Sketch Pens
Tarot Cards
Magazine
Books
Yoga mat/Duhree
Board Games
Pet Care:
Poop bag for pets
Gloves
A smile on your face
Heart Cup Coffee, Gandipet
245-246, Shankarpalli Rd, Khanapur, Hyderabad, Telangana 500075, India
GET DIRECTIONS
Flow. Bloom. Love. - 12 Hour Pool Party + Learning Sessions
Heart Cup Coffee, Gandipet, Hyderabad
Event Guide
Language
English, Hindi, Hinglish, Telugu
Getaways
Enjoy the outdoors
Invite your friends
and enjoy a shared experience