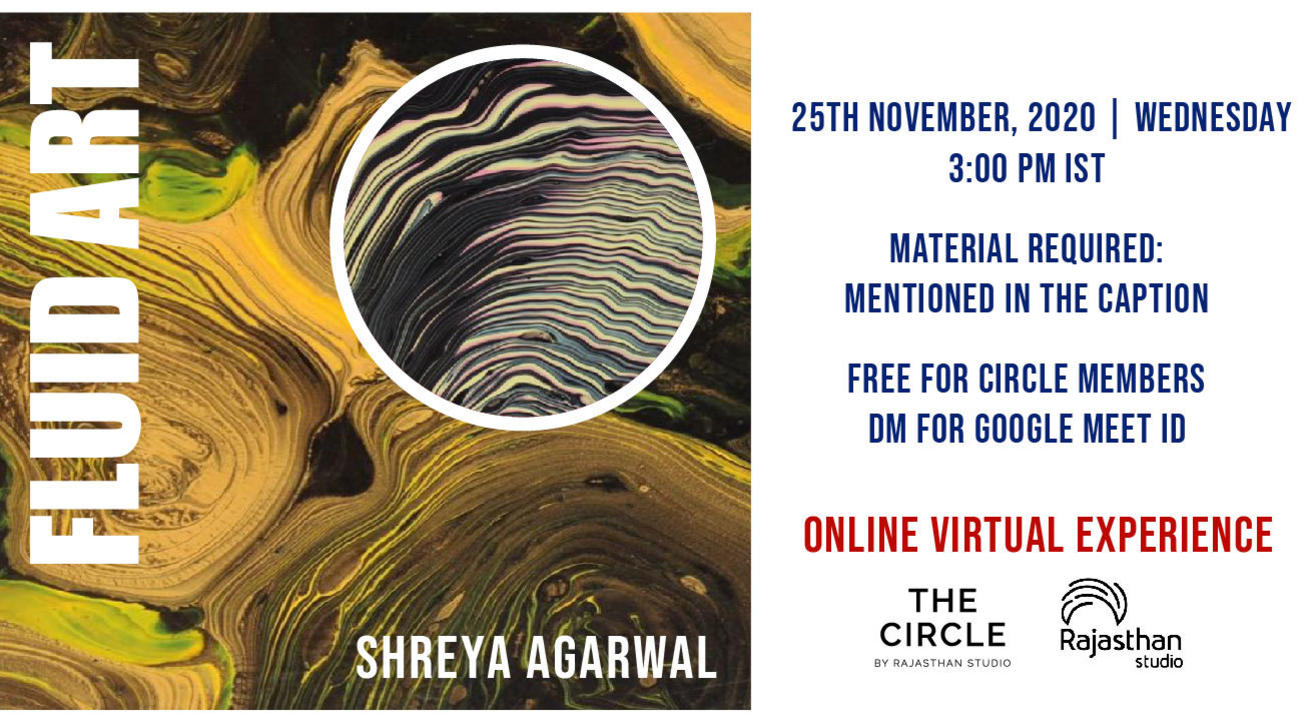 Fluid Art Workshop by Rajasthan Studio
Enjoy this event from your home
Invite your friends
and enjoy a shared experience
Invite your friends
and enjoy a shared experience
About the Event
Fluid Art Workshop by Shreya Agarwal
At times, Fluid Art and Abstract Art are used interchangeably. We don't blame you: Fluid Art is the flow of acrylic paint over the sheet. It is unplanned and it will leave you surprised each time. Abstract pouring is a fun, creative way to make abstract art. The basic technique is dirty pouring.
Shreya Agarwal (@misah_official) will be joining us for a fluid art workshop in which she will teach you the ropes of Fluid Art. Interested? Check out the following deets!
Date: 25th November, 2020
Time: 3 PM IST
Venue: Online Workshop over Google Meet App (DM for details)
Price: INR 299/-
The Experience is Free for Circle Members
To request for Circle Membership please email us at contact@rajasthanstudio.com
(Link in Instagram bio for Booking the Paid Slot)
Materials Required:
One Canvas (8"*8")
3 Acrylic Colours (50 ML)
Pouring Medium
Paper Cup
Gloves
Or Workshop Kit can be purchased from @misah_official
P.S. No entries will be accepted after 1 PM on the day of the workshop.
See you!
#rajasthanstudio, #onlineworkshop, #onlinelearning,#FluidArt #AbstractArt #FluidForm #DesignStudent #Acrylics #DirtyPouring #Icecreamsticks #AbstractPouring #Abstract #virtualexperience, #artistsoninstagram, #explore, #creativity, #design, #rajasthan, #thecircle, #thecircleexperience, #artist, #artists #artbaje #eksoart