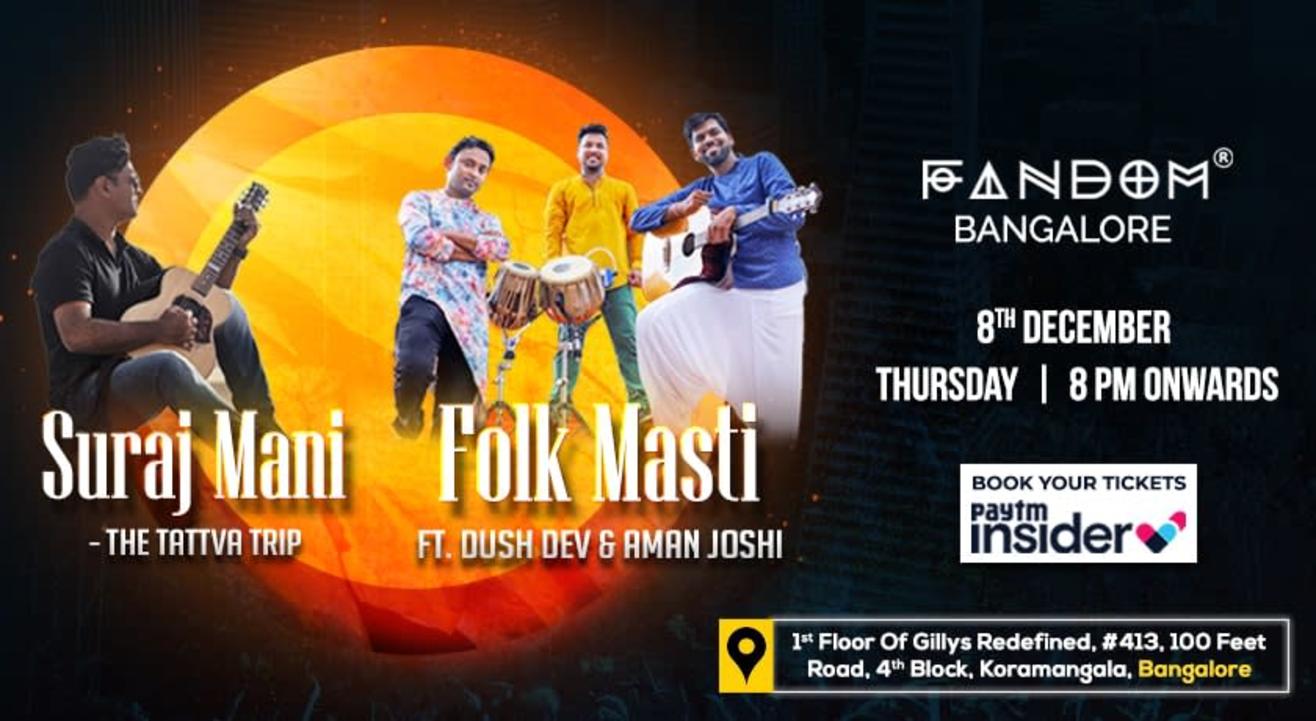 Folk Masti × Suraj Mani - The Tattva Trip Live
December 8 | 8PM - December 9 | 12AM
Fandom at Gilly's Redefined, Bengaluru
Event Guide
Live Performance
Enjoy a unique experience
Invite your friends
and enjoy a shared experience
Folk Masti × Suraj Mani - The Tattva Trip Live
December 8 | 8PM - December 9 | 12AM
Fandom at Gilly's Redefined, Bengaluru
Event Guide
Live Performance
Enjoy a unique experience
Invite your friends
and enjoy a shared experience
Event Guide
Live Performance
Enjoy a unique experience
Invite your friends
and enjoy a shared experience
Come & Experience amazing Musical evening by 'Folk Masti' from Mumbai & 'Suraj Mani - The Tattva Trip' from Bangalore. Celebrate your Weekend with Catchy tunes, Stories & lot more. Don't miss this awesome gig Bangalore.
About an Artists -
Folk Masti -
Folk Masti is an Indie/Folk-Pop band from Mumbai, India. A group combining Indie tunes with folk elements and has compositions which convey positive message from 'Real Life Stories' to society with their Mastiful beats.
Each member has different tastes which makes the band's sound unique and catchy. Apart from that, their sound, of course, has some masti, some folk poetries, world music and lots of improvising.
Get ready for Foot tapping Music with Simple Lyrics yet Deep Meaning of Joyful Life, Storytelling, Interactive Session & Folk Poetries in 4/5 Languages.
Suraj Mani - The Tattva Trip
Suraj Mani is a critically acclaimed Rock musician based out of Bangalore.
Formerly the front man of the legendary Indian band Motherjane, his act Suraj Mani -The Tattva Trip breaks the barrier between rock and poetry.
An Iconic Singer-Songwriter, composer & lyricist, he has won awards as Best Rock Vocalist in India & Asia and performed on stages alongside bands like Opeth, Megadeth, & Mr.Big amongst others.
He will take you on an unforgettable trip through time and space.
T&C -
- Entry to 21 and Above only. If below 21, they are to be accompanied by a parent. An undertaking signed by parent to take responsibility for the minor insider the venue needs to be submitted at the entry.
- Valid ID proof required to enter.
- Loose Cigarette packs and illicit substances prohibited and will not be allowed into the premises.
- A cover charge of 499 INR applicable at the gate which can be redeemed against Food and Beverages.
Jadoo ki Chhadi - Folk Masti
Fandom at Gilly's Redefined
1st floor of Gillys redefined,# 413, 100 Feet Road,, 4th Block, Koramangala, KHB Block Koramangala, Koramangala 4-B Block, 5th Block, Koramangala, Bengaluru, Karnataka 560034, India
GET DIRECTIONS
Folk Masti × Suraj Mani - The Tattva Trip Live
December 8 | 8PM - December 9 | 12AM
Fandom at Gilly's Redefined, Bengaluru
Event Guide
Live Performance
Enjoy a unique experience
Invite your friends
and enjoy a shared experience