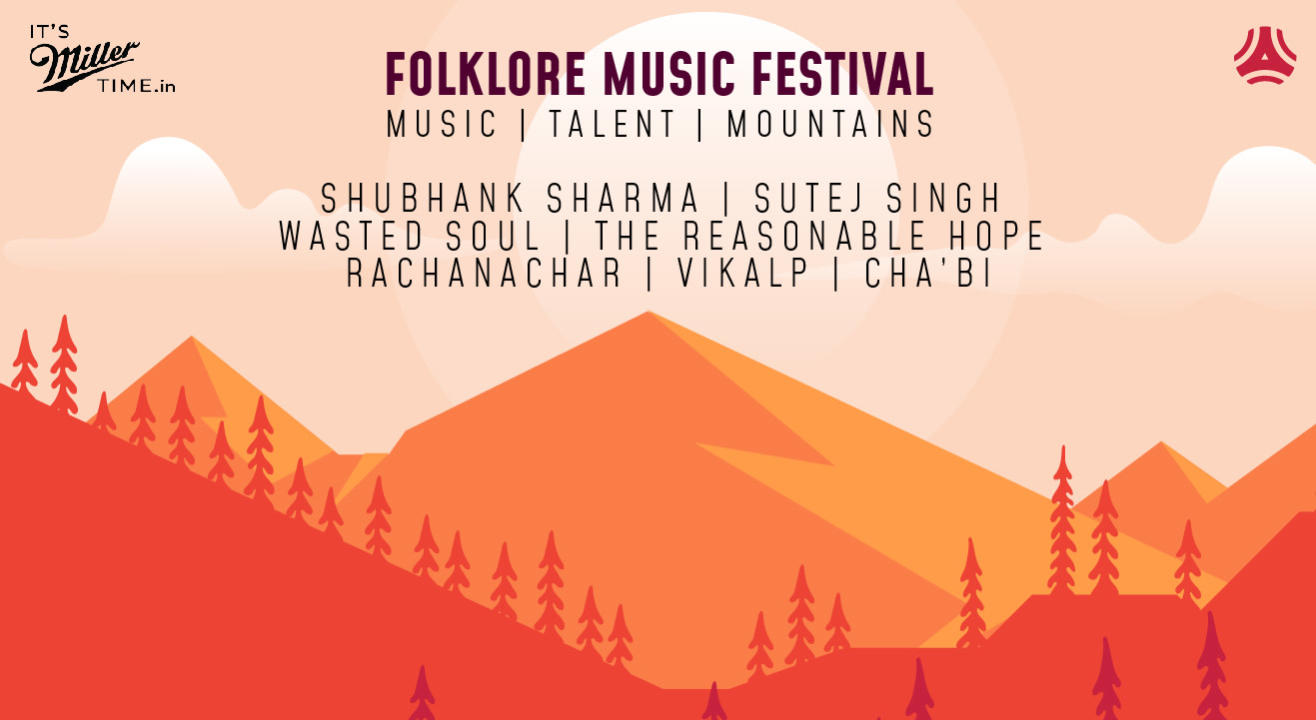 Ekant Retreat Resort Chail, Himachal Pradesh
Step out and enjoy this event
Invite your friends
and enjoy a shared experience
Ekant Retreat Resort Chail, Himachal Pradesh
Step out and enjoy this event
Invite your friends
and enjoy a shared experience
Invite your friends
and enjoy a shared experience
Folklore Music Festival is one of India's high altitude independent zero waste music festival with the objective of creating a sustainable route to promote local art and music talent from the mountain regions of the county, where the talent has majorly remained raw, and untouched from commercialisation.
Live acts: 3:00 pm to 10:30pm
Interactive unplugged acoustic sessions : 10:30 pm onwards
Shubhank Sharma is a self-taught singer-songwriter, composer and a multi-instrumentalist. He pays along the spectrum of Hindi / Urdu dialect in an alternative way rounding up with uplifting vocals and a dynamic skill set. He has performed in various national levels music events such as NH7 Weekender Express, MTV Roots, High Spirits, Pune, Harley David- son events, and Featured in The Great Escape - Fox Life with Cyrus and Kunal.
Sutej Singh Live (with the band)
Sutej Singh is a self-taught guitarist/composer based out of Solan, Himachal Pradesh. A quintessential artist with the influence from the 80s and 90s debuted with his album "The Emerging" which reached number one on iTunes India's all-genre albums chart within a day of release in May, back in 2018. His debut effort "The Emerging" featured collaborations with a host of progressive rock veterans from the UK such as drummers Scott Higham from Pendragon and Raymond Hearne from Haken and bassist Kylan Amos.
The Reasonable Hope is a Himalayan post-rock band which is all about narrating stories and expressing thoughts through instrumental pieces and cohesive songwriting. They play guitar and effects based extended instrumentals, incorporating mellow bass lines and ambient soundscapes. The band has played in The High Spirits, Pune, India Surf Festival and have collaborated with The Highroad and The Autofocus in 2017 for their project 'Ode To Iceland'. The band was also featured on an Asian Post Rock compilation and is the only band from India to get such recognition.
The wasted soul is one of the pioneers of heavy metal music from the Himalayan state.Based out of Chandigarh and Shimla, the band have won many accolades in the yesteryears of 2006-06 with the likes Campus Rock Idols and performed at the best of the places like Hard Rock Cafe, Mumbai, Pune and Bangalore. Getting back to the music scene after 7 years with their new project, Vikalp, an alternative platform, Wasted Soul is all set to bring back the rebel streak with their much awaited single.
Sometimes you can't justify the words to a talent. Pranjal is a 'modern-age percussive acoustic fingerstyle guitarist' who plays relaxing instrumental music with some folk influences. Coming from the beautiful town of 'Shimla' in the Himalayas, Pranjal plays songs which tell the story of a fictional character named 'Rachanachar'. All his music is conceptual and philosophical with deep roots in folk music." He is an artist with a soul in every sound he produces.
Ekant Retreat Resort Chail
Chail, Solan, Himachal Pradesh 173217
GET DIRECTIONS
Ekant Retreat Resort Chail, Himachal Pradesh
Step out and enjoy this event
Invite your friends
and enjoy a shared experience