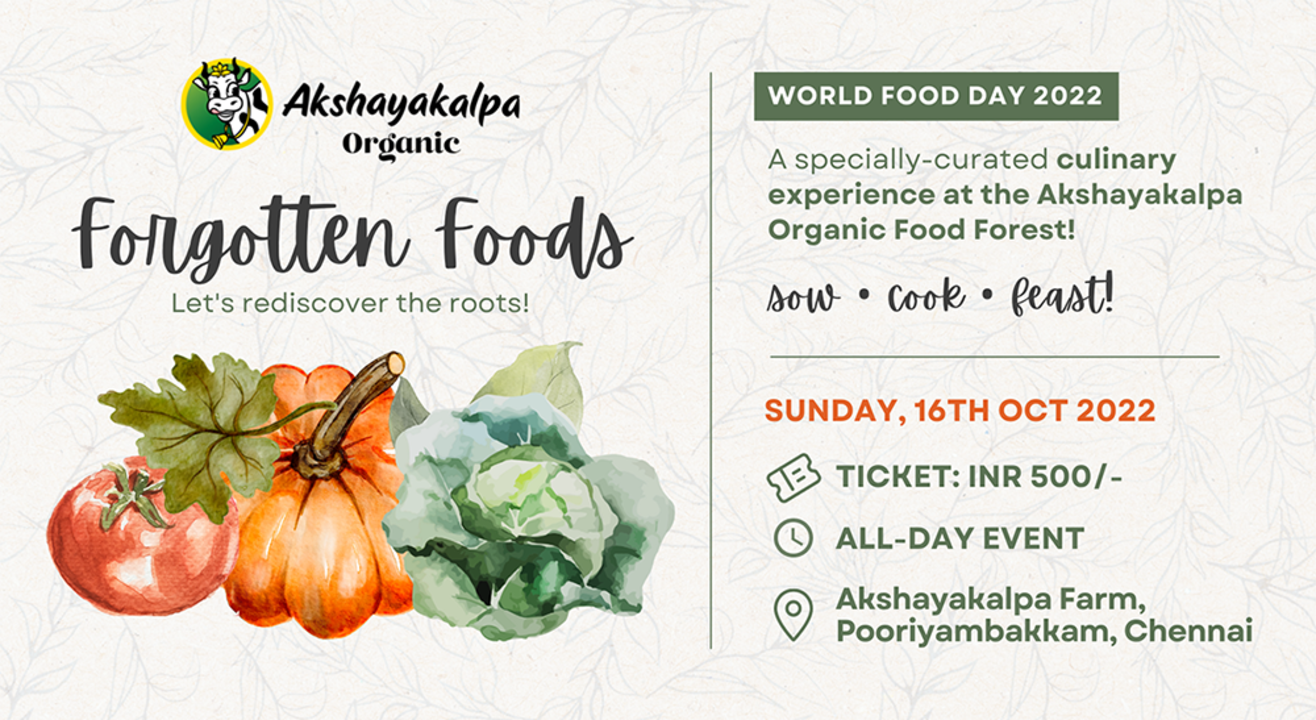 Forgotten Foods – Let's Rediscover the roots! (Chennai)
Akshayakalpa Agriculture Research and Development Facility, Chennai
Event Guide
For Age(s)
Family Friendly
Celebration
Fun times ahead
Invite your friends
and enjoy a shared experience
Forgotten Foods – Let's Rediscover the roots! (Chennai)
Akshayakalpa Agriculture Research and Development Facility, Chennai
Event Guide
For Age(s)
Family Friendly
Celebration
Fun times ahead
Invite your friends
and enjoy a shared experience
Event Guide
For Age(s)
Family Friendly
Celebration
Fun times ahead
Covid 19 Safety Measures
This event adheres to the following

Health & safety measures
Invite your friends
and enjoy a shared experience
Covid 19 Safety Measures
This event adheres to the following

Health & safety measures
Make time for life's simple pleasures this World Food Day!
Join us in a bygone era's specially-curated, fully immersive culinary experience.
Learn the local tradition of cooking in carved-out pumpkins, season your creations with the authentic flavours of organic spices and relish the wonders of slow-cooking over a wood fire. Or simply spend a day enjoying each other's company amidst the serenity of nature and show your little ones the true origins of their food.
Sit back, relax and enjoy the meals over smiles and conversations with friends - old and new.
Be one with the soil! Feel your worries wash away as your sow not just seeds into the land but also the seeds of memories that will last a lifetime.
Taking the time to nourish your body and soul makes this experience truly worthwhile.
Do something different this World Food Day. Join us at Forgotten Foods 2022 and you're sure to leave with your tummy and your heart full too!
Sow
Carve pumpkins
Build a fire
Slow Cook
& take back a newfound bond with food!
Limited slots only! Register today.
Akshayakalpa Agriculture Research and Development Facility
Panchayat Neerpair Madurantakam Taluk, Chengalpattu, district, Neerpair, Tamil Nadu 603313, India
GET DIRECTIONS
Forgotten Foods – Let's Rediscover the roots! (Chennai)
Akshayakalpa Agriculture Research and Development Facility, Chennai
Event Guide
For Age(s)
Family Friendly
Celebration
Fun times ahead
Invite your friends
and enjoy a shared experience