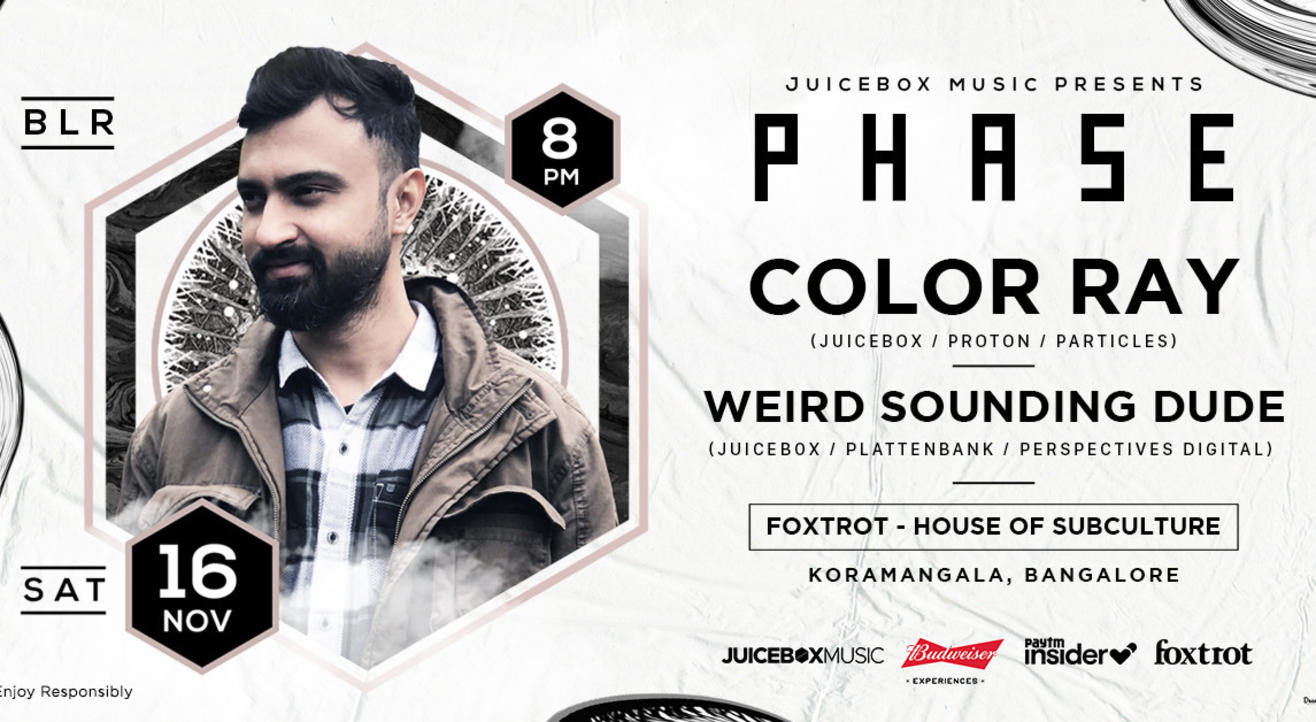 Music
Foxtrot & Juicebox Present - PHASE ft. Color Ray + Weird Sounding Dude
Foxtrot - House of Subculture
About
About Color Ray -
Color Ray is the moniker of Pune-based, Shrinivas Sundar. His music is unique & experimental, combining sounds from deep house, tech house, tribal tech, progressive house, soulful house and techno. The harmony, contemplative moods and sounds are inspired from the guitar reverberations echoing in his mind, which laid the foundations for his tunes. This combined with a natural talent for music production has paved the way for cutting-edge tracks. His stand-out originals & high profile remixes for Andre Sobota's "Fragments" (Particles), Tanseer's "Both Sides" (Juicebox Music), Biologik's "Sarin" (Particles) & his collaborative remix of Ziger's "Razor" (Juicebox Music) with Praveen Achary earned him numerous accolades amongst fellow DJs & Producers as well as on Beatport & media outlets. Color Ray has firmly established himself as one of the most forward-thinking producers and DJs from India, with support from across the scene from international artists like Hernan Cattaneo, Sahar Z, Sasha Le Monnier, Kobana, Marcelo Vasami and more.
Facebook: https://www.facebook.com/ColorRayOfficial/
Instagram: https://www.instagram.com/colorraymusic/
SoundCloud: https://soundcloud.com/colorray
About Weird Sounding Dude -
Weird Sounding Dude is a Bangalore based music producer/DJ. He has always enjoyed a place in the underground dance music culture. His trademark chuggy grooves and squelchy rhythms are sure to satisfy his audience but there are always a few surprises along the way. He has already made a mark in the underground circuit with releases on Plattenbank, Perspectives Digital, Traum Schallplatten, Juicebox Music, Dream Culture, Stripped Recordings, Mirabilis, Bullfinch. Well-known blogs Change Underground, Underground Tel-Aviv, When We Dip, Nie Wieder Schlafen have shown regular interest in his tracks. He has also made a mark on the DJ circuit by performing at music festivals like Sunburn, R.E.S.E.T., Ctrl Alt Dance and Krank. It's safe to say that this "Dude" in particular isn't just another kid on the block. His voyage has slowly started to take shape with no intention of slowing down.
Facebook: https://www.facebook.com/weirdsoundingdude/
Instagram: https://www.instagram.com/_weirdsoundingdude_
SoundCloud: https://soundcloud.com/weirdsoundingdude
Venue
Foxtrot - House of Subculture
#17, Service Rd, SBI Colony, Block 3, Koramangala, Bengaluru, Karnataka 560034
GET DIRECTIONS