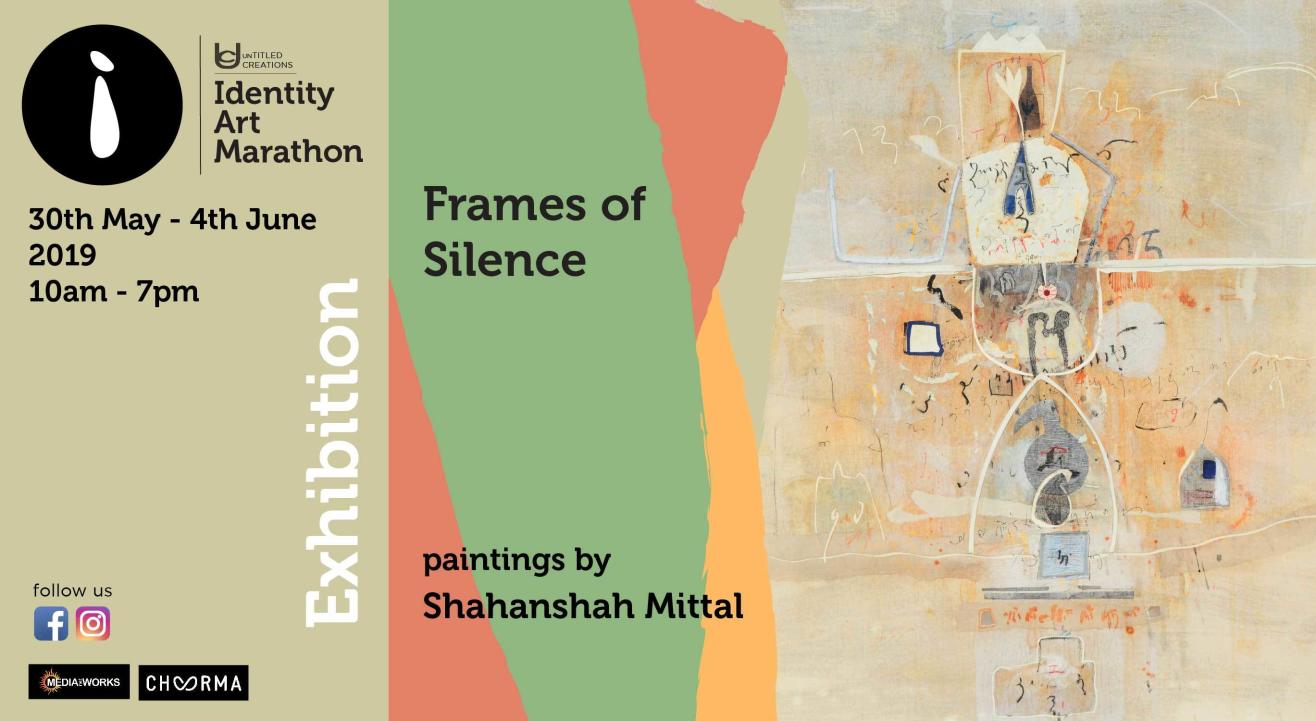 Art
About
Frames of Silence
Exhibition of abstract paintings by Shahanshah Mittal
30th May - 4th June 2019
Shahanshah's current work is a continuum of the journey he began four years back. He says that he does not work with a lot of thought in mind. He thoroughly enjoys the freedom and allows things to flow in a natural way. He prefers his works to remain devoid of heavy concepts and intellectual contexts, and most prefers the viewer to layer his creation with their own experiences. While most his works celebrate the formlessness, he relies on his education in the applied arts and his short stint with an advertisement agency. On closer inspection, one can see the repeated use of triangle form and grids. "We used to make colour chart manually at the agency and somehow that form itself stayed with me," he explains. In fact, the simple dummy text of X's and O's, used as placeholder as a graphic designer, percolate into his works. At his studio, his constant companion is classical music.
He is intrigued by the poetry and lyrics in the songs. He recreates the words from these songs, although, there is never an intent to make it legible. The 'forms' appear like text but have no meaning; they do not even use a script, as such. Overall tones and textures of his canvasses appear like weathered and dilapidated walls. Shahanshah vividly recalls staying in a one-room rented apartment when he first moved to Delhi. He spent hours in the room, the walls of which were aged. "The paint of the walls was peeling off and at places explored the base plaster. The balcony had potted flowering-plants. As a result, I had these two things that I most observed. I began to enjoy the very character of the wall at one side, and beauty of the flowers on the other. Every so often, these too find their way in my works although it's all subconscious," he says. Even the layered paper strips that he uses draw, inspiration from the patch-up work on the walls to hide and mend cracks.
Rahul Kumar
January 2019
Part of 'I AM - Identity Art Marathon',
24 day multi disciplinary art festival from 24th May to 16th June 2019
Curator: Aakshat SInha
Organiser: Untitled Creations Private Limited
Media partner: Media net Works
Design partner: Choorma
Venue Partner: Arpana Fine Arts Gallery, New Delhi
https://www.facebook.com/identityartmarathon/
Venue
Arpana Fine Arts Gallery
Arpana Fine Arts Gallery, Academy of Fine Arts and Literature, 4/6 Siri Fort Institutional Area, Opp. Gate No. 2, Siri Fort Auditorium, New Delhi 110049. Metro Green Park.