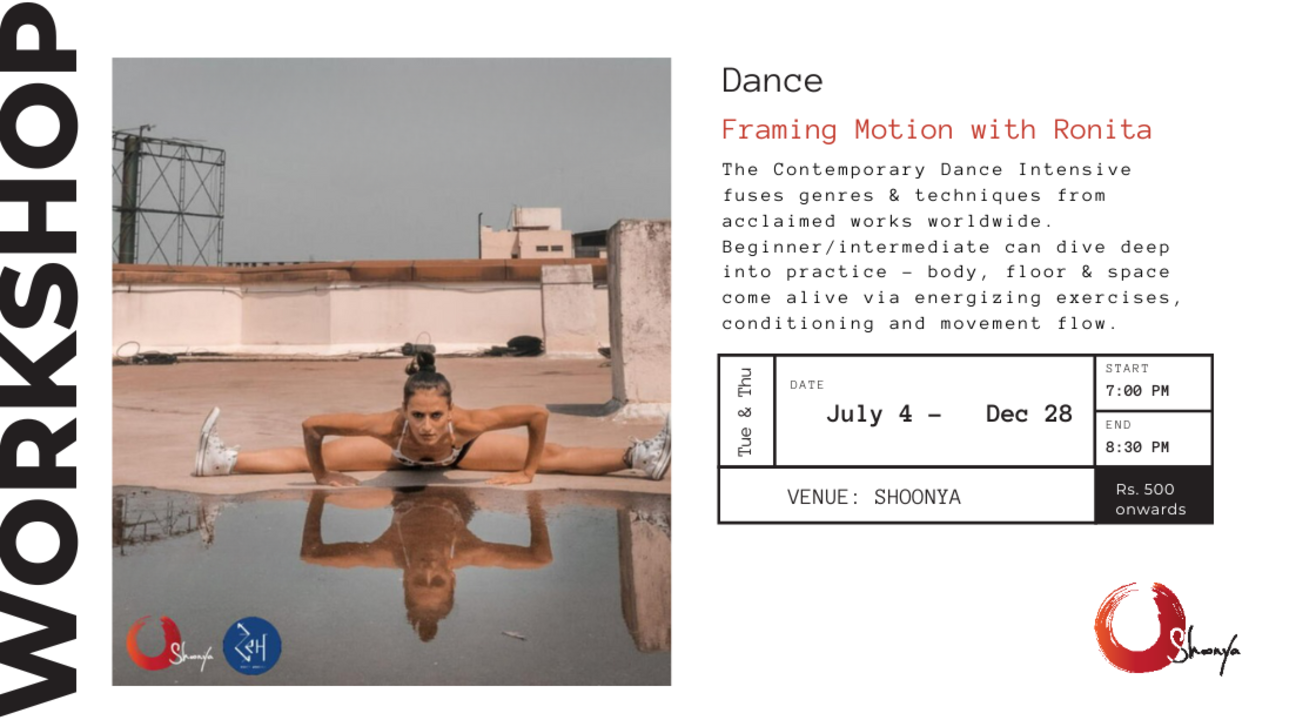 July 4 | 7PM - December 28 | 8PM
Shoonya - Centre for Art and Somatic Practices, Bengaluru
Event Guide
For Age(s)
Family Friendly
Masterclass
Learn from an expert
Invite your friends
and enjoy a shared experience
July 4 | 7PM - December 28 | 8PM
Shoonya - Centre for Art and Somatic Practices, Bengaluru
Event Guide
For Age(s)
Family Friendly
Masterclass
Learn from an expert
Invite your friends
and enjoy a shared experience
Event Guide
For Age(s)
Family Friendly
Masterclass
Learn from an expert
Invite your friends
and enjoy a shared experience
Move, Discover, Transform.
This Contemporary Dance Intensive invites beginners and intermediate dancers alike to immerse in technique drawn from acclaimed performances and practices worldwide. Over 3-days, fuse genres and discover new depths of expression. The body awakens as floor and space come alive through energizing exercises, conditioning sequences and movement flow poised to unleash your creative potential. Gain insights into global works guiding this holistic approach. Reflection and guidance from our expert faculty provide the tools to better understand both contemporary technique and your own abilities.
By the final improvisation, sense your transformation unveiled through a stronger, more articulate practice and honed performance skills. Depart with the discipline and vision to continue your contemporary dance discovery. This intensive is for intermediate to professional dancers ready to deepen their craft. Some contemporary experience required. Don't miss the chance to dwell immersed in practice where iconic artists create.
Discover the contemporary artist within. Advance your training and technique through intensive practice in the birthplace of modern dance expression. Connect with a community of artists and unlock your potential under faculty mentoring the world's leading talents. You owe yourself this – a dance escape like no other. Movement that starts here continues on long after.
The time is now. The place is here. Move. Discover. Transform with us.
DAYS: Tuesdays and Thursdays
TIME: 7.00 PM - 8.30 PM
PRICE:
Drop in: Rs.500/-
Monthly Package: Rs. 3000/-
Shoonya - Centre for Art and Somatic Practices
4th Floor, Rear Wing, Brahmananda Court, 37, Lal Bagh Main Rd, K.S. Garden, Raja Ram Mohanroy Extension, Sudhama Nagar, Bengaluru, Karnataka 560027, India
GET DIRECTIONS
July 4 | 7PM - December 28 | 8PM
Shoonya - Centre for Art and Somatic Practices, Bengaluru
Event Guide
For Age(s)
Family Friendly
Masterclass
Learn from an expert
Invite your friends
and enjoy a shared experience