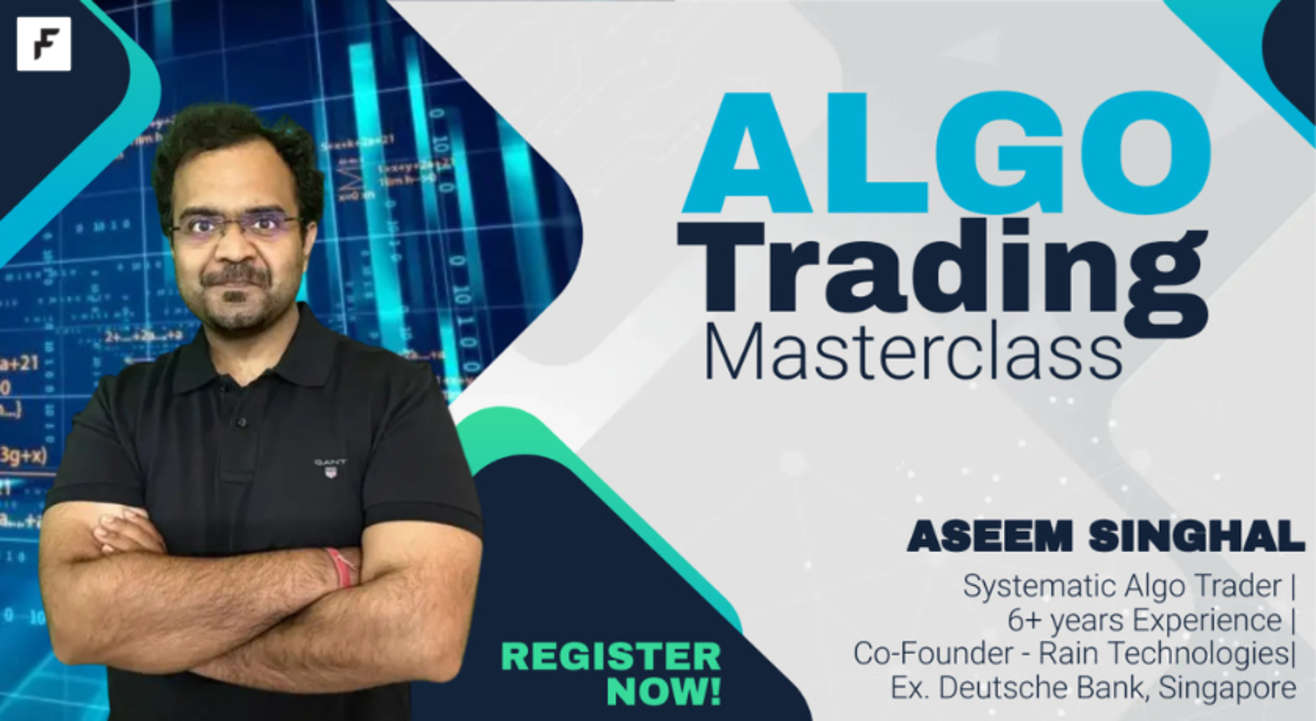 FREE Live Masterclass on Algo Trading with Mr. Aseem Singhal (Ex-Deutsche Bank, Singapore)
October 5 | 6:30PM - October 29 | 2:00PM
Event Guide
Masterclass
Learn from an expert
Invite your friends
and enjoy a shared experience
FREE Live Masterclass on Algo Trading with Mr. Aseem Singhal (Ex-Deutsche Bank, Singapore)
October 5 | 6:30PM - October 29 | 2:00PM
Event Guide
Masterclass
Learn from an expert
Invite your friends
and enjoy a shared experience
Event Guide
Masterclass
Learn from an expert
Invite your friends
and enjoy a shared experience
📈 Algo Trading using Python
The "Algo Trading using Python Bootcamp with Aseem Singhal" course is designed to provide participants with comprehensive knowledge and practical skills in algorithmic trading using the Python programming language. The course covers various aspects of trading, including options, backtesting strategies, equity strategies, hedging, spreads, and implementation of strategies using Python. With a well-structured study plan, participants will have the opportunity to dive deep into these topics and gain valuable insights into the world of algorithmic trading.
Concepts you will be learning in the Masterclass:
Gain a solid understanding of options trading, starting from the basics, and develop the ability to effectively navigate the options market.
Learn how to backtest trading strategies using Python.
Explore ten high accuracy equity strategies that have been proven to deliver smooth trading results.
Familiarise yourself with essential concepts such as hedging and spreads and utilising them to manage risk and optimise trading strategies.
Acquire practical skills in implementing trading strategies using Python, from fundamental to advanced.
Apply your learning to real-time live market trading sessions.
Details about the masterclass
The "Algo Trading using Python Bootcamp with Aseem Singhal" provides participants with a comprehensive understanding of algorithmic trading using Python. Led by experienced instructor Aseem Singhal, this course covers topics from options trading to advanced equity strategies, with hands-on activities to develop practical skills. Participants will emerge with enhanced trading capabilities and confidence, ready to improve their financial outcomes. By leveraging Python's power and industry insights, participants will gain the knowledge and tools to navigate the ever-changing landscape of algorithmic trading successfully.
Aseem Singhal
"Aseem Singhal, a computer engineer with an MBA in Finance, is an expert option trader and proficient in Python for automated trading. With 6+ years of experience in systematic and automated trading at JP Morgan Chase and Deutsche Bank, he is the co-founder of Alphabot, an online platform for subscribing to profitable automated strategies. Aseem's mantra is high ROI to maximum drawdown, and he has trained over 5000 students, guiding them to success in their trading journey."
FREE Live Masterclass on Algo Trading with Mr. Aseem Singhal (Ex-Deutsche Bank, Singapore)
October 5 | 6:30PM - October 29 | 2:00PM
Event Guide
Masterclass
Learn from an expert
Invite your friends
and enjoy a shared experience