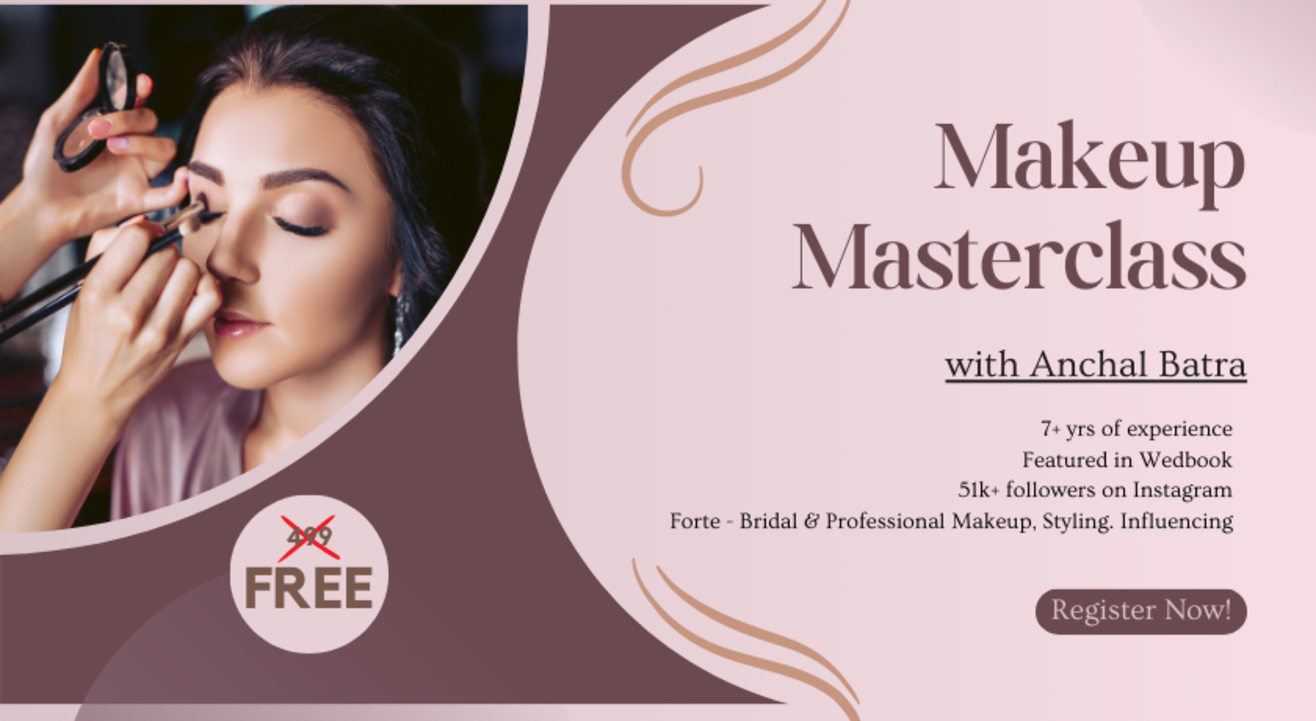 FREE Live Masterclass on Professional Makeup Course with Anchal Batra(7+ Years Experience)
September 12 | 4PM - September 21 | 6PM
Event Guide
Masterclass
Learn from an expert
Invite your friends
and enjoy a shared experience
FREE Live Masterclass on Professional Makeup Course with Anchal Batra(7+ Years Experience)
September 12 | 4PM - September 21 | 6PM
Event Guide
Masterclass
Learn from an expert
Invite your friends
and enjoy a shared experience
Event Guide
Masterclass
Learn from an expert
Invite your friends
and enjoy a shared experience
💫Beauty Masterclass with Anchal Batra.
Unleash your inner artist with Anchal Batra's captivating masterclass on beauty and makeup. Discover essential steps for flawless application, revealing your skin's natural radiance. Explore mesmerizing eye makeup techniques and create captivating looks. Achieve luscious, voluminous lips. Gain valuable strategies to grow your presence as a makeup enthusiast on Instagram, connecting with a wider community.
What you will learn in this master class:
Learn essential steps to prepare your skin for makeup application, enhancing its natural radiance and ensuring a seamless finish.
Discover techniques and products to enhance your eyes, allowing you to experiment with captivating and stunning makeup styles.
Master the art of creating dimension and volume for your lips, achieving a captivating and alluring pout.
Dive into strategies and tips to expand your presence as a makeup enthusiast on Instagram, connecting with a wider community and showcasing your skills.
Details about the masterclass:
This masterclass is designed to provide an immersive and interactive learning experience. Throughout the sessions, Anchal Batra will conduct in-class quizzes and assessments to reinforce your understanding and track your progress. Additionally, exceptional students who demonstrate outstanding growth and skills may have the opportunity to win exciting prizes, further fueling their passion for beauty and makeup. Join this masterclass and unlock your inner artist, honing your skills and exploring the limitless possibilities of beauty and makeup.
Anchal Batra
Hello everyone, my name is Anchal Batra, and I am a certified Makeup Artist from London. I have spent several years perfecting my skills in the art of makeup, and I am proud to say that I have received a certification that acknowledges my expertise and mastery of the trade. I have a deep understanding of different skin types, colours, and textures, and I am able to create a variety of looks that enhance my clients' natural beauty. In addition to my work as a Makeup Artist, I am also an accomplished Instagram Beauty Influencer. With a large following on the platform, I have built a reputation for inspiring and educating others on the latest beauty trends and makeup techniques. I use my platform to showcase my work and provide tips and tutorials to my followers. I am thrilled to be here today to share my knowledge and experience with all of you.
FREE Live Masterclass on Professional Makeup Course with Anchal Batra(7+ Years Experience)
September 12 | 4PM - September 21 | 6PM
Event Guide
Masterclass
Learn from an expert
Invite your friends
and enjoy a shared experience