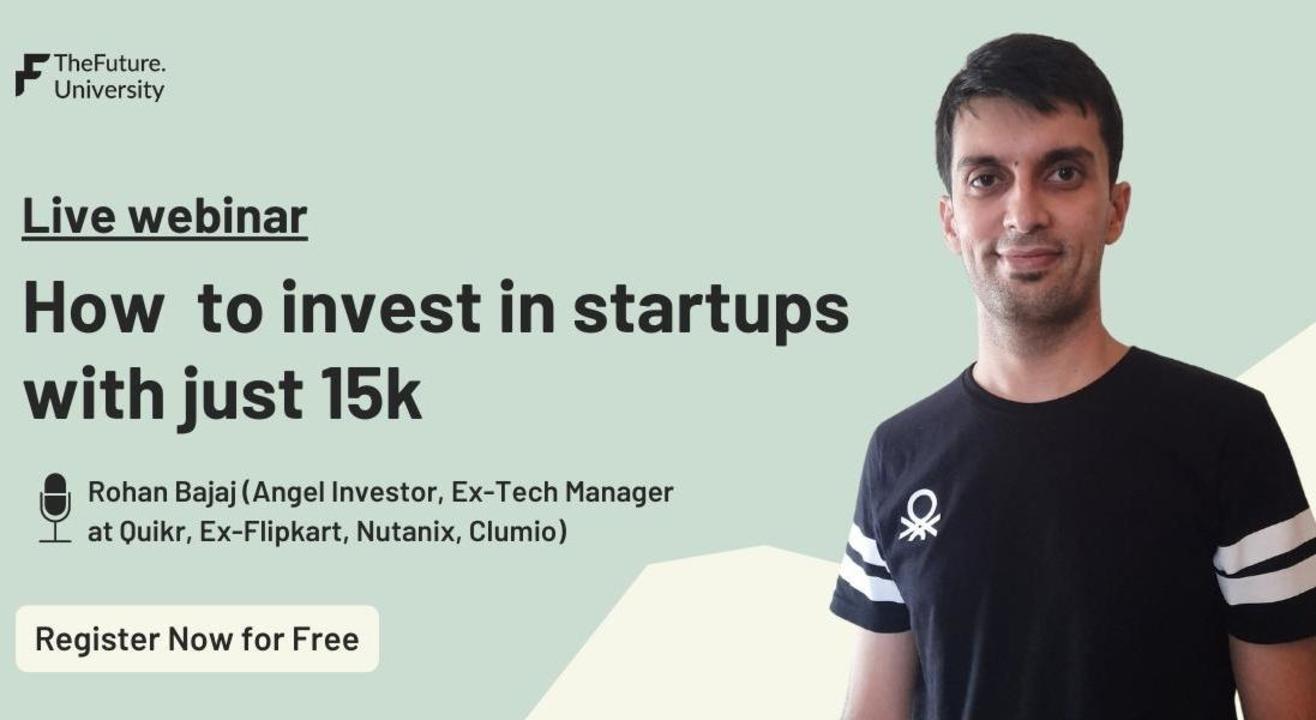 FREE Masterclass on Startup Investing by Rohan Bajaj Sir (Angel Investor | Ex Flipkart, Nutanix, Quikr)
January 19 | 7PM - January 27 | 9PM
Enjoy this event from your home
Event Guide
Masterclass
Learn from an expert
Invite your friends
and enjoy a shared experience
FREE Masterclass on Startup Investing by Rohan Bajaj Sir (Angel Investor | Ex Flipkart, Nutanix, Quikr)
January 19 | 7PM - January 27 | 9PM
Enjoy this event from your home
Event Guide
Masterclass
Learn from an expert
Invite your friends
and enjoy a shared experience
Event Guide
Masterclass
Learn from an expert
Invite your friends
and enjoy a shared experience
FREE Masterclass on Startup Investing by Rohan Bajaj Sir (Angel Investor | Ex Flipkart, Nutanix, Quikr)
Why should you invest in startups?
Startups are our economy's future; they will eventually represent India's corporate sector. The benefits of investments in startups may not yield great returns in the short run. However, startups with proper capital requirements and management can achieve more than expected.
The investors will have better leverage in controlling the system of the startup. Capitalists can gain many benefits from investment by investing in a startup. In return for their investment, they get an ownership interest in the company. By just providing initial capital and management services, the harvest will be outstanding.
The Indian government is playing a massive role in providing benefits to those who provide services to new startups. In a recent survey, it was discovered that, together with loan companies, the government of India has committed a total of 1611.1 crores to venture capital companies.
New sections about exemptions, benefits, and rebates have been added to the act to boost start-up as well as funding. Henceforth, new norms such as exemptions from capital gains have to be introduced to compel more investment.
Efforts are in the process of encouraging foreign investors to invest in Indian startups. This provides an excellent opportunity for Indian investors to invest in foreign companies. Through this, they can generate more returns to help Indian startups and expand their businesses internationally.
Because of the emerging startups in India, healthy competition will be created in our economy. This will, in turn, give rise to a higher GDP, and per capita income will increase. This will create a conducive business environment for existing businesses as well as new startups and establishments.
So, to help you invest in startups, we are organizing a FREE and LIVE webinar for you, and we will be covering the below topics in our session.
Rohan's Tried-and-Tested Framework to find great startups
Learn how to assess different industries.
How and where to invest in startups?
Class Link: To be shared after registration
FREE Masterclass on Startup Investing by Rohan Bajaj Sir (Angel Investor | Ex Flipkart, Nutanix, Quikr)
January 19 | 7PM - January 27 | 9PM
Enjoy this event from your home
Event Guide
Masterclass
Learn from an expert
Invite your friends
and enjoy a shared experience