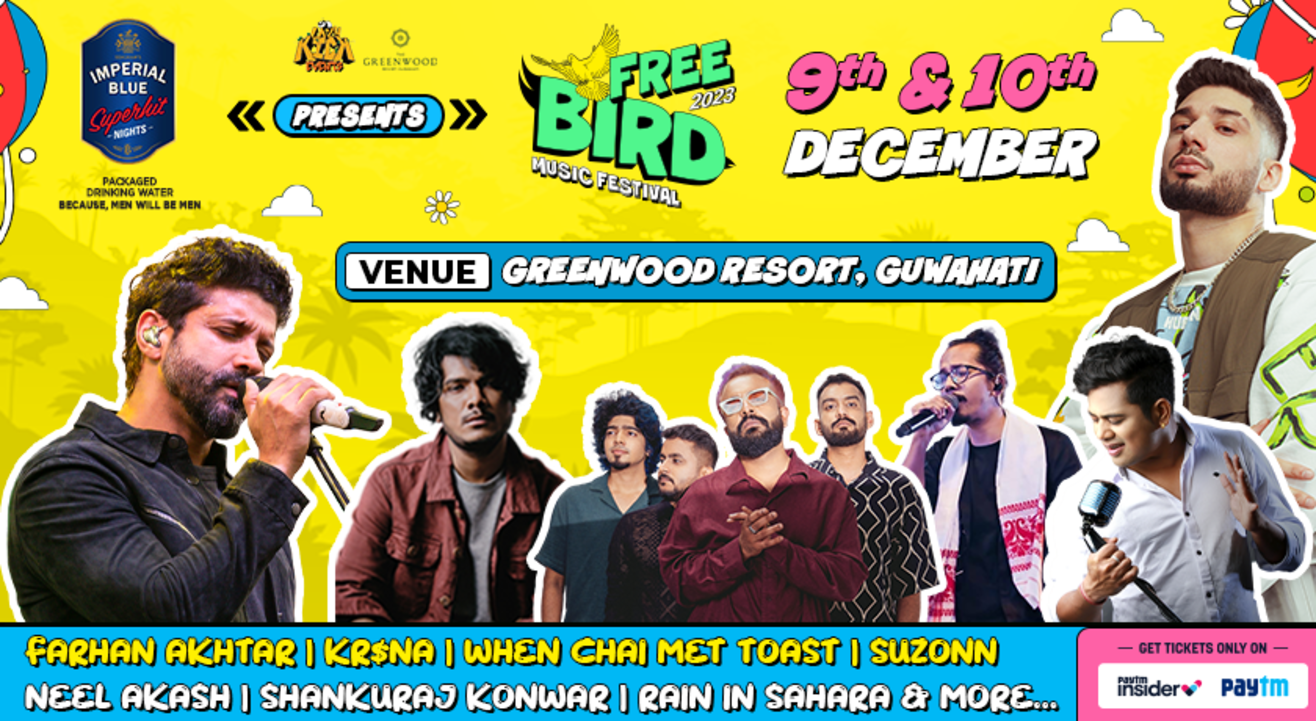 December 9 | 5PM - December 10 | 10PM
The Greenwood Resort, Guwahati, Guwahati
Event Guide
Language
English, Hindi, Assamese
Live Performance
Enjoy a unique experience
Invite your friends
and enjoy a shared experience
December 9 | 5PM - December 10 | 10PM
The Greenwood Resort, Guwahati, Guwahati
Event Guide
Language
English, Hindi, Assamese
Live Performance
Enjoy a unique experience
Invite your friends
and enjoy a shared experience
Event Guide
Language
English, Hindi, Assamese
Live Performance
Enjoy a unique experience
Invite your friends
and enjoy a shared experience
🦅Freebird Music Festival is an ode to the city which has been asking, but hardly receiving a tremendous artist lineup in a music fest.
• Breaking such a curse to bring what is this year's and Assam's biggest gathering of artists from different musical varieties,
• as well as different parts of the nation.
👑 Does this mean only the citizens of Guwahati are limited to this? Hardly. Calling people from all over India!
DAY 1
Lady Midday
Shankuraj Konwar
When Chai Met Toast
KR$NA
DAY 2
Cloud Collective
Neel Akash
Rain in Sahara
Suzonn
Farhan Akhtar
📌Join us for a 'Rock On' that will leave a memory of nights to remember.
Greenwood Resort on 9th and 10th December.
Spread your wings of freedom, Freebird Music Festival, Guwahati! 🦉
Please carry a valid ID proof along with you
Security procedures, including frisking remain the right of the management. Your co-operation is solicited.
No dangerous or potentially hazardous objects including but not limited to weapons, knives, guns, fireworks, helmets, lazer devices, bottles, musical instruments will be allowed in the venue and may be ejected with or without the owner from the venue.
The sponsors/performers/organizers are not responsible for any injury or damage occurring due to the event.
People in an inebriated state will not be allowed entry.
Organizers hold the right to deny late entry to the event.
Persons under legal drinking age applicable to the venue will not be served any alcoholic drinks (if any are offered at the Venue). Alcohol will only be served on display of a valid ID and credible age proof of legal age of drinking.
No Re-entry allowed. Once you exit the festival grounds, you will not be allowed to re-enter .
No refunds on purchased ticket are possible, even in case of any rescheduling.
There is zero tolerance towards plastic. No plastic should be brought or used within the grounds of the festival.
No drug use – Consumption of narcotics is illegal and those found in possession or consuming narcotics at the event will be handed over to police authorities. Persons suspected of carrying items that may be used in an offensive or dangerous manner or carrying out illegal activities within the site may be searched.
The ticket holder grants the organizer the right to use all or any part of the event's recording for promotional purposes in perpetuity.
The event can be rescheduled or canceled at the sole discretion of Lazykick Events Pvt Ltd.
Tickets are non transferable and non refundable.
Show/format details and the lineup/schedule are subject to change as per the organizer's discretion .
We are committed to a respectful, safe environment free from harassment, violence, discrimination, bullying, abuse, and solicitation. All parties, artists and attendees are to be treated with respect and dignity. Participation in activities or behaviors that discriminate on the grounds of race, color, place of origin, gender, age, marital status, religious beliefs, citizenship, mental and physical abilities, sexual orientation, or any other prohibited grounds within applicable law will not be tolerated.
Artists at all times remain fully and solely liable and responsible for their actions, expressions and/or views. Freebird Music Festival will not be responsible for their actions, expressions and/or views, and any claims, damages, outrage arising due to the comments, pictures or videos posted by the Artists on the Channels. The views expressed by the individual artists and performers, either in course of their performance, or on their social media channels, or any third party channels and platforms, online or offline or otherwise, are solely their own and neither do they represent those of Echoes of Earth nor are they endorsed in any manner by Freebird Music Festival, its associates and affiliates.
Organizers reserve the right to perform security checks on invitees/members of the audience at any point. Including the entry point for security reasons.
Wristbands removed from the wrist or tampered with will be rendered invalid and will not be replaced. Lost or missing wristbands will not be replaced. Those without wristbands will be refused admission to the site or may be removed from the festival site.
Neither Party will be liable for any failure or delay in performing an obligation that is due to any of the following causes (which causes are hereinafter referred to as "Force Majeure"), to the extent beyond its reasonable control: acts of God, accident, riots, war, terrorist act, epidemic, pandemic (including the Covid-19 pandemic), quarantine, civil commotion, breakdown of communication facilities, breakdown of web host, breakdown of internet service provider, natural catastrophes, governmental acts or omissions, changes in laws or regulations, national strikes, fire, explosion, or generalized lack of availability of raw materials or energy.
Venue rules apply.
Listen to Farhan Akhtar's Album
FreeBird Music Festival 2023 | Greenwood Resort
The Greenwood Resort, Guwahati
GS Rd, Madhab Nagar, Khanapara, Guwahati, Assam 781022, India
GET DIRECTIONS
December 9 | 5PM - December 10 | 10PM
The Greenwood Resort, Guwahati, Guwahati
Event Guide
Language
English, Hindi, Assamese
Live Performance
Enjoy a unique experience
Invite your friends
and enjoy a shared experience