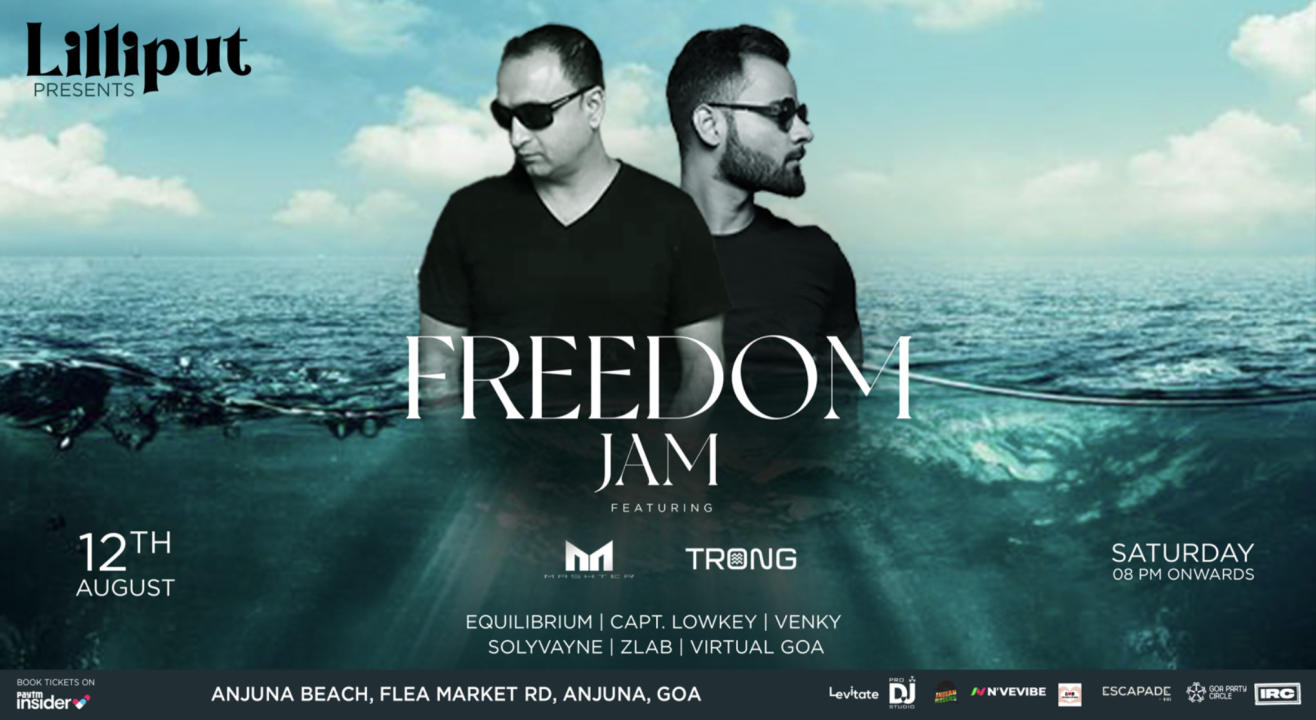 FREEDOM JAM | CAFE LILLIPUT, ANJUNA
August 12 | 8PM - August 13 | 6AM
Event Guide
Language
English, Hinglish
Live Performance
Enjoy a unique experience
Invite your friends
and enjoy a shared experience
FREEDOM JAM | CAFE LILLIPUT, ANJUNA
August 12 | 8PM - August 13 | 6AM
Event Guide
Language
English, Hinglish
Live Performance
Enjoy a unique experience
Invite your friends
and enjoy a shared experience
Event Guide
Language
English, Hinglish
Live Performance
Enjoy a unique experience
Covid 19 Safety Measures
This event adheres to the following

Health & safety measures
Invite your friends
and enjoy a shared experience
Covid 19 Safety Measures
This event adheres to the following

Health & safety measures
Get ready to immerse yourself in a pulsating wave of electronic euphoria at the highly anticipated "FREEDOM JAM" techno party! On the sun-kissed shores of Anjuna Beach, nestled within the vibrant ambiance of Café Lilliput, a sensory journey awaits on the 12th of August, 2023.
Unveil your inner rhythm as the dynamic duo of MASHTER & TRONG take center stage, their beats sending tremors through the very core of the coastline. As the sun dips below the horizon, their electrifying performance promises to ignite the night with an unparalleled energy.
But the electrifying experience doesn't stop there – a constellation of talented supporting acts will elevate the atmosphere to new heights. Lose yourself in the enchanting sounds of Equilibrium, let Captain Lowkey steer you through a sonic adventure, and allow Venky Solyvayne to weave an intricate web of soundscapes. ZLAB's innovative beats will have you moving to their distinctive groove, and Virtual Goa will teleport you through a digital wonderland.
Prepare to unleash your senses and liberate your spirit as you become part of the rhythm, the movement, and the FREEDOM JAM! With the majestic Anjuna Beach as your backdrop and the cutting-edge sounds of techno pulsating through your veins, this event is not just a party – it's an experience that will resonate with you long after the last beat drops
Cafe Lilliput
Anjuna Beach, Monteiro Vaddo, Flea, Market Rd, Monteiro Vaddo, Anjuna, Goa 403509, India
GET DIRECTIONS
FREEDOM JAM | CAFE LILLIPUT, ANJUNA
August 12 | 8PM - August 13 | 6AM
Event Guide
Language
English, Hinglish
Live Performance
Enjoy a unique experience
Invite your friends
and enjoy a shared experience