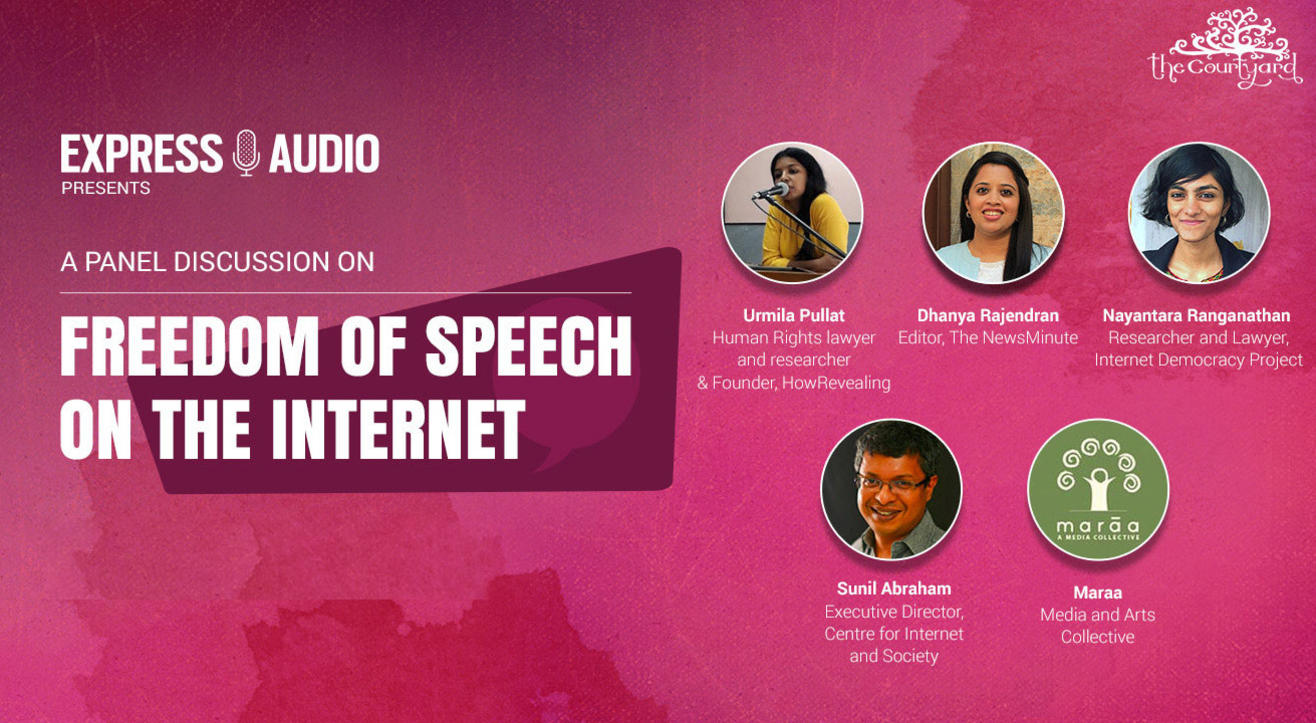 Discussion
Freedom of Speech on the Internet
About
Express Audio is thrilled to present Freedom of Speech on the Internet, a panel discussion featuring Dhanya Rajendran, (Editor-in-Chief, The News Minute), Urmila Pullat (Human Rights lawyer and researcher and Founder of HowRevealing), Sunil Abraham (Executive Director, Center for Internet and Society) Maraa, the media and arts collective and Nayantara Ranganathan (Internet Democracy Project).
In August this year, Express Audio (Indian Express's podcast wing) released Awaaz Do, a three-part podcast series hosted by Neha Mathews, in which she discusses what freedom of speech means, the ways in which it is restricted, and speaks to the people working to defend it. It features conversations with lawyers, activists and artists, including Colin Gonsalves, Shabnam Hashmi, Raman Chima, Shehla Rashid and others. After a successful run online, the creators of Awaaz Do are now taking the show to a live audience, at The Courtyard, where will it will be recorded for subsequent release via Express Audio.
Sharing information online can be empowering, but the internet can also be a tool for control, with its own counterweights that threaten to diminish our freedom of speech. Sunday's panel will dive deep into the issues of censorship, hate speech, internet shutdowns, call out culture, whisper networks, online obscenity laws and more, with experts from across fields.
Venue
The Courtyard
105, KH Road (Lalbagh Double Rd Opp. Corporation Bank, Raja Ram Mohanroy Extension, Shanti Nagar, Bengaluru, Karnataka 560027