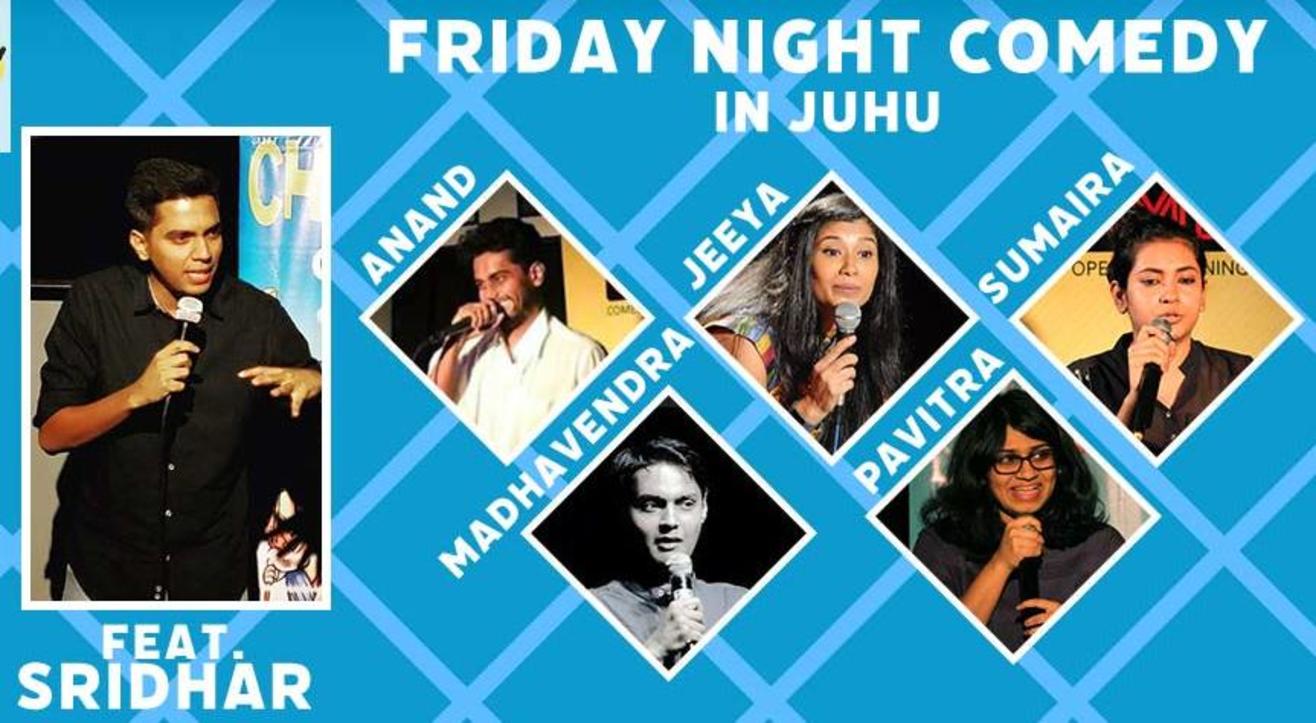 Comedy
Friday Night Comedy In Juhu ft. Shridhar V
About
Friday Night Comedy
Show Description
Comedy is about making people laugh and we are doing it on a Friday Night because that's when the weekend Starts, So start your weekend with laughter and a super fun line up Of comics. Only 20 tickets available so book yours now!
Lineup
Host Ameya Deshpande
Comics
Madhvendra Singh
Pavitra Shetty
Andy Reghu
Jeeya Sethi
Sumaira Shaikh
Shridhar V
Artists Info
Ameya Deshpande
Ameya Deshpande is an upcoming comic and has featured in several shows.
Madhvendra Singh
Madhavendra Singh is a stand-up comedian from Delhi, recently moved to Bombay a few years ago.
Pavitra Shetty
Pavitra Shetty is an undiscovered singer, upcoming stand-up artist and reportedly also a girl. To prove this, she has recently started a tag-team called The Sidechicks providing a disturbing look at what girls with unlimited WiFi connections can do. The biggest inspirations for her stand-up are her Mom, random aunts who keep visiting her place and her very own weighing scale. Already featured multiple times on television and radio, Pavvy is also part of hit Chalta Hai shows Dame Funny and Undateable. And she has an unnaturally high number of best friends who insisted that a new bio was written for her.
Shridhar V
V Shridhar is an engineering graduate from NIT Surathkal and holds an MBA from the premier B School IIM Bangalore.Shridhar ventured into Stand up comedy in the year 2014. He has done 100+ shows across major cities in India like Bangalore, Mumbai, Pune, Hyderabad, Vizag and Delhi. He has hosted several big names in the Indian comedy scene like Praveen Kumar, Sundeep Rao, Kanan Gill, Amit Tandon, Vasu Primlani, Daniel Fernandes etc.He has performed over several shows across different colleges as well. Some of his key shows include performing at the IIM Bangalore leadership summit, which had Bollywood superstar Shahrukh Khan as a key note speaker, performing for the India's biggest Business Fest Vista 2014 at IIM Bangalore and South India's second best cultural festival Incident, NITK Surathkal in 2016. He has been featured by top news papers like Deccan Chronicle and a story on him was done in a popular magazine called Yo! Vizag.
Sumaira Shaikh
Sumaira Shaikh writes for AIB but does stand-up for herself. Very much for herself in fact as she leaves out all act-outs, impersonations and histrionics in her act to cut straight to the bone. Sometimes scary, sometimes funny but always making sense, Sumaira's stand-up is not exactly YouTube friendly but it does have the rare quality of being memorable. And that is saying a lot in our trigger-happy click-bait times.
Anand Reghu
Published reports say that Anand Reghu has been on the Mumbai stand-up scene for seven long years since its very inception. This cannot be proved or disproved but it is ok. Reghu claims to be a Parsi with a bad case of sun burn but we have our doubts. His stand-up is unpredictable and always funny, even when it's not. But mostly, it is about him trying not to be a loser. Anand has even tried calling himself Andy but there are no shortcuts to Cooldom and there are no shortcuts out of Kurla.
Andy's hit acts include 'How to be a spiritual leader?' How to pick up chicks in Malad? and 'How to be successfully successful at work?' These have not got viral yet but thankfully, Andy does have a day job which involves him scripting funny videos for a living. You may recognize his work in award-winning short-films which cannot be named here for security reasons.
Jeeya Sethi
Jeeya believes if you are fat once (by fat she means FAAAAT) you are fat forever, mentally you never become thin even after losing all the weight. An event manager turned stand-up comedian, improviser and actor, she has made entertainment her new life's mission since nothing else is going for her!