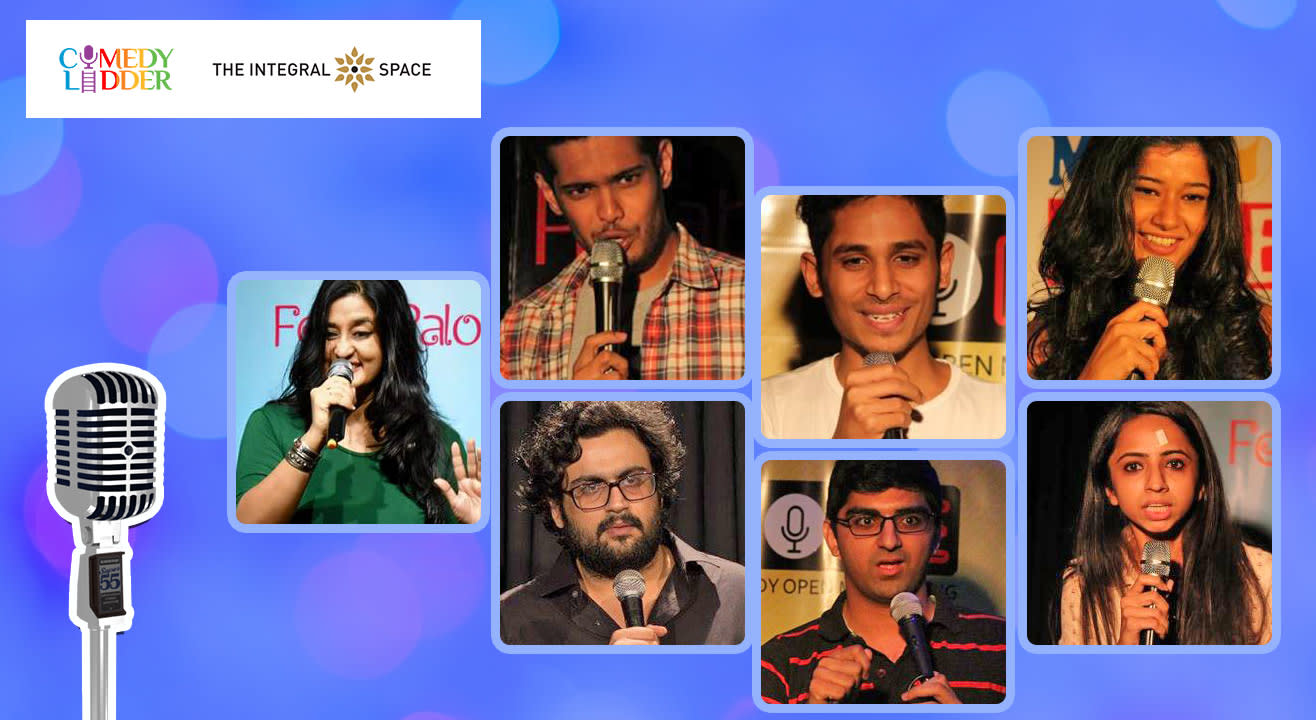 Comedy
Friday Night Comedy
The Integral Space, Lower Parel
About
Comedy is about making people laugh and Comedy Ladder are doing it on a Friday night because that's when the weekend starts. So start your weekend with laughter and a super fun line-up of comics. Only 20 tickets available, so book yours now!

Definition: professional entertainment consisting of jokes, intended to make an audience laugh.


Jeeya Sethi

Jeeya believes that if you are fat once (by fat she means FAAAAT) you are fat forever, mentally you never become thin even after losing all the weight. An event manager turned stand-up comedian, improviser and actor, she has made entertainment her new life's mission since nothing else is going for her!


Kajol Srinivasan

Kajol Srinivasan is an upcoming comedian who, in her words, is half Tamilian, half Bengali, like 2 Chetan Bhagat novels in 1. She is an alumna of the first ever artists' residency organized by Akshara and the US consulate on women's empowerment. Kajol has performed widely at venues like IIT Bombay, the Kala Ghoda Arts Festival, BITS Pilani, Canvas Laugh Club and others. She curates and performs at corporate shows with customized content. She is a graphic designer by the day.


Aayush Rathi

Aayush Rathi is an upcoming standup comic.


Chinmay Mhatre

Chinmay has watched the Batman series over 100 times now. Inspired by that, he told a girl, "I'm not the boyfriend you need right now, I'm the boyfriend you deserve." That was his last encounter with the girl. He's still clueless about what went wrong there.


Govind Menon

Govind Menon is a standup comic who has featured in several shows.


Raunaq Rajani

Raunaq Rajani is a known comic artist who has done many stand-up shows like Best in Stand-up, Open Mic + New Stuff, The Leftovers: Sindhi Quota, etc.


Karunesh Talwar

Comedian after dark, part-time day dreamer and full-time rebel Karunesh Talwar is not a fan of gainful employment. Actually, he is not a big fan of anything except the truth through stand-up and the truth is often painful and so is stand-up. Analgesics help though and they dont always come in pills. One of the most honed acts in the country today, Karunesh has performed in pretty much every city and on all stages; big, small and weird. He also writes for television because integrity is nice but money is better.


Sonali Thakker

Part-time stock-broker, a dance enthusiast and a full-time Gujju who performs comedy on the weekends, Sonali Thakker is an exciting new comedy talent in the town.
Talking about grave topics like travelling, shopping, and chaprigiri in her sets, Sonali has performed on the biggest of stages including Canvas Laugh Club and NCPA. In 2017, she took her special 'Almost There' to stage across the country.
Venue
The Integral Space, Lower Parel
14, Janata Estate , Opp. Palladium Mall, Lower Parel West, Lower Parel, Mumbai, Maharashtra 400013