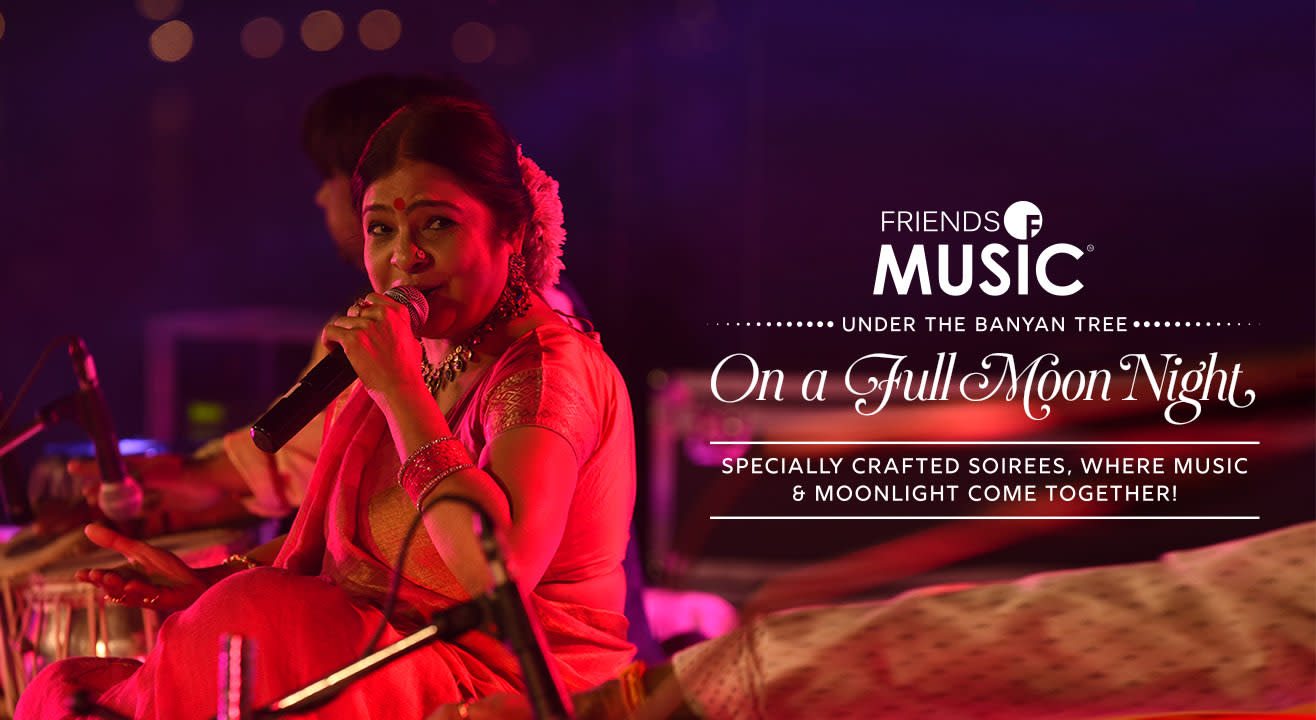 Friends of Music : Under the Banyan Tree on a Full Moon Night | July Edition
Gallery 1AQ, opposite the Qutub Minar, Delhi
Step out and enjoy this event
Invite your friends
and enjoy a shared experience
Friends of Music : Under the Banyan Tree on a Full Moon Night | July Edition
Gallery 1AQ, opposite the Qutub Minar, Delhi
Step out and enjoy this event
Invite your friends
and enjoy a shared experience
Invite your friends
and enjoy a shared experience
This month, Friends of Music returns with Under The Banyan Tree on a Full Moon Night with a celebration of the magic, music and mysticism of Varanasi. The July edition of our full-moon concert series will transport our patrons to the world's oldest city as musicians raised in the traditions of the holy town take centre stage.
Come, join us for a night of reflection, rebirth and reverie.
Artists Lineup:
Meet our Artistes for July!
Kumar Sarang
Kumar Sarang is a santoor player who belongs to the Varanasi and Maihar musical Gharanas, and is a disciple of Pt. Tarun Bhattacharya who in turn was a disciple of Bharat Ratna awardee Pt. Ravishankar. Kumar will be accompanied on stage by his father tabla maestro Lalit Kumar.
Malini Awasthi
Padmashree Malini Awasthi is a torchbearer of India's rich folk and classical musical traditions. A celebrated folk singer, she is passionate about preserving India's considerable oral musical excellence. Her vast repertoire includes thumri, dadra, hori, chaiti, ritu geet, Sufiyana kalaam and various other traditional music forms from Avadh and Banaras.
Under The Banyan Tree on a Full Moon Night | December 2018
Under the Banyan Tree on a Full Moon Night | July 2018
Gallery 1AQ, opposite the Qutub Minar
Qutub Minar Complex Rd, Seth Sarai, Mehrauli, New Delhi, Delhi 110016
GET DIRECTIONS
Friends of Music : Under the Banyan Tree on a Full Moon Night | July Edition
Gallery 1AQ, opposite the Qutub Minar, Delhi
Step out and enjoy this event
Invite your friends
and enjoy a shared experience