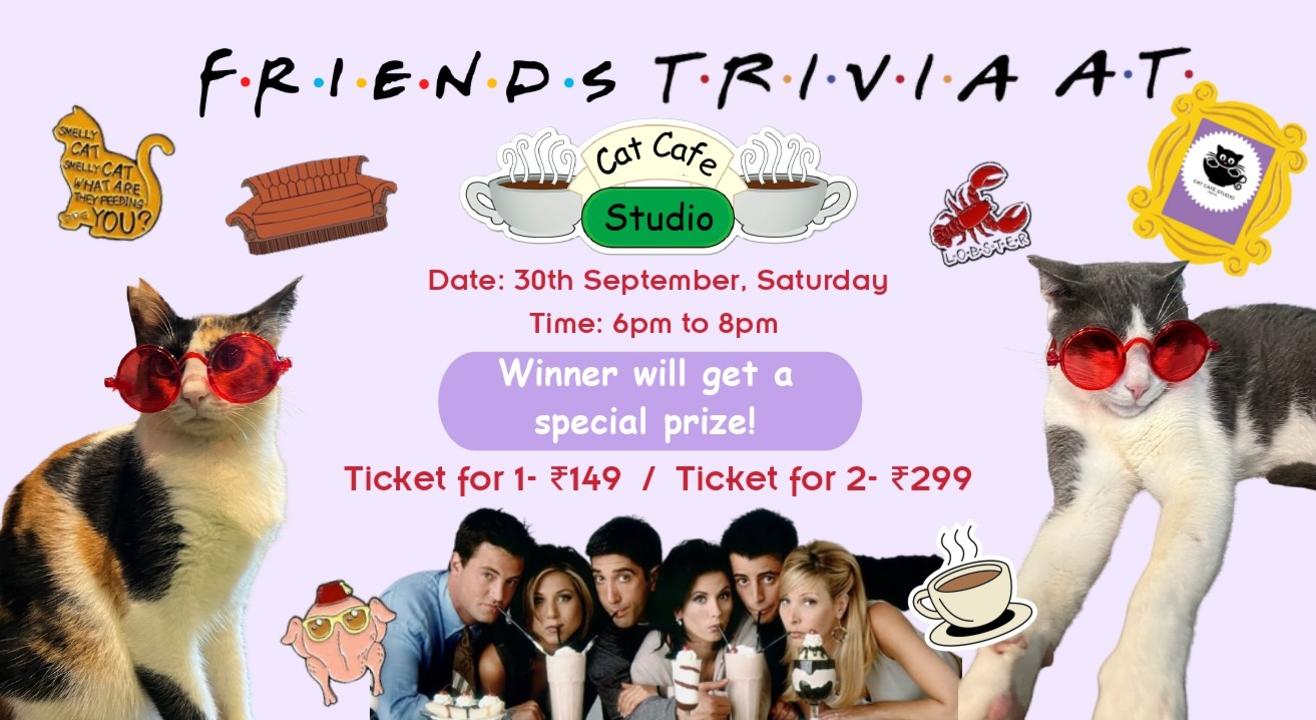 FRIENDS trivia night at Cat Café Studio, Mumbai
Event Guide
For Age(s)
Family Friendly
Game
Participate and have fun
Invite your friends
and enjoy a shared experience
FRIENDS trivia night at Cat Café Studio, Mumbai
Event Guide
For Age(s)
Family Friendly
Game
Participate and have fun
Invite your friends
and enjoy a shared experience
Event Guide
For Age(s)
Family Friendly
Game
Participate and have fun
Invite your friends
and enjoy a shared experience
Are you the biggest 'Friends' fan in town and would like your own smelly cat to sing a song to?
If you've binge-watched 'Friends' more times than you can count, can recite every episode word-for-word, and absolutely love cats? Then this event is for YOU!
Join us as we and the kitties prepare for an evening where we quiz you about Joey's unforgettable catchphrases, Ross's epic meltdowns, and Monica's obsessive cleaning habits!
Get your tickets now, and let's whisker our way through the world of sitcom nostalgia, one question at a time. See you at Cat Café Studio!
The show will begin at 6 pm. Please arrive by 5:30 p.m. to place your food and beverage orders.
The event is at Cat Cafe Studio, so there will be (friendly) animals in the room - a general caution for those with animal allergies/phobias!
Please carry a valid ID proof along with you.
No refunds on purchased tickets are possible, even in case of any rescheduling.
Security procedures, including frisking, remain the right of the management.
No dangerous or potentially hazardous objects including but not limited to weapons, knives, guns, fireworks, helmets, laser devices, bottles, or musical instruments will be allowed in the venue and may be ejected with or without the owner from the venue.
The sponsors/performers/organizers are not responsible for any injury or damage due to the event. Any claims regarding the same would be settled in courts in Mumbai.
People in an inebriated state may not be allowed entry.
Organizers hold the right to deny late entry to the event.
Venue rules apply
Cat Café Studio
Bungalow No, 63, Harminder Singh Rd, Aram Nagar Part 1, Aram Nagar, Versova, Andheri West, Mumbai, Maharashtra 400061, India
GET DIRECTIONS
FRIENDS trivia night at Cat Café Studio, Mumbai
Event Guide
For Age(s)
Family Friendly
Game
Participate and have fun
Invite your friends
and enjoy a shared experience