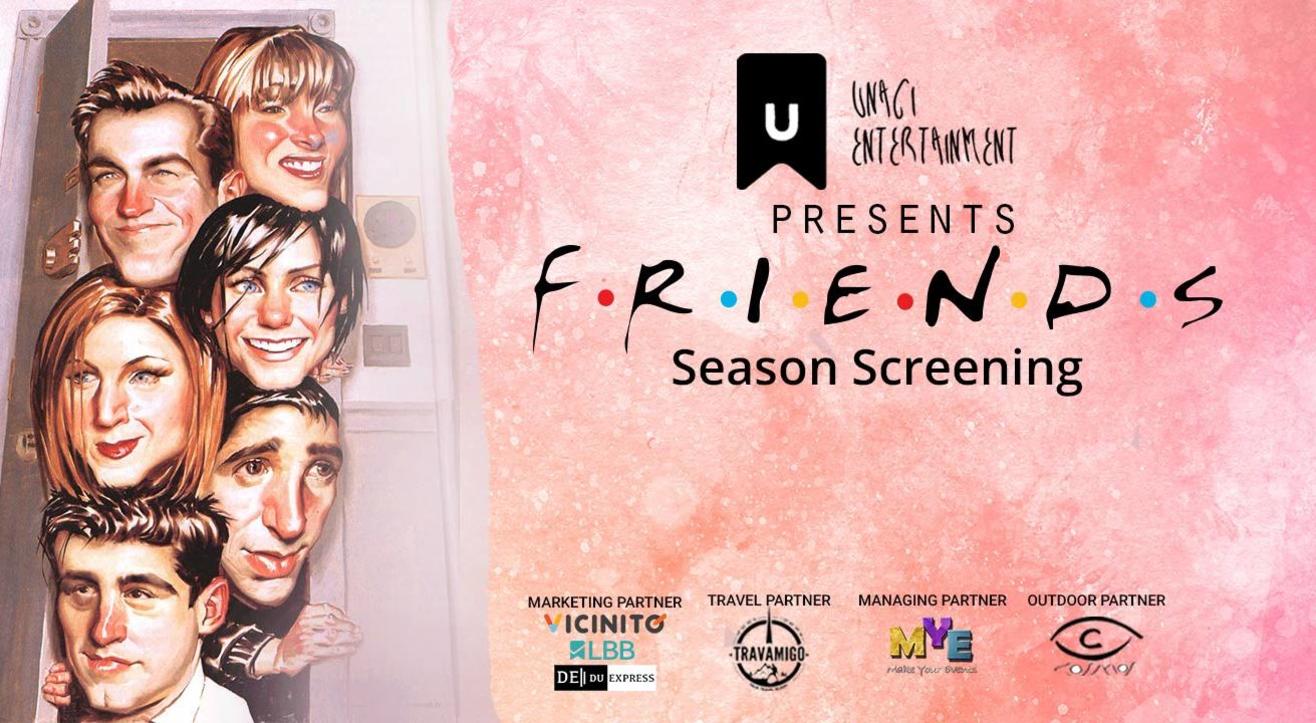 F.R.I.E.N.D.S. TV Show Season 1 Screening
NCUI Auditorium & Convention Centre, Delhi, Delhi
Step out and enjoy this event
Invite your friends
and enjoy a shared experience
F.R.I.E.N.D.S. TV Show Season 1 Screening
NCUI Auditorium & Convention Centre, Delhi, Delhi
Step out and enjoy this event
Invite your friends
and enjoy a shared experience
Invite your friends
and enjoy a shared experience
Unagi Entertainment brings to you a live screening of F.R.I.E.N.D.S. - the best sitcom there ever was and ever will be (hands down!). Watch your favourite show on a 70 mm screen with beer, coffee, pizza and your whole gang to cheer or rather repeat all your favourite lines together. Make Christmas Eve the "best day of your life.'


Come along with friends, colleagues, partner, your Janice, or bring along the ugly naked guy from across the street, cause this is something you oughta witness!


Relive the best moments of F.R.I.E.N.D.S as Joey explains his "Joey's Apple," or Phoebe sings "Smelly Cat." Laugh once more to all the jokes you've known and loved and seen hundred times before. It's also the perfect time for you to bring that friend who's never seen a single episode (if such a creature even exists!).


Limited seats available, so don't wait up. The organizers, Unagi Entertainment (of course, of course), have gotten the screening rights of the TV series and plan to do multiple events to cover the whole 10 seasons on the big screen.

Special Offer
Get 20% off on this event, if you buy 4 or more tickets. Use offer code HOHOHO on checkout. Max. discount ₹1000.

Special Offer
Get 20% off on this event, if you buy 4 or more tickets. Use offer code HOHOHO on checkout. Max. discount ₹1000.
6 hours of utter madness
True fans of the show
F.R.I.E.N.D.S. Quiz Trivia
Stand up comedians to tickle your funny bone!
Central perk
Coffee
Beers
Piping hot food served right at your seat!
Behind the scenes footage show related attractions
And to witness all the joy, laughter, and tears of knowing these 6 F.R.I.E.N.D.S. for over a decade now!
Will you be showing entire season of F.R.I.E.N.D.S. in one sitting?
No, they will only screen half of the season i.e. 4.5 hours plus other activities like stand-up comedy acts etc.
When can I watch second half or/and rest of the seasons?
Monthly screenings will be organized to cover all 10 seasons of F.R.I.E.N.D.S.
Does my single ticket ensure my seat in all screenings?
No, each screening is a fresh screening and will cost you a separate ticket.
Can I choose my seat at the cinema?
Seats available on a first come first serve basis.
How many tickets can I book in one transaction?
You are allowed a maximum of 10 tickets per transaction in each area category of the show. The maximum quantity of tickets available may vary from time to time.
Minimum age of children to buy a ticket?
Children aged 3 years and above will require a separate ticket.
Can I bring eatable to the auditorium?
No, eatables are strictly prohibited inside the auditorium. Special arrangements are in place for you to enjoy F&B.
How can I confirm whether my tickets have been booked?
As soon as your booking is confirmed, a confirmation e-mail and SMS containing your booking details is sent across to the contact details entered while booking. In case you have not received the confirmation e-mail/SMS, please click on the "Resend Confirmation" button on the homepage and enter the contact details used while transacting, a confirmation e-mail/SMS would be resent to you.
Can I change the show time that I have booked for?
Once a ticket is booked, it is deemed as sold and there is no privilege to revise the booking details.
Can we cancel or replace our tickets?
As per show policy, once a ticket has been paid for, it is deemed sold. It cannot be replaced or cancelled.
New to the scene, Unagi Entertainment is here to make boring days better, and for good!
Siri Fort Auditorium was commissioned by the late Prime Minister of India, Rajiv Gandhi. It is one of the biggest auditoriums in Delhi and it offers many mega cultural events like music, dance, theatre, film festivals, etc. by private organizers.
NCUI Auditorium & Convention Centre, Delhi
3, August Kranti Marg, (Opposite Sirifort Auditorium), Siri Institutional Area, Block A, Nipccd Campus, Hauz Khas, New Delhi, Delhi 110049
GET DIRECTIONS
F.R.I.E.N.D.S. TV Show Season 1 Screening
NCUI Auditorium & Convention Centre, Delhi, Delhi
Step out and enjoy this event
Invite your friends
and enjoy a shared experience