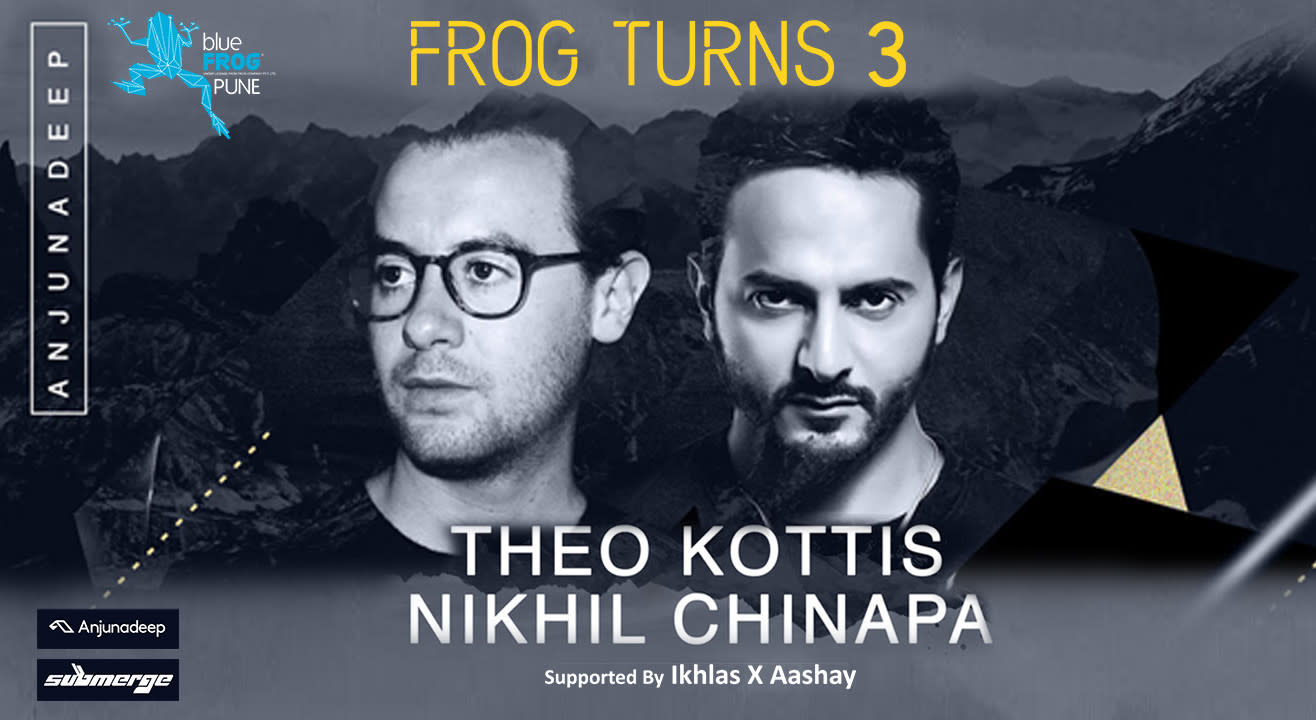 Music
Frog Turns 3! Theo Kottis and Nikhil Chinapa at blueFROG Pune
About
blueFROG Pune is proud to host Theo Kottis and Nikhil Chinapa on August 5th, 2017! blueFROG Pune will be celebrating our third anniversary and we are kickstarting the celebrations with this amazing gig!
About Theo Kottis:
Summer 16 is shaping up nicely for Theo Kottis; with upcoming EP releases on Anjunadeep, Moda Black, and Sasha's Last Night On Earth, plus a slew of festival dates scheduled – he is certainly living up to the hype, created by none other than Pete Tong. Coming from humble beginnings, he has learnt his craft amongst legends at renowned venues, including as a resident at Glasgow's Sub Club.
Having DJ'd alongside Jamie Jones, Tale Of Us, Seth Troxler and David August and being able to count the likes of Pete Tong, Solomun and Simian Mobile Disco as fans, Theo has established himself as one of the UK's most exciting emerging talents.
Gradually gaining the recognition he deserves from the likes of Solomun, Skream, Adam Beyer and Pete Tong, 2014 saw Theo Kottis make an exciting entrance onto the scene, with his EP Waiting Game storming the Beatport Electronica top 10.
Based in Edinburgh, Kottis, who's a key cohort for dance music collective, Moda Black, not only dropped his debut EP, Waiting Game, on the Jaymo & Andy George he..
Sometimes dark, sometimes uplifting, always emotive; Theo is truly obsessive about his approach to music. As a DJ he's already performed at Rockness, T In The Park, Hideout and Glasgow's legendary Sub Club, and that's purely down to his talents in the booth. Now, with a blossoming production career, Theo has found a whole new way to convey his passion for music and convert his wide range of influences and experiences into substantive club compositions.
About Nikhil Chinapa:
To say that Nikhil Chinapa has donned many an avatar during his career, is like saying it snows in Alaska; a bit of an understatement. He morphs from DJ to VJ to MC to Music Promoter to Festival Director —some of his best known avatars — with amazing fluidity.
He studied Architecture and graduated with a Thesis in Hospital Design. A year later and for reasons that scientists are still trying to understand, Nikhil joined MTV. He said, "I think it'll be fun." For once, he was right.
At MTV, Nikhil has hosted almost every show the channel has aired. From MTV Select - MTV's longest running show, (it aired continuously for 10 years) to being the host of Splitsvilla, a judge on Roadies as well as Rock On and now host of MTV Mashups.
Nikhil's Mom still thinks he's an idiot though and should get a real job.
As a popular VJ, Nikhil got to spend a lot of time around his first love, music. In 2001, a conversation between friends resulted in the launch of Submerge — India's first, and now largest Indian Electronic Dance Music (EDM) company in India.
By now, Nikhil had begun to DJ professionally and plays, well... whatever he feels like. His sets are moody, varied, often erratic but usually fun. Most of his sets feature frantic foot-stomping and the random flailing of arms - sometimes by him. They also feature music - the kind that has a repetitive monotonous beat and is best enjoyed at dangerous decibel levels.
Nikhil was also the co-founder of Sunburn. He is now the Festival Curator and partner of Vh1 Supersonic, Goa's brand new beach music festival.