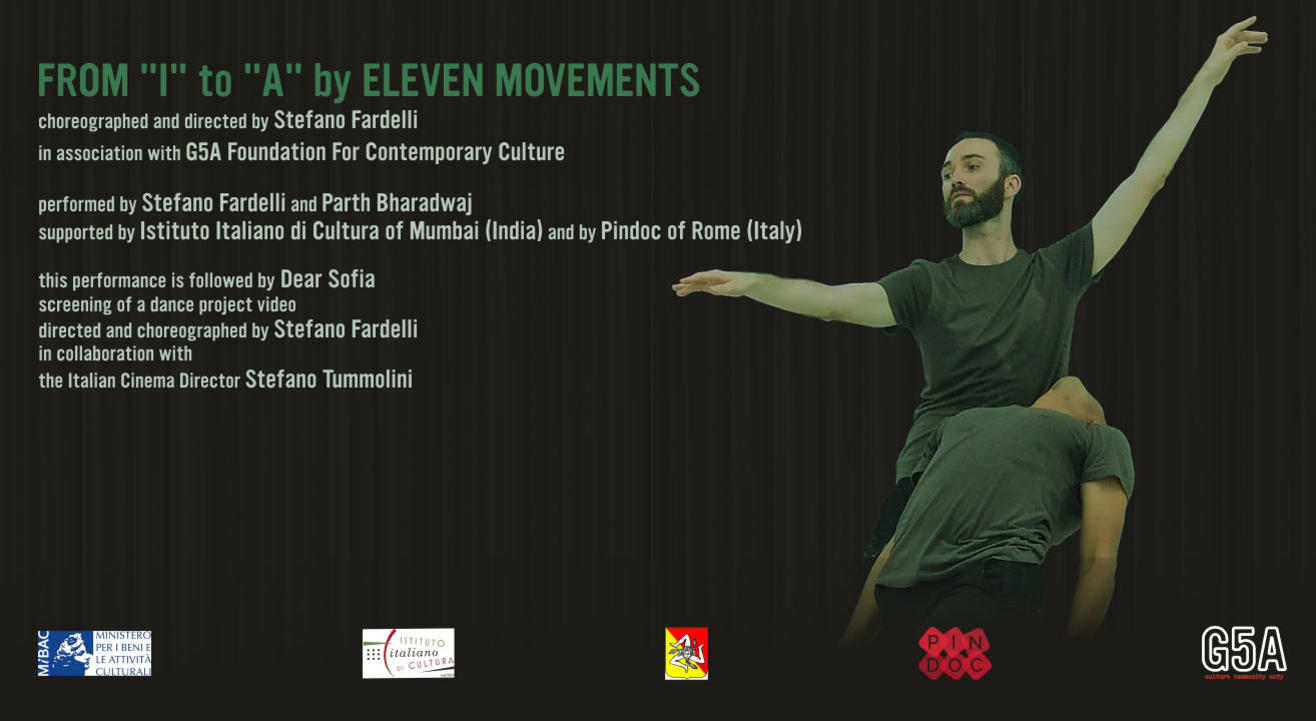 FROM "I" to "A" by ELEVEN MOVEMENTS
January 11 & 12 | 6PM & 9PM
G5A Foundation for Contemporary Culture, Mumbai, Mumbai
Step out and enjoy this event
Invite your friends
and enjoy a shared experience
FROM "I" to "A" by ELEVEN MOVEMENTS
January 11 & 12 | 6PM & 9PM
G5A Foundation for Contemporary Culture, Mumbai, Mumbai
Step out and enjoy this event
Invite your friends
and enjoy a shared experience
Invite your friends
and enjoy a shared experience
A residency in Bangalore, India. An encounter between the choreographer and an Indian dancer.
Italy and India are far away from each other, but, also, they have many things in common: like simply their names in Italian: Italia and India. Both start with an "I" and both end with an "A".
The space between the "I" and the "A" has been filled in with a mix of the two cultures, finding out new bridges to connect them.
The two dancers who, in spite of their own different origins, skin colour and physical features are united by a dance that ties together all their diversities.
Exploring every day eleven movements by the martial art Kalaripayattu, Kathak dance and Bharatanatyam dance and transforming them, they created the sequences of the piece.
The aim of the choreographer was to explore the Indian traditional techniques and find out a new quality of movement in a way that dancers and people that are practicing these forms from years, watching the piece, can just guess from which movements he was inspired by and not always recognise them.
A long turban, symbol of the mother earth, that will generate life, a mist that will follow the shape of the bodies in the space, and incenses with a cozy smell, will give birth to this new duet and to this new world that is located, indeed, between the "I" and the "A".
The performance will be followed by the screening of DEAR SOFIA, video dance Project directed and choreographed by Stefano Fardelli in collaboration with the Italian cinema Director Stefano Tummolini.
The short film Is a dedication to the niece of the choreographer, Sofia Indeed.
About the director and choreographer:
Stefano Fardelli, born in Italy on the 28/10/83, is a dancer, choreographer, teacher and Artistic Director of EurAsia Dance Project International Network with 18 EurAsia Partners all over the globe. He gets his degree at M.A.S. Accademy in Milan; he then continues his studies in other choreographic centers in Europe. Among his international collaborations the Berlin Opera, BBC, The Place, Royal Filand Opera, Les Gens d'Uterpan, English National Opera, Cie Twain etc..
The dance productions of Stefano Fardelli Dance Projects and the EurAsia Repertory are on tour all around the world every year and are supported in Europe by Ass. Cult. Pindoc Onlus and DanceHaus which are supported by the Italian Government and in Asia by the Istituto Italiano di Cultura and Italian Embassy.
He also works as an actor with Hollywood director Mike Figgis in England. In 2014 he debuts on the big screen in a leading role in L'Estate Sta Finendo movie. Protagonist in short films, works as a model, dancer for television, commercials and international videoclips in USA and Europe.
He teaches Feldenkrais technique and Contemporary Dance for the biggest festivals, theatres, professional centres and dance companies of all the five continents.
In 2011 he was selected by the Italian Government among the young talents who will represent Italy in the world.
About the dancer:
Parth Bharadwaj is a contemporary dance practitioner actively involved in creating individual dance work and facilitating technique classes. He has a keen focus towards arts education, community arts and is finding ways towards self-sustainable methods for individual art/dance practice. He has trained extensively through his association with Attakkalari Centre for Movement Arts and engagement with various open workshops and mentors. His classes work towards finding a deeper connection between breath, spine and finding continuous energy flow. Spirals, floor work, Physical sensations, fall & recovery, speed, dynamism & precision are explored via structured movement phrases. Classes are fundamentally physical, borrowing information from individual movement practice, multiple contemporary techniques and martial arts.
G5A Foundation for Contemporary Culture, Mumbai
Laxmi Mills Estate, Shakti Mills Lane Off Dr E Moses Road, Mahalaxmi Mumbai 400 011
GET DIRECTIONS
FROM "I" to "A" by ELEVEN MOVEMENTS
January 11 & 12 | 6PM & 9PM
G5A Foundation for Contemporary Culture, Mumbai, Mumbai
Step out and enjoy this event
Invite your friends
and enjoy a shared experience