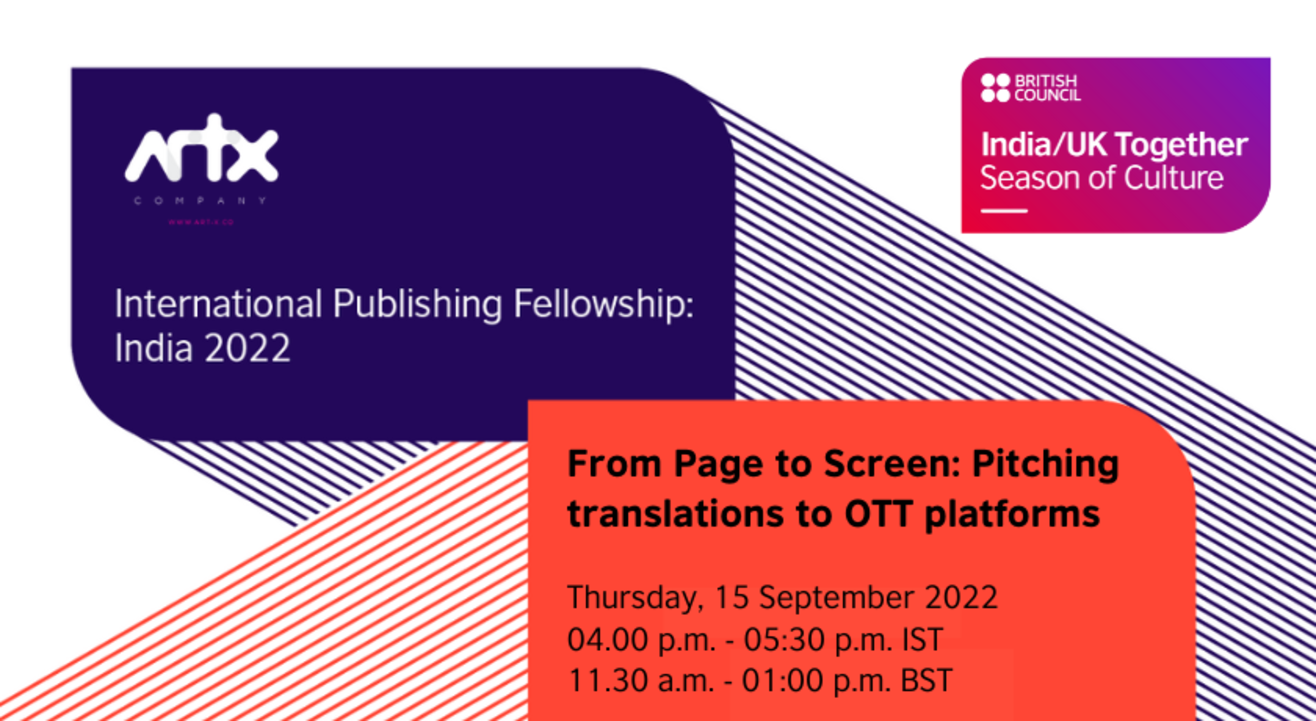 From Page to Screen: Pitching Translations to OTT Platforms
Invite your friends
and enjoy a shared experience
From Page to Screen: Pitching Translations to OTT Platforms
Invite your friends
and enjoy a shared experience
Invite your friends
and enjoy a shared experience
Presented by the British Council and The Art X Company, the latest event of the year-long International Publishing Fellowship is a panel discussion that sheds light on understanding the transition of a story from page to the screen.
Date: September 15, 2022
Time: 4:00 p.m. - 5:30 p.m. IST / 11:30 a.m. - 1:30 p.m. BST
Duration: 90 minutes
Tickets: INR 499 / GBP 5
ABOUT THE SESSION
This session will shed light on understanding what works in transitioning a book's story to screen. The session will cover the OTT food chain structure, networks to tap into while looking to pitch (production houses, OTT platforms, publishers, related intermediary organisations), best practices and guidelines while crafting pitches for OTT platforms, and how to respond to mandates from OTT platforms regarding genres and trends.
ABOUT THE SPEAKERS
Emma Topping
Emma Topping is an Executive Producer and an Entertainment Lawyer with 25 years of experience in the entertainment business. In 2020, she launched Viv Loves Film - a literary, development and production agency specialising in book-to-screen, stage and video game adaptations and world-building media franchises.
Emma also lectures at Screen Film School Brighton, where she co-created and will teach a new BA (Hons) Film Business & Production Degree that launches in September 2022.
Mrinalini Khanna
Mrinalini Khanna is a Writer, Producer and currently Head of Originals for Lionsgate India where she does what she terms "fighting the good fight", which is the endeavour to produce content that's simultaneously entertaining, enthralling and intelligent – while defending the idea against the hailstorm that is the combination of business, commerce and perception.
Mrinalini previously produced at NDTV, wrote for Miditech and went on to Head Business Development at Endemolshine India.
Sidharth Jain
Sidharth Jain has worked as a Producer in the Indian entertainment industry for over 15 years. He founded The Story Ink in 2018, now India's largest book-to-screen adaptation company, having set up 200+ books across 50+ production houses. The Story Ink represents 250+ authors and controls the screen rights of more than 500 books.
In 2021 Sidharth founded a development and production company - House of Talkies, which has a multi-format slate of film & series projects. Sidharth previously worked with Hotstar, iRock Films and Hyperion Studio, after selling his dotcom company to eBay India (Baazee.com).
UPCOMING EVENTS
The next event as part of the International Publishing Fellowship programme will be a networking circle for publishing professionals. Register here: https://bit.ly/IPF_NC
NOTE
This event aims to be accessible to all. Any interested participants who need a fee waiver can write to us with their reasons for the same at admin@art-x.co.
From Page to Screen: Pitching Translations to OTT Platforms
Invite your friends
and enjoy a shared experience