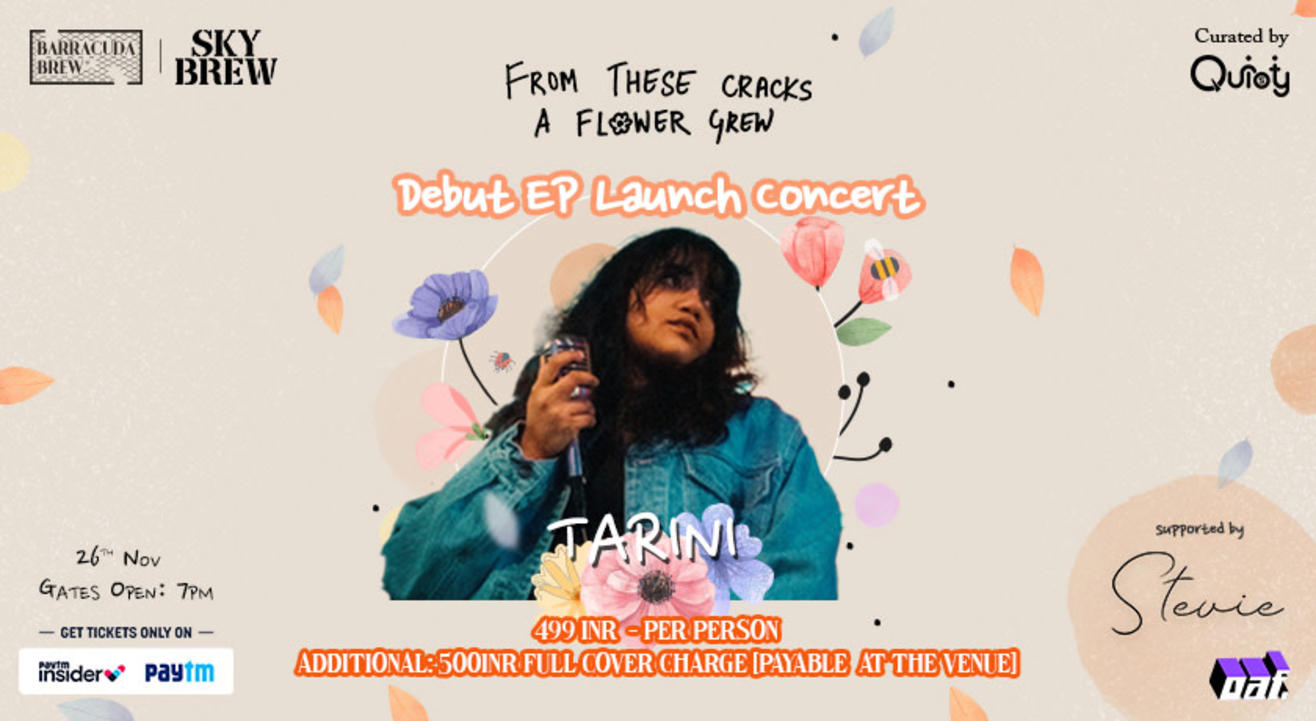 From These Cracks A Flower Grew - Debut EP Launch Concert
Event Guide
Live Performance
Enjoy a unique experience
Invite your friends
and enjoy a shared experience
From These Cracks A Flower Grew - Debut EP Launch Concert
Event Guide
Live Performance
Enjoy a unique experience
Invite your friends
and enjoy a shared experience
Event Guide
Live Performance
Enjoy a unique experience
Invite your friends
and enjoy a shared experience
Tarini is an indie singer-songwriter from Chennai, India. She is set to release her Debut EP 'From These Cracks A Flower Grew' in collaboration with American producers Lexington Bowler and Joseph Nichols. Earlier this year she released the lead single for the EP - 'Chose You For You'. She has worked with highly respected producers like Easy Wanderlings' Sanyanth Naroth, and Alvin Presley, and is constantly looking to work with collaborators who she feels will compliment her sound and help her evolve as an artist.
Tarini's much anticipated debut EP "From These Cracks A Flower Grew" is a collection of four songs that centre around the themes of healing, growth and change. From finding the courage to finally fall for someone after a heartbreak, to picking yourself up when life beats you down, letting your guard down and let yourself be loved, to facing your fears and moving away from home to pursue your dreams, this EP explores the human spirit's capacity to endure, adapt, and ultimately thrive in the warm embrace of love and community. The human spirit is resilient, but sometimes all a flower needs is a little bit of love in order to bloom.v
From These Cracks A Flower Grew" is an indie-pop record that stays true to Tarini's honest and vulnerable lyric-oriented songwriting style. Acoustic guitar and vocals lay a strong foundation for the EP, giving it a sense of intimacy and authenticity.
Curated by Quriosity
Venue and club rules apply.
Do not buy tickets from anyone except online on insider.in
Please note: A cover charge of INR 500 additionally will be applicable upon entry which can be fully redeemed against FnB.
This will be an early show so request you to be there at the venue 7pm so we can start the show on time.
The show will conclude by 10pm and audiences are requested to vecate the venue by 10:30 as per the new guidelines issued by the Great Corporation of Chennai.
So request you to make your order bright and early and clear all your pending bills by the said time to have a timely and hassle free exist.
Please remember to carry a valid government-issued photo ID proof (Driver's License/Aadhar Card/PAN Card/Voter Card/Passport). You may not be permitted to enter in the absence of one.
Please do not carry dangerous or potentially hazardous objects including but not limited to weapons, knives, guns, fireworks, laser devices and bottles to the venue. We may have to eject these things (with or without you) from the venue.
The holder of this ticket grants organizers the right to use, in perpetuity, all or any part of the recording of any video or still footage made of the holder's appearance on any channel or magazine for broadcast in any and all media globally and for advertising, publicity and promotions relating hereto without any further approval of theirs.
The management reserves the exclusive right without refund or other recourse, to refuse admission to anyone who is found to be in breach of these terms and conditions including, if necessary, ejecting the holder/s of the ticket from the venue after they have entered the premises.
Most importantly take loads of pictures and make sure to have the time of your life, You are requested to dance, sing and move like no one is watching.
Tag us with all your pictures and videos through your social media at @tarini_08 @_quriosity_ @barracudabrew
Barracuda Brew
24, College Rd, Subba Road Avenue, Nungambakkam, Chennai, Tamil Nadu 600006, India
GET DIRECTIONS
From These Cracks A Flower Grew - Debut EP Launch Concert
Event Guide
Live Performance
Enjoy a unique experience
Invite your friends
and enjoy a shared experience