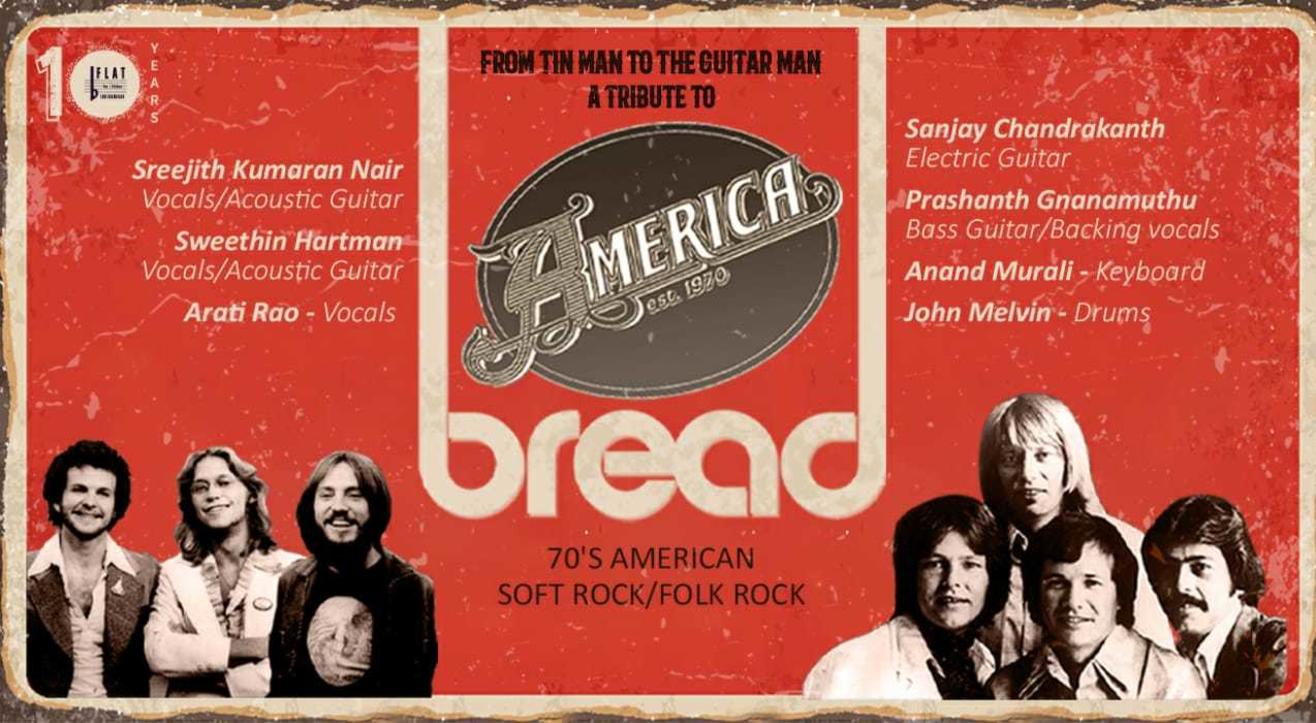 Music
From Tin Man to Guitar Man/America & Bread Tribute
About
For over 10 years, The bFLAT Bar has firmly established itself as a dedicated performance venue that presents assorted indie music, world, jazz and blues music genres, both Indian and international. But every now and then they take great pride in a specially curated concert comprising a hand-picked ensemble among Bangalore's finest musicians.
This time they present a double homage to the soft rock icons of the 1970's - bands, Bread and America, who enjoyed chart topping success during their time and have left a huge, sublime and melodious musical legacy and much nostalgia, for a time gone by.
Expect a stellar line-up of musicians and singers who will pay tribute and perform all your favourite Bread and America tunes. The vocalists in this line-up have been especially chosen for their vocal timbres and virtuosity with vocal harmonies.
The audience can expect to hear all their hit singles such as:
"Make It with You", "It Don't Matter to Me", "If", "Baby I'm-a Want You", "Everything I Own", "Diary", "The Guitar Man",
& "A Horse with No Name", "I Need You", "Ventura Highway", "Muskrat Love", "Tin Man" , "Lonely People and many more!!!
You are sure to sing along all evening. This is guilty pleasures Retro Folk and Soft Rock at it's best! :)
ABOUT BREAD
Bread was an American soft rock band from Los Angeles, California. They placed 13 songs on the Billboard Hot 100 chart between 1970 and 1977.
The band consisted of David Gates (vocals, bass guitar, guitar, keyboards, violin, viola, percussion), Jimmy Griffin (vocals, guitar, keyboards, percussion) and Robb Royer (bass guitar, guitar, flute, keyboards, percussion, recorder, backing vocals).
Their efforts quickly established Bread as a major act with the Billboard Hot 100 No. 1 hit "Make It with You" in 1970.
In January 1972 Bread released Baby I'm-a Want You, their most successful album, peaking at No. 3 on the Billboard 200. The title song was established as a hit in late 1971 before the album was released, also hitting No. 3. Follow-up singles "Everything I Own" and "Diary" also went Top 20.
Their hit singles include:
"Make It with You", "It Don't Matter to Me", "If", "Baby I'm-a Want You", "Everything I Own", "Diary", "The Guitar Man", "Sweet Surrender", "Aubrey", "Lost Without Your Love", "Hooked on You" and more!
Gates and Royer are the only surviving members of Bread. Royer continues to be involved in music today.
ABOUT AMERICA
America is an American rock band that was formed in London in 1970 by Dewey Bunnell, Dan Peek, and Gerry Beckley. The trio met as sons of US Air Force personnel stationed in London, where they began performing live. Achieving significant popularity in the 1970's, the trio was famous for their close vocal harmonies and light acoustic folk rock sound. Starting out with borrowed acoustic guitars, they developed a style which incorporated three-part vocal harmony with the style of contemporary folk-rock acts such as Crosby, Stills & Nash. Eventually, the trio dubbed themselves America, chosen because they did not want anyone to think they were British musicians trying to sound American!
Their debut 1971 album, America, included the transatlantic hits "A Horse with No Name" (which became a major worldwide hit in early 1972. It sold over one million copies) and "I Need You"; Other major hits on subsequent albums included the single "Ventura Highway"; "Muskrat Love". "Tin Man" and "Lonely People"; and 1975's number one single "Sister Golden Hair" alongside "Daisy Jane." History: America's Greatest Hits, a compilation of hit singles, was released the same year and was certified multi-platinum in the United States and Australia. Peek left the group in 1977, and their commercial fortunes declined, despite a brief return to the top in 1982 with the single "You Can Do Magic".
The group continues to record material and tour with regularity. Their 2007 album Here & Now was a collaboration with a new generation of musicians who credited the band as an influence. America won a Grammy Award for Best New Artist and were nominated for Best Pop Vocal Group at the 15th Annual Grammy Awards in 1973. The group was inducted into the Vocal Group Hall of Fame in 2006 and received a star on the Hollywood Walk of Fame in 2012.