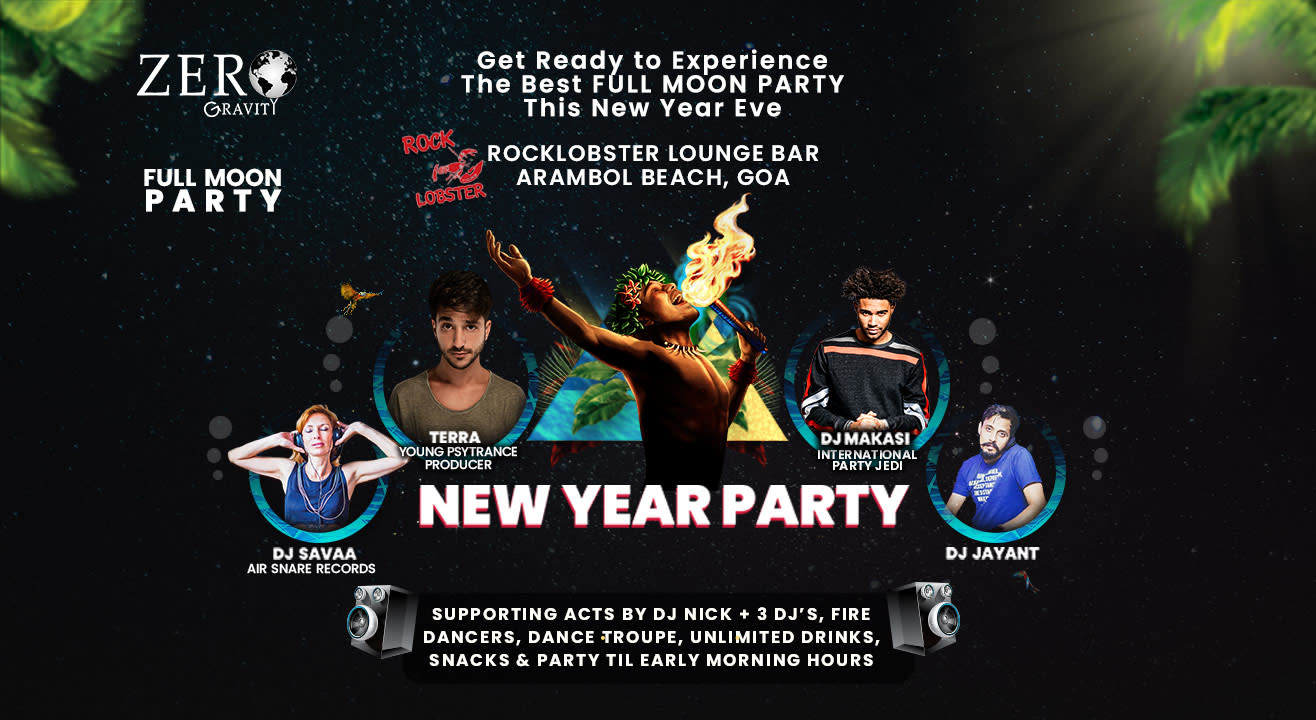 NYE Parties
Fullmoon festival 2019 New Year Eve 2020
Rock Lobster Lounge & Bar, Goa
About
The Forgotten Tale Of Hippies - Full Moon New Years Eve 31st Dec 2019
Goa was said to be the most popular destination for the hippies. EDM or Trance music which is like 'Our Thing Now' was born in this land. Now, wait, just hold on Guys, Its Goa Aaah!! Yes, you heard it right. No matter where you are from, no matter what is the plan, Goa is definitely the name at the tip of your tongue.
Close your eyes and picture your fantasy New Year's Eve celebration. Does it involve a white sand beach, a dress code of flip-flops, if yes.Then I have the party for you.This year Zero Gravity is bringing one of the most unforgettable parties in the world to Goa.Get ready, this NYE we are bringing one of the most unforgettable parties in the world right here to Goa India
If you haven't been to a FULL MOON before then this is your chance to experience.Lets get 70's laid back atmosphere back on the best beach to witness the full moon at the Arambol beach in Goa from the beach the moon looks bigger and beautiful and heres your chance to party the night away till the wee hours in the morning with the sound of the best international Djs to keep you grooving and to welcome 2020 with a crazy bang.
What can you expect?
Loads of drinks
Bangin International DJ Terra and various others playing epic tunes
Tons of lights
1 shot on the house
Open till the early hours!