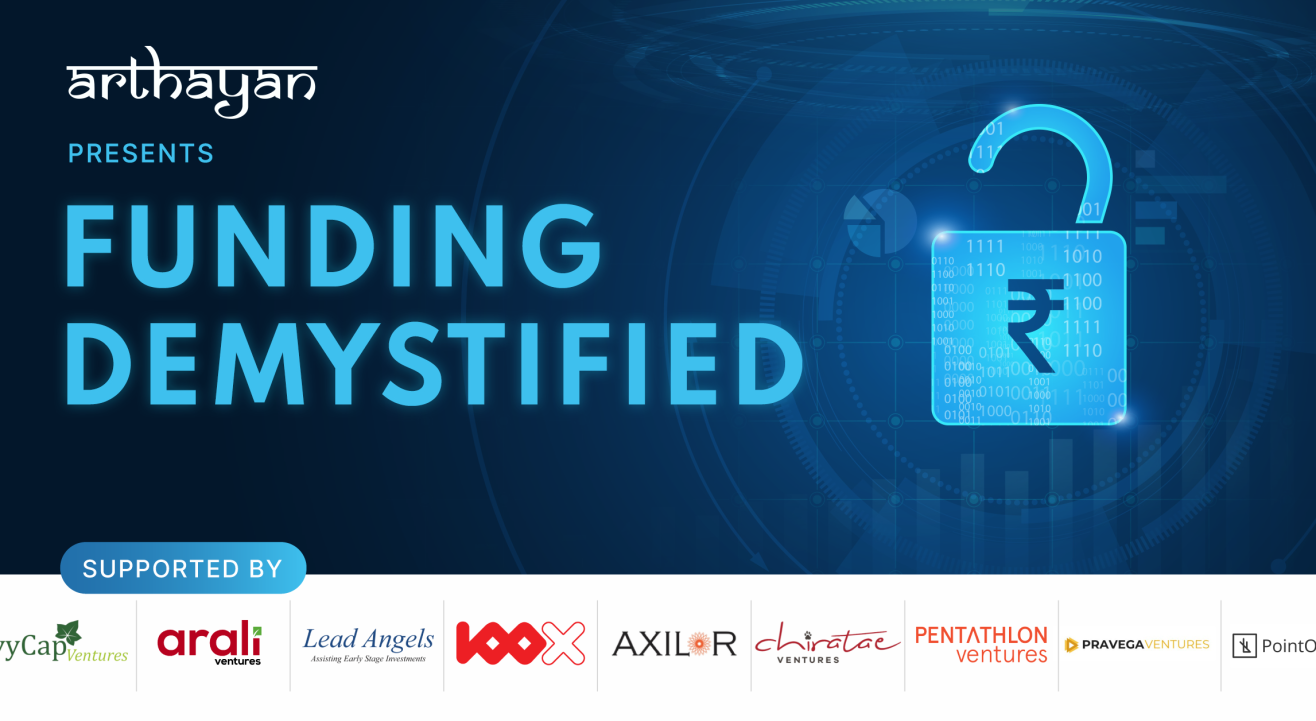 August 7 | 10:30AM - August 8 | 6:30PM
Enjoy this event from your home
Event Guide
Masterclass
Learn from an expert
Invite your friends
and enjoy a shared experience
Event Guide
Masterclass
Learn from an expert
Invite your friends
and enjoy a shared experience
About the Event
Funding is the fuel that powers a Founder's startup journey. The process of raising funds seems like a mystery to many who are just starting out. There are so many unanswered questions, how should I create my pitch deck? What is a term sheet? What is the correct way to arrive at my startup's valuation? Which investors should I approach?
Well, who better to answer these questions than the Investors who work in this arena day in and day out.
Arthayan has partnered up with reputed VCs and Angel Networks to bring to all the aspiring founders a power-packed free 10 part lecture series over 2 days. In these two days, experienced venture capital professionals from the leading Investment firms in India will give insights into all the major aspects of Fundraising. They'll be covering a lot of case studies from their own career in the field of startup funding. You can expect to hear some very interesting stories about successful fundraisers as well as a few that didn't go through.
Agenda-
When - 7th and 8th August
Time - 10:30 to 18:30 hrs (Both days)
Where - Virtual over Airmeet (https://www.airmeet.com/e/ca45dd40-e3c9-11eb-8cb0-5f6e0ee88d85)
Day 1- 7th August
10:30 AM - 12:00 PM- Fundamentals of Fundraising, by Gireendra Kasmalkar- Pentathalon Ventures
12.00 PM to 01.30 PM- Funding Landscape in India, by Dhruv Nath- Lead Angels
01.30 PM to 02.00 PM- Lunch break
02.00 PM to 03.30 PM- Valuation of a Startup, by Kailash Nath- Chirate Ventures
03.30 PM to 05.00 PM- Do's and Don'ts of Due Diligence, by Sujata Krishnan- Arali Ventures
05.00 PM to 06.30 PM- Art of creating a Pitch Deck, by Vikram Gupta- IvyCap Ventures
Day 2- 8th August
10.30 AM to 12.00 PM- Decoding a Termsheet, by Mukul Singhal- Pravega Ventures
12.00 PM to 01.30 PM- Cap tables and Shareholding, by Shashank Randev- 100X.VC
01.30 PM to 02.00 PM- Lunch break
02.00 PM to 03.30 PM- How to pitch your venture, by Ganapathy Venugopal- Axilor Ventures
03.30 PM to 05.00 PM- Funding Case Studies
05.00 PM to 06.30 PM- How to choose the right Investor, Panel discussion with Founders who have raised funds
The hour-long lectures will be delivered live on 7th and 8th August from 10:30 AM to 6:30 PM. Each lecture is followed by a 15-min Q&A session and a small break before the next session starts. The entire event will be hosted on Airmeet platform
Register today! https://lnkd.in/d6TBJJR