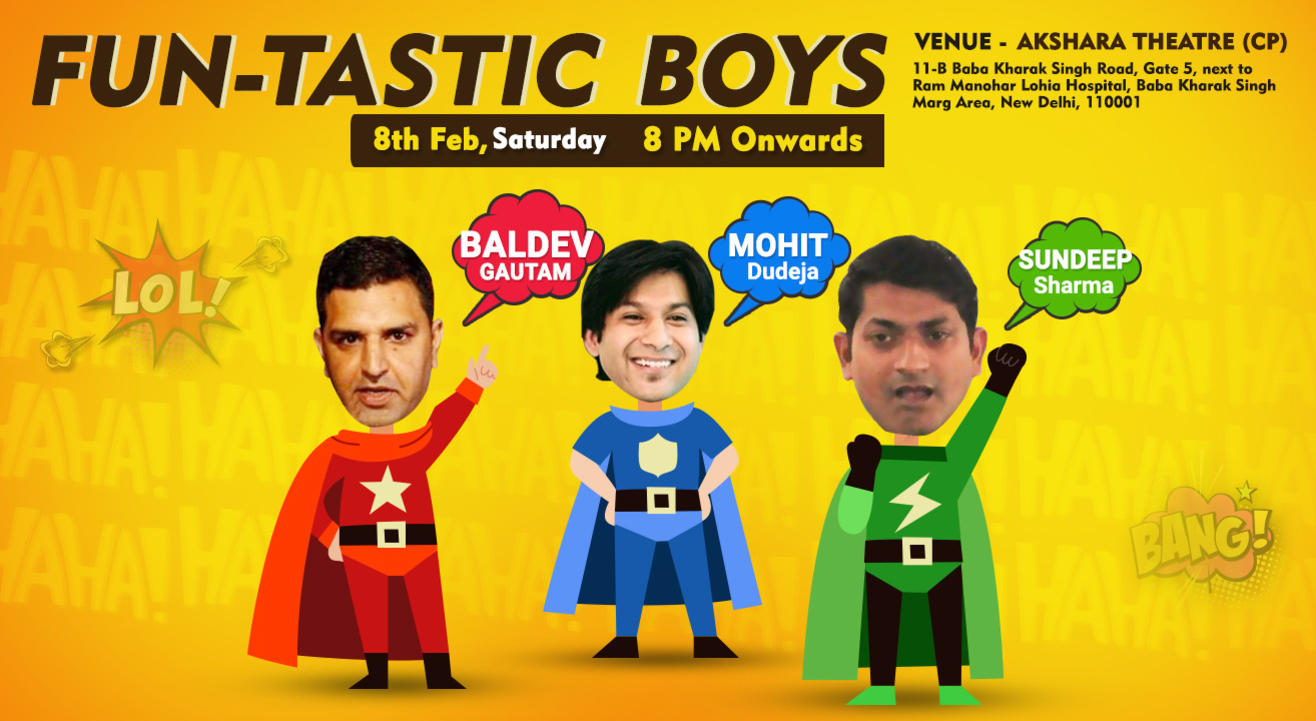 Comedy
Fun-Tastic Boys - A Special Stand-Up Comedy Shows
About
Three superhero of comedy from Delhi team up for a night to make you laugh.
They have already spread million of laughs. from corporate to public shows in the past two years..
This is going to be awesome show.
Come with your family and friends to enjoy this evening full of laughter..
Artist.
Mohit Dudeja - He made people laugh on funeral. of his own grandfather.Before entering into the comedy.
Mohit has worked in 7 companies out of which 6 has been shut down.
And the 7th one caught in fire. He likes to play a lot. with his career.
He entertains people in Delhi NCR and Mumbai. His jokes make him stand out in a crowd.
Baldev Gautam-
Baldev Gautam is used to be a banker before he decided to become a Stand up Comic sometime in 2017. A Gentleman, he has some very funny tales to tell from his life experience. His style is full of unprecedented stories blended with wit and humour.
He has won several college competition With his excellent timing ,he also had a advantage of having a poker face and he has a unique way of delivering the joke which makes him a unique personality.
He already performed almost at every venue of NCR including canvas,akshra etc.already performed at fresh faces at CANVAS LAUGH CLUB which is like a MECCA for comedians.At the age of 32 he has a different style to make people laugh by oberserving things which we do in our daily life.
Sundeep Sharma - he thinks everyone should not be successfull.. othrwise who will become serial killer. in his mean time he demotivate people..
Venue
Akshara Theatre, Delhi
11-B, Baba Kharak Singh Marg. Next to RML Hospital exit no. 5, Closest Metro Stations: Rajiv Chowk, Patel Chowk and RK Ashram, Delhi NCR