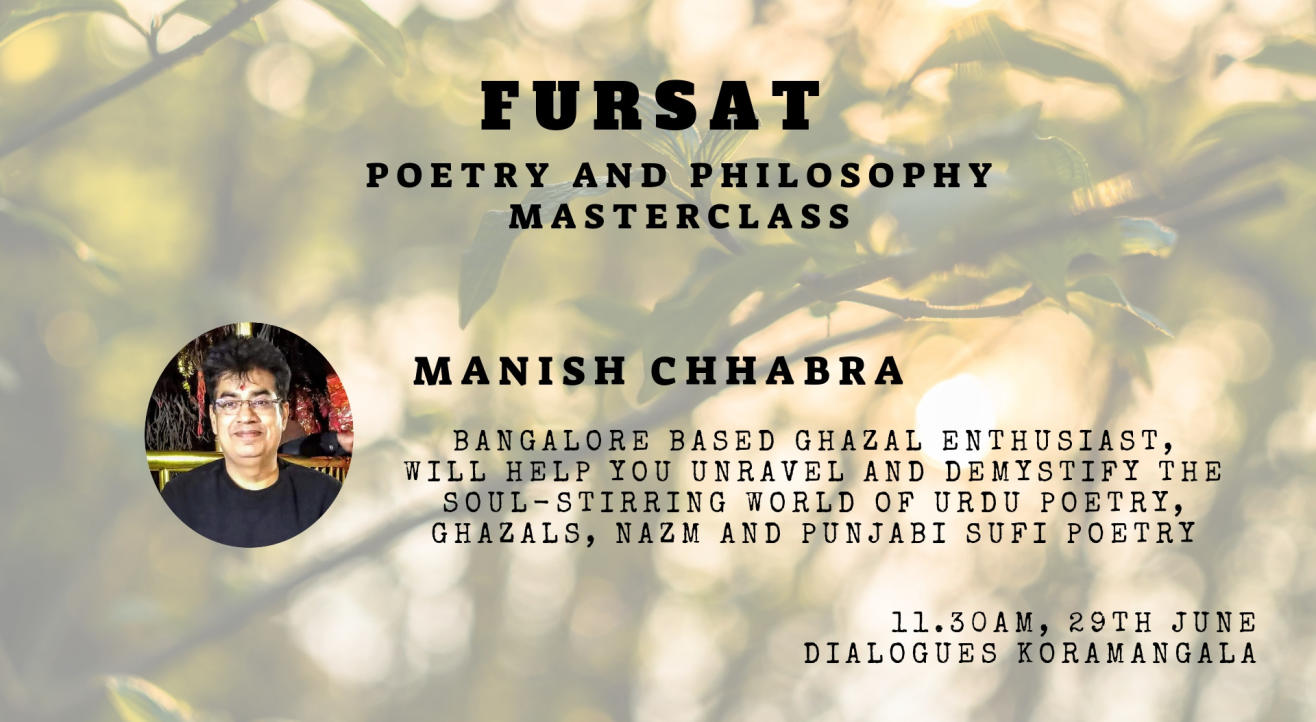 Poetry
Fursat - Poetry and Philosophy Masterclass
Dialogues Cafe, Koramangala
About
Dialogues presents our ever-popular event Fursat – Poetry and Philosophy Masterclass
Fursat is Dialogue's Signature event, hosted by Manish Chhabra, a Ghazal enthusiast, which will help you unravel and demystify the soul-stirring world of Urdu Poetry, Ghazals, Nazm and Punjabi Sufi Poetry.
The masterclass will help you and connect the dots between the deeply embedded emotions in poetry and the percolated philosophies hidden in them. Listen to Ghazals, relish the audio recordings, understand the connotation, context that the poet intended in that era, connect with the deep thought and emotions associated with them and experience "Poetry" in a new way. The attendees will get an insight into mystical life of Poets like Nida Fazli, Ahmed Faraz, Praveen Shakir, Bulleh Shah and Shiv Kumar Batalvi which will make you fall in love with this deep art form.
Finally unleash the storyteller poet in you.
As an audience, just bring in "Fursat" Begin a new journey with Fursat on Saturday 29th June , 2019 between 11: 30am and 2 PM at Dialogues Koramangla.
INR 200 per person, Complimentary Caffeine included. Please make an effort to be on time and book ahead
Venue
Dialogues Cafe, Koramangala
41, 100 Feet Rd, 4th Block, Koramangala, Bengaluru, Karnataka 560034