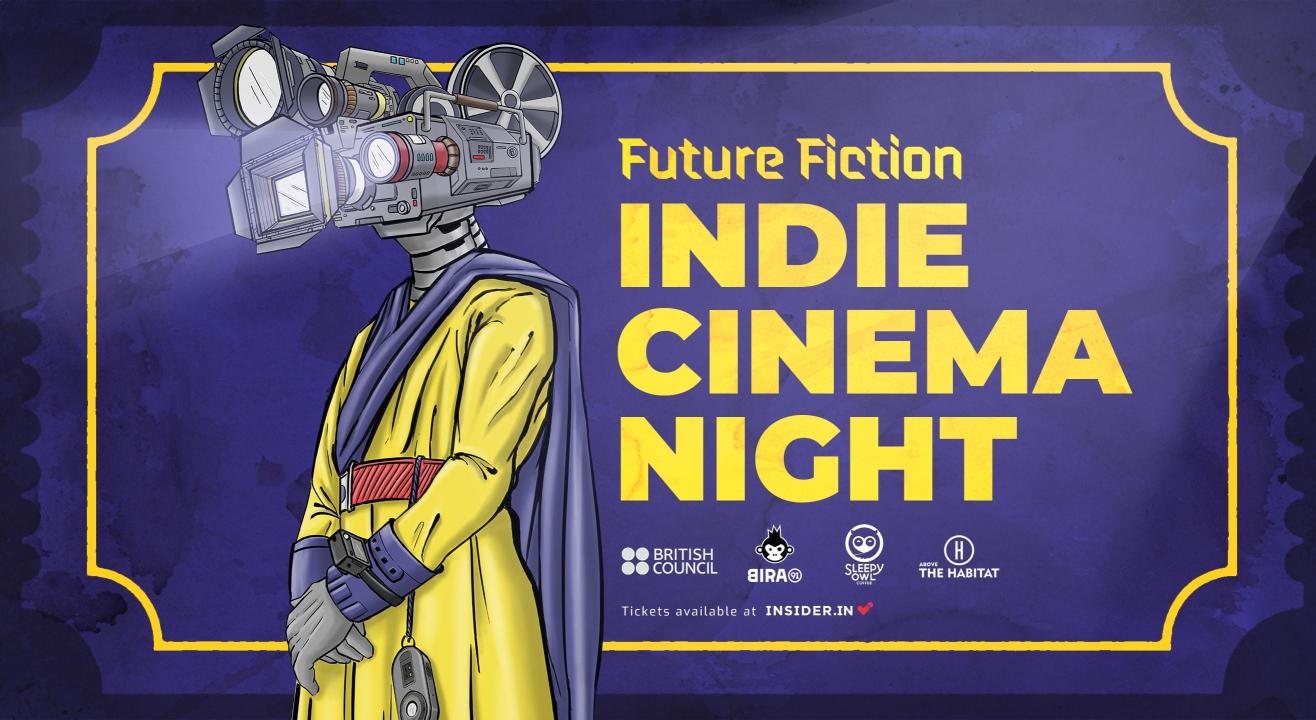 Future Fiction Presents Indie Cinema Night
Above The Habitat, Mumbai
Step out and enjoy this event
Invite your friends
and enjoy a shared experience
Future Fiction Presents Indie Cinema Night
Above The Habitat, Mumbai
Step out and enjoy this event
Invite your friends
and enjoy a shared experience
Invite your friends
and enjoy a shared experience
From the unique world of animations, films with heady cultural references to powerful story lines addressing dissent, there's so much to discover at the Indie Cinema Night. Join us for a night of extraordinary indie and animated films from outside-the-mainstream this Sunday - May 19th at at Above The Habitat (Khar - West) 7pm onwards.
Reminiscent of old style movie nights replete with complimentary popcorn and coffee, here is a chance to discover new storytellers and media, from Smartphone Cinema to Visual Music to award-winning Shorts, and themes ranging from responsible environmentalism, Pashmina goats to dystopian societies.
** CURRENT PROGRAMMING**
9:16 Smartphone Cinema: Exploring the creative potential of the vertical film-making format curated by Aneesh Prasad, Co-Founder - The Outbox Project wherein he explores smartphones as a tool for independent filmmaking.
Indie Animated Films: An inspiring selection of animated works from India showcasing a diversity of styles and techniques
Dinner at Eight by Deepti Sharma and Taarini Ravjit Singh: Dinner at Eight is a short stop-motion film about being comfortable and happy in one's own company.
God-Damn! by Ashish Kashyap: In this movie two Gods of death, Anubis (Egyptian god of death) & Hades (Greek God of death) fight over a soul of a Greek guy who dies in Egypt.
The Watchers by Saket Ghaisas: A man slowly fails to come to terms with the drastic consequences of his desperate actions.
Kaanch by Balaram Warrier, Praful Kumar, Siddhant Geedh, Partha Mahanta: The film revolves around a person with a traumatic past which affects his thoughts in the present.
Ekta Golpo by Pigeon & Co.: A stop motion about a King and his eight majestic horses.
Visual Music: Discover visual artists responding to, and experimenting with sound
Nutterfly by Sandunes (video by Studio Moebius)
Mages by Aerate Sound (video by Rajaram Rajendran/ Eleven Elements Studio)
Write Across by HOIA (video by Aniruddh Mehta AKA TheBigFatMinimalist, Jahaan Noble and Sumer Mehta)
Poorna Swaraj by RollsRoy's (director - Archisman Misra & Sumit Roy)
Independent Films: Independent films from India exploring an array of themes, and a variety of styles cutting across genres
Aldona Video Club (Kapil Das & Grant Davis): Presenting a collection of scenes, works in progress, and short films from Aldona Video Club's ongoing projects, featuring "The Laughing Man" with Bhiku.
Sangharsh (Lights on Films): What is freedom? What is choice? Patriotism, Nationalism, Responsibility, Freedom of Speech, Democracy are these just words or do they carry a much greater significance?
The Call of Pashmina (Emaho Films): A few years ago, an unexpected snow storm hit the region killing over 25,000 of these goats. When a young Kashmiri man read this news, he travelled up to Changtang to see what he could do.
Counterfeit Kunkoo (CATNIP - Reema Sengupta): Counterfeit Kunkoo is the story of Smita trying to find a house to rent in Mumbai, as a woman without a husband.
Wintergreen (Sandeep Mohandas & Memesys Culture Lab): In an immersive future, a mother and her young daughter drifting in their own separate realities reconnect over a memory long forgotten.
BAFTA 2019 Shorts: The curated selection from UK are a part of the BAFTA 2019 Shorts programme that represents storytelling that reveals the breadth and diversity of British society, together with world class artistic and technical flair, and featuring some of the UK's finest acting talents. The BAFTA 2019 Shorts screening is supported by British Council.
I'm OK by Elizabeth Hobbs: Inspired by the life and art of artist Oskar Kokoschka, I'm OK explores the wounds of heartbreak and trauma.
Marfa by Greg McLeod, Myles McLeod: An existential journey to a West Texan town.
The Field by Sandhya Suri: Between the cornstalks of Shahzadpur — in the realm of the senses.
Roughhouse by Jonathan Hodgson: When three teenage friends meet a charismatic stranger, their loyalty is torn apart with terrifying consequences. (BAFTA Winner 2019)
The Indie Cinema Night was born to create an alternative space for emerging forms of film, visual art and animation from India and abroad. It is produced by Future Fiction to celebrate moving image in all its forms, the current creative energies that build the scene and emerging formats of storytelling.
1) How do I get to the venue?
We recommend catching public transport but whatever your chosen mode of transport (local station) - however, for all those driving, limited parking is available around the venue. Address: 1st and 4th Hotel Unicontinental Road Number 3 Khar West Ram Krishna Nagar, Mumbai, Maharashtra - 400052.

2) What can I bring to the event?
Bring anything you need to engage with fellow film attendees - notebooks, laptops etc. We encourage you to take pictures/ videos and share within your networks across your social channels. You can find us on Instagram and Facebook. Some event hashtags for social media:
#IndieCinemaNight #FutureFiction

3) Is food being served at the event?
Yes. Light snacks and drinks are available at the venue for purchase. Also expect some assorted flavored popcorn and Sleepy Owl Coffee (until stocks last).

4) How can I submit my work?
The programming for this edition of the Indie Cinema Night has been finalised. However, if you are experimenting with moving image and are an independent practitioner please get in touch with us. We'll review your submission and get back to you. Please get in touch with us at futurefictionin@gmail.com

5) Can I buy a ticket for just one film screening?
Unfortunately, there are no individual film tickets available.

6) How many films will be showcased at the event?
The ticket pass grants you access to over 15 indie films from India and the UK.

7) What are the registration timings?
Registration starts at 6:15PM at the venue.

8) Are there any refunds on the ticket?
Full refund only in case of event cancellation.

9) Can I volunteer at the event?
Yes, please write to us at futurefictionin@gmail.com with Indie Cinema Night Volunteer in your subject line and we'll get back to you.

10) How can I contact the organisers with any further questions?
Write to us at futurefictionin@gmail.com with Indie Cinema Night in your subject line.


Above The Habitat
4th Floor, OYO Townhouse (Hotel Unicontinental), Road Number 3, Khar West, Mumbai, Maharashtra 400052
GET DIRECTIONS
Future Fiction Presents Indie Cinema Night
Above The Habitat, Mumbai
Step out and enjoy this event
Invite your friends
and enjoy a shared experience