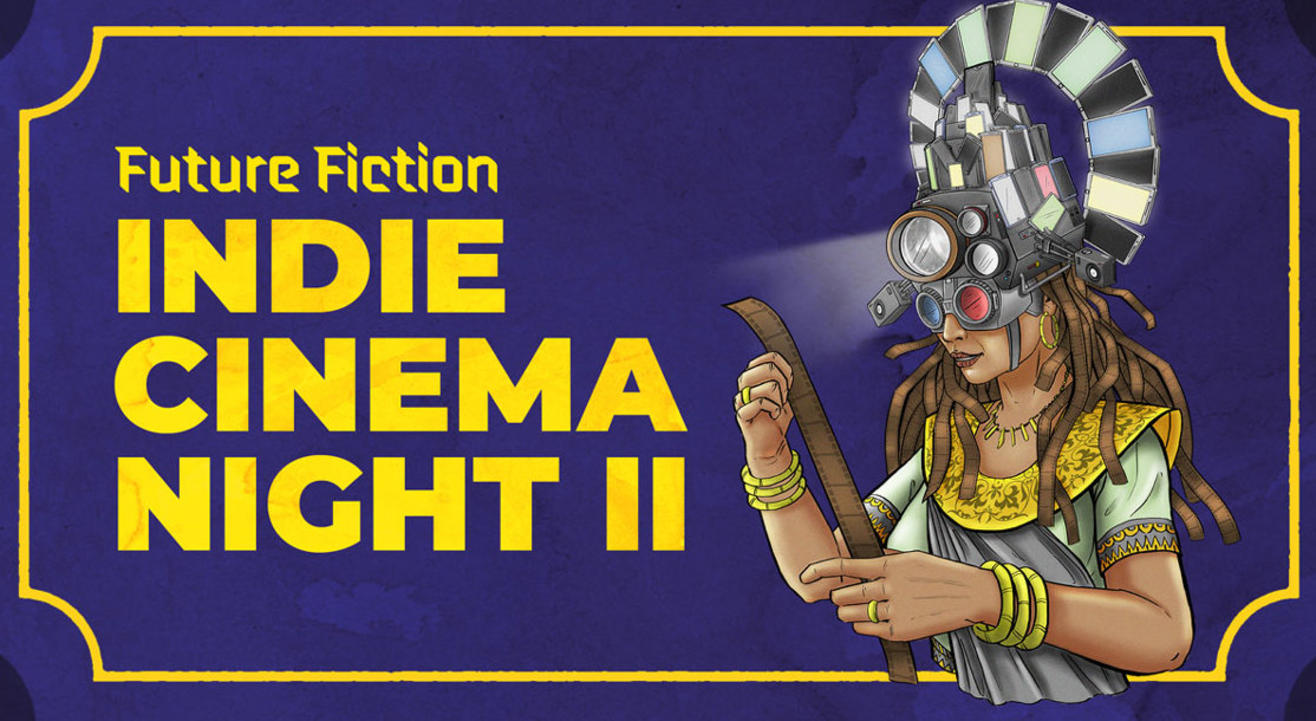 Future Fiction Presents Indie Cinema Night Vol II
Above The Habitat, Mumbai
Step out and enjoy this event
Invite your friends
and enjoy a shared experience
Future Fiction Presents Indie Cinema Night Vol II
Above The Habitat, Mumbai
Step out and enjoy this event
Invite your friends
and enjoy a shared experience
Invite your friends
and enjoy a shared experience
Attention Bombay cinephiles! We're back on Sunday - July 7th at Above the Habitat in Khar (W), with the second edition of our screening series Indie Cinema Night - a showcase of independent visual storytelling you never get to see otherwise.
The Indie Cinema Night was born to create an alternative space for emerging forms of film, visual art and animation from the Indian subcontinent. Some of the themes we are exploring are imagined futures, environmentalism, sustainability, and urbanism with films/ stories highlighting the dynamics between culture, creativity, and identity.
Get to know the programming + films:
9:16 Smartphone Cinema: Exploring the creative potential of the vertical filmmaking format
Madras in a Minute (Ajith James Ephrem)
Arrival (Rahul Ramesh)
One Destination. A Thousand Dreams (Saunak Shah)
Nigam Bodh Ghat (Arvind Patwal)
Visual Music: Celebrating visuals created to compliment music endeavours
The Local Train || Gustaakh (Concept & Direction by PLEXUS // Vijesh Rajan)
Fopchu || Chapel O Fopalop feat. Father G-Cuz (Directed by design and animation company Improper & released on Boxout.fm Recordings)
Where The Money Flows || (Peter Cat Recording Co.)
Amber || F16s new album WKND FRNDS (Deepti Sharma)
Animated Short Films: Explore animated works showcasing innovation and a diversity of styles and techniques
Rendezvous With Mars (Divya More)
Thatha's Secret (Sharanya Ramesh)
YA:YO (Amalendu Kaushik)
Yeh Jungle Hamara (Sabari Venu)
Independent Short Films: Independent films brought to life by Indian storytellers
Tungrus (Rishi Chandna)
Little Hands (Rohin Raveendran)
Mirgi (Aranya Sahay)
BAFTA 2019 Shorts: The curated selection from the UK are a part of the BAFTA 2019 Shorts programme that represents storytelling revealing the breadth and diversity of British society, together with world class artistic and technical flair, and featuring some of the UK's finest acting talents. The BAFTA 2019 Shorts screening is supported by British Council.
Wale by Barnaby Blackburn - Can you make a fresh start in a world this rotten?
73 Cows by Alex Lockwood - A beef farmer battles with his conscience every time he takes his cows to slaughter. He knows he must make a change. (BAFTA Winner 2019)
Bachelor, 38 by Angela Clarke - An enduring love story of one man's time in London.
The Blue Door by Paul Taylor - A kind and caring nurse, Clare, is opening the door to her new job, but maybe some doors are best left shut.
*More films to be announced soon*
FAQ's about the event
1) What can I bring to the event?
Bring anything you need to engage with fellow film attendees - notebooks, laptops etc. We encourage you to take pictures/ videos and share within your networks across your social channels. You can find us on Instagram and Facebook. Some event hashtags for social media: #IndieCinemaNight #FutureFiction
2) Is food being served at the event?
Yes. Light snacks and drinks are available at the venue for purchase. Also expect some popcorn (until stocks last).
3) How can I submit my work?
The programming for this edition of the Indie Cinema Night has been finalised. However, if you are experimenting with moving image and are an independent practitioner please get in touch with us futurefictionin@gmail.com. We'll review your submission and get back to you.
4) Can I buy a ticket for just one film screening?
Unfortunately, there are no individual film tickets available.
5) How many films will be showcased at the event?
The ticket pass grants you access to over 15 indie films from India.
6) What are the registration timings?
Registration starts at 6:15PM at the venue.
7) Are there any refunds on the ticket?
Full refund only in case of event cancellation.
8) Can I volunteer at the event?
Yes, please write to us at futurefictionin@gmail.com with 'Indie Cinema Night Volunteer' in your subject line and we'll get back to you.
9) How can I contact the organisers with any further questions?
Write to us at futurefictionin@gmail.com with Indie Cinema Night in your subject line.
Above The Habitat
4th Floor, OYO Townhouse (Hotel Unicontinental), Road Number 3, Khar West, Mumbai, Maharashtra 400052
GET DIRECTIONS
Future Fiction Presents Indie Cinema Night Vol II
Above The Habitat, Mumbai
Step out and enjoy this event
Invite your friends
and enjoy a shared experience