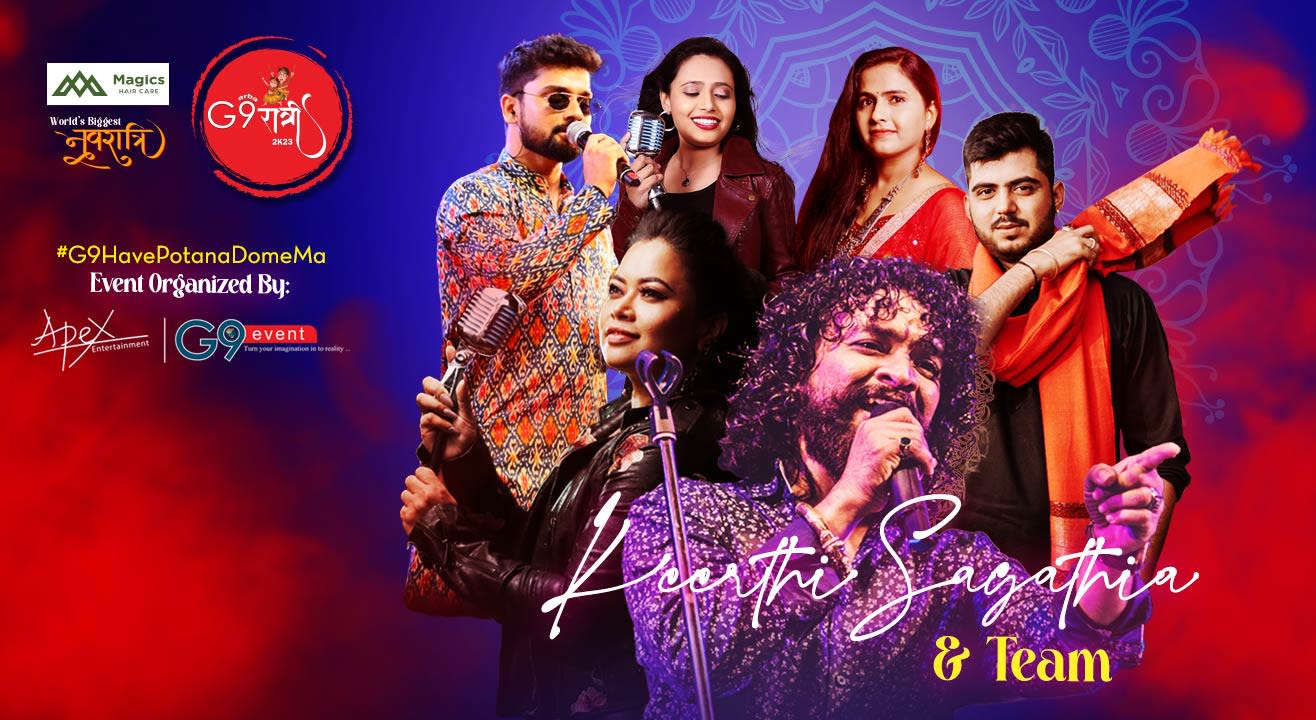 G9 Garba Ratri Surat | Navratri 2023
October 15 - 24 | 7PM - 1AM
Event Guide
Live Performance
Enjoy a unique experience
Invite your friends
and enjoy a shared experience
G9 Garba Ratri Surat | Navratri 2023
October 15 - 24 | 7PM - 1AM
Event Guide
Live Performance
Enjoy a unique experience
Invite your friends
and enjoy a shared experience
Event Guide
Live Performance
Enjoy a unique experience
Invite your friends
and enjoy a shared experience
No Booking Fee!!
The G9 Garba Ratri stands as the world's largest Navratri celebration, taking place within a climate-controlled dome capable of accommodating approximately 35,000 attendees. With a rich history spanning 25 years, this event is organized by seasoned professionals. G9 Garba Ratri proudly showcases the talents of the town's top 25 Garba groups, each known for their distinctive dress code and unique style of performance.
TICKET REQUIRED FOR CHILDREN ABOVE 5 YEARS OF AGE
FAQ's about the event
Q: Why should anyone go to G9 Garba Ratri?
A: G9 Garba ratri is world's largest navratri event, which will be organized in closed AC dome with capacity of nearly 35,000 people approx. The organizers have experience of about 25 years, the G9 Graba ratri have the best 25 garba groups of the town which plays their own dress code and style of playing.
Q: What are Khelaiyas?
A: Khelaiya's are Experienced Professionals who practice Garba Dance for nearly 3-8 months in Garba class and perform at G9 Garba Ratri with their unique Dress code and Style of Playing Garba and Dandiya.
Q: What is the reason to change venue this year?
A: G9 has been organizing Garba Nights in Open ground since 16 years but after back to back public demand we had to organize it at a Bigger Venue this year to accommodate more Garba Groups Khelaiyas, Non-Traditional Khelaiyas and Viewers with proper sitting arrangements.
Q: Whats new with the Venue?
A: This year G9 Garba Ratri is well equipped with ample Social Media friendly spots inside the Dome which Features like Instagram photo booth, Snapchat Filters and much more.
Q: What is safety and securities at venue?
A: The best security agencies, Police Protection, Female Bouncers with additional security for Women and Children available along with ICU Ambulance with multiple teams of qualified Doctors available at the location in case of emergency.
Q: What about parking facilities?
A: Ample of parking space available right next to the location for Two-wheeler and Four-wheeler vehicles.
Q: What is arrangement about food and beverages?
A: Multiple Cuisines available for Maataji's Devotees to cherish their taste buds.
Q: Where will G9 Garba Ratri be featured online?
A: G9 Garba Ratri will be featured on Social media Pages & Channels, News 18 Gujarati, Big FM 92.7 and many other Platforms.
Q: What's in for our Guests?
A: Special Performances will be awarded with special gifts by our sponsors with winning Prize from Jewelleries, Home Appliances, Fashion and Beauty products and much more.
Keerthi Sagathia


Keerthi Sagathia is a multifaceted artist known for his prowess in Bollywood singing and Gujarati folk music performance. With a track record of delivering chart-topping hits for both Bollywood and Gujarati music directors, he has garnered a multitude of awards throughout his illustrious career. This Navratri 2023, Keerthi Sagathia and his talented team are poised to dazzle Surat with a captivating blend of Gujarati music and culture, infused with a contemporary twist.



Priyanka Vaidya


Priyanka Vaidya is a multi-lingual singer known for her melodic contribution to Garba genre in Gujarati music. She has released many albums & is actively involved in the Gujarati Music Industry. Having performed at largest G9 Navratri events in the past, she lights up the dance floor with her captivating voice & stage presence.


G9 AC Dome
G9, AC Dome, Second VIP Rd, beside Bhagwan Mahavir College, Bharthana, Surat, Gujarat 395007
GET DIRECTIONS
G9 Garba Ratri Surat | Navratri 2023
October 15 - 24 | 7PM - 1AM
Event Guide
Live Performance
Enjoy a unique experience
Invite your friends
and enjoy a shared experience