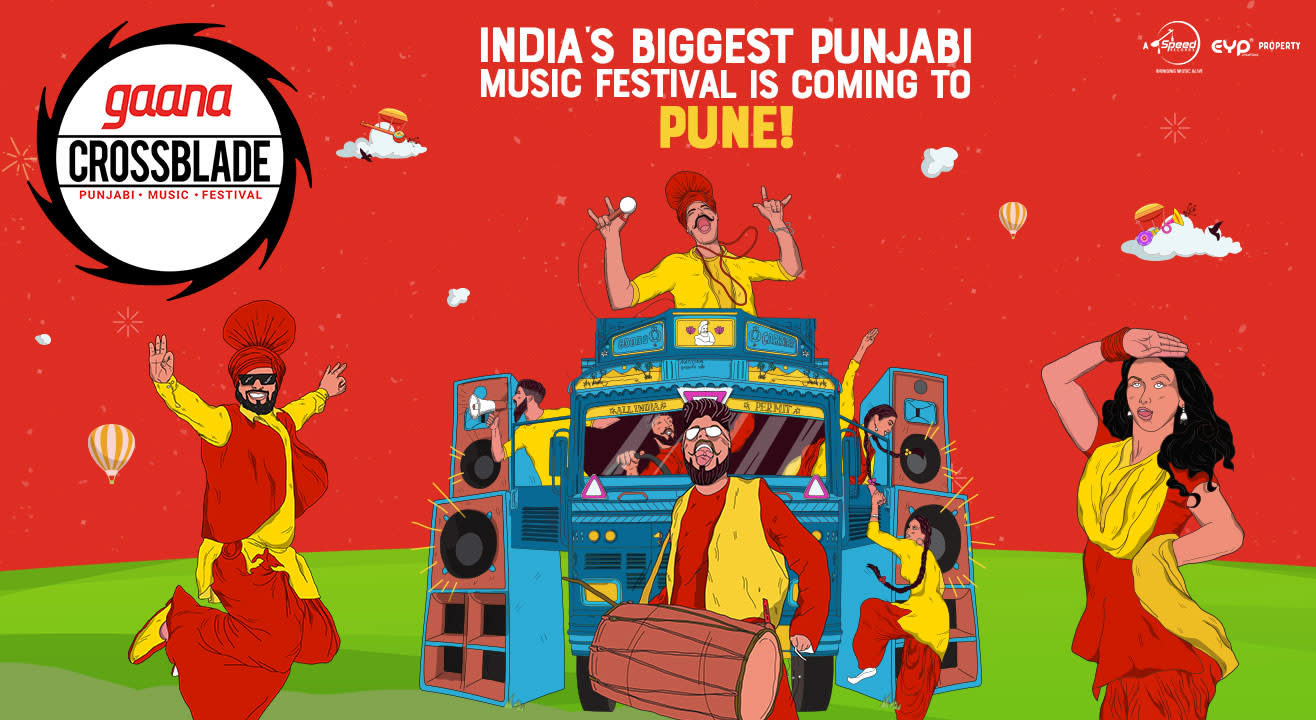 Music
6 Reasons To Attend The Gaana Crossblade Music Festival!
A 2-day festival dedicated solely to Punjabi music of all genres, it aims to bring the beautiful Punjabi culture to people along with fun games, delectable food, decor and endless music, of course.
Listen to the beats of the dhols, put on your dancing shoes and do the bhangra! India's biggest Punjabi music festival is on its way to Pune - and like always, it is all set to bring you the best of Punjab to your city. The Gaana Crossblade Music Festival, also serving as the mecca of Punjabi music, spans over two days bringing in artists across genres and eras on two dedicated stages. From the music to the decor and installations, food and games - the entire vibe of the festival re-imagines Punjabi culture and music.

Here are 6 reasons to attend the Gaana Crossblade Music Festival this year!
1. Biggest Punjabi music festival: Being the first regional music festival in India, their aim is to bring alive the true spirit of Punjabi culture, through a combination of multiple music genres and promote the love for the language across the nation. The festival brings together music artists and music lovers under one roof - imagine the fun! It's a big fat Punjabi music celebration in an uber-cool atmosphere with vibes of nostalgia!
2. Massive line-up: With over 20+ artists performing in both cities, it's a promise that you will enjoy not just Punjabi music, but music across genres at this festival! Over the years, artists like Diljit Dosanjh, Guru Randhawa, Gippy Grewal, Jassi Gill, Babbal Rai, Prabh Deep, Gurdas Maan and even EDM Raja Nucleya, Raftaar, Shirley Setia, Amit Trivedi have performed at this music festival.
3. Two-stage setup: While you are listening to live music by amazing artists on one stage, you have a chance to dance around over another stage. Their dedicated two-stage setup at the venue lets you go to attend different forms and eras of music and catch double the fun!
4. Posting stories and posts on Instagram: Need we say more? With quirky and colourful decor, a starry line-up and open grounds, one can't resist clicking away. There's a lot to capture, so why not go there and see it for yourself!
5. Something for everyone: If all the bhangra and music has drained you out, there's a whole section for you to satiate your hunger! The festival ensures that everyone feasts on a lot of snacks. But, there's a lot more than just food here - find life-size games, bazaar and more to relive your childhood memories, fulfil your shopping desire and just have a splendid time surrounded by food, music and culture!
6. Creating new memories: Whether it's by meeting new people and doing the hook steps of songs or the bhangra; seeing such a massive line-up under one roof or just experiencing such a colourful 2-day festival, you will not just leave the place with pictures, but tons of memories!
Get tickets to the festival here!

Want to experience the vibes of Gaana Crossblade in your city?

Hop on Gaana Crossblade Express and get a glimpse of what it's like!

Subscribe to receive our newsletter!
Find the best experiences happening out there in your city or enjoy handpicked content while sitting comfortably at home. Paytm Insider is your go-to place to figure out what to do today!