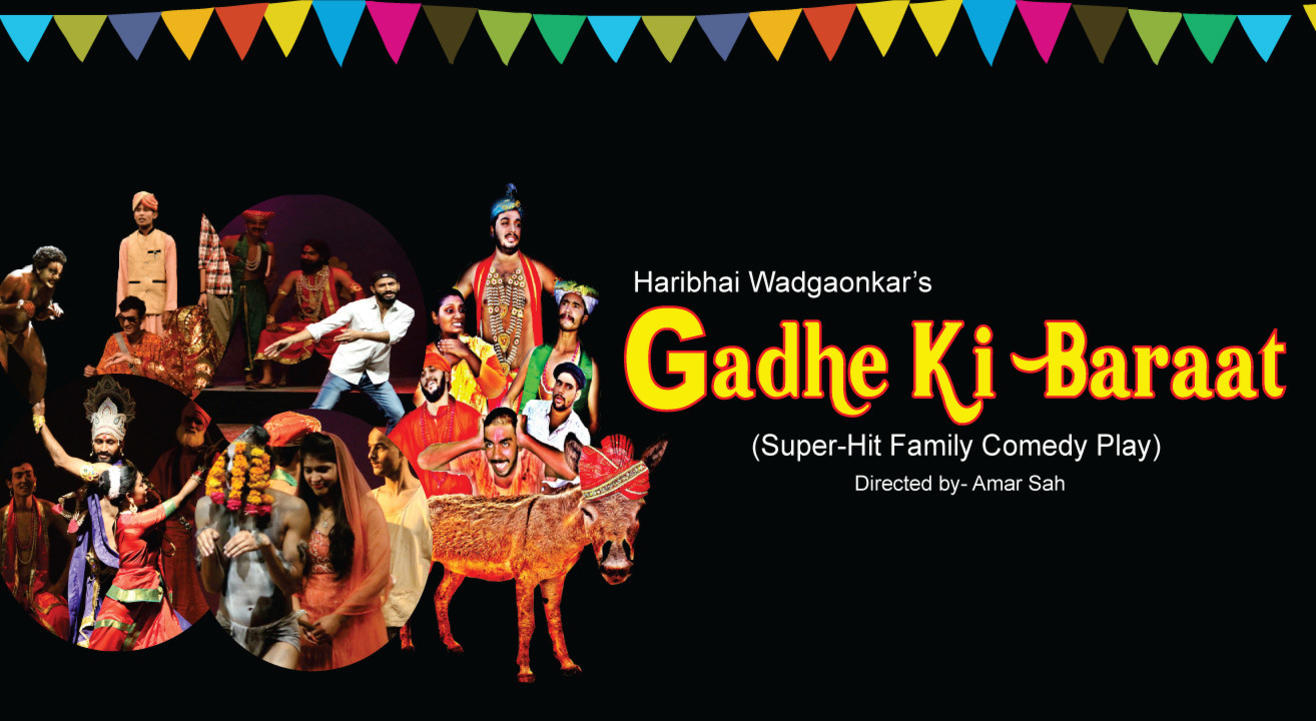 Invite your friends
and enjoy a shared experience
Invite your friends
and enjoy a shared experience
About the Event
Gandharva is cursed by Indra to become a donkey and live on the earth in the house hold of a kumhaar. When he admits his mistake and begs pardon, Indra tells him that on earth he, in the disguise of a donkey will marry a princess and only then he will be freed from this curse. The Kumhaar is happy to have a new donkey with him, but in the course of time faces so many funny situations which make him realize the hollowness of life. A king Satyadharm Verma (a politician) makes an announcement to gain popularity with the public, that 'if anybody will make a bridge from Raj Mahal to Kumhaar Wara (Basti of Poor) in one night (finish the difference between poor & rich in the state), he can marry his daughter Raj Kumari Satya Wati.
A donkey has ended the above difference with the making of a bridge from Raj Mahal to Kumhaar Wara (Basti of Poor) in one night. Will Gadhe ki baraat reach the Raj Mahal? Will Raj Kumari marry with Gadha? What will happen after the marriage of the donkey with Raj Kumari ? To find answers to all your questions, enjoy the famous marathi Super-Hit Comedy Play in Hindi "Gadhe Ki Baraat"
Cast:
has shown his acting skills time and again by portraying tragic as well as comic characters with equal ease. He started direction in 2012. The plays under his direction has won accolades of audience and won many awards at national theatre festivals and competitions. He has initiated the concept of Gali Theatre in Delhi. Amar Sah has been felicitated by Kanti Krishn Samman at Chhotanagpur Natya Mahotsav, Ranchi for his contribution towards enrichment of theatre. His plays "Maskhare" and "Men Without Shadows" have won hearts all over and he received a lot of accolades for his design and direction. Apart from direction, Amar Sah is a playwright as well.
He is also well versed in back stage activities and has an expertise in costume and set designing. Amar Sah has worked as a Stage Manager in Sindhi Drama Festival, Delhi for 3 years and also in Rangayana Theatre Festival, Bangalore.
Riyaz Khan is a theatre artist and been associated with Bela Theatre Karwaan and worked in plays alike Gadhe Ki Baraat, Haai Paisa Haai, Baap Re Baap and The Would Be Gentleman.
LTG Auditorium, Delhi
1, Copernicus Marg, Mandi House, Opp. Doordarshan Bhavan, Near Connaught Place, New Delhi, Delhi 110001
GET DIRECTIONS