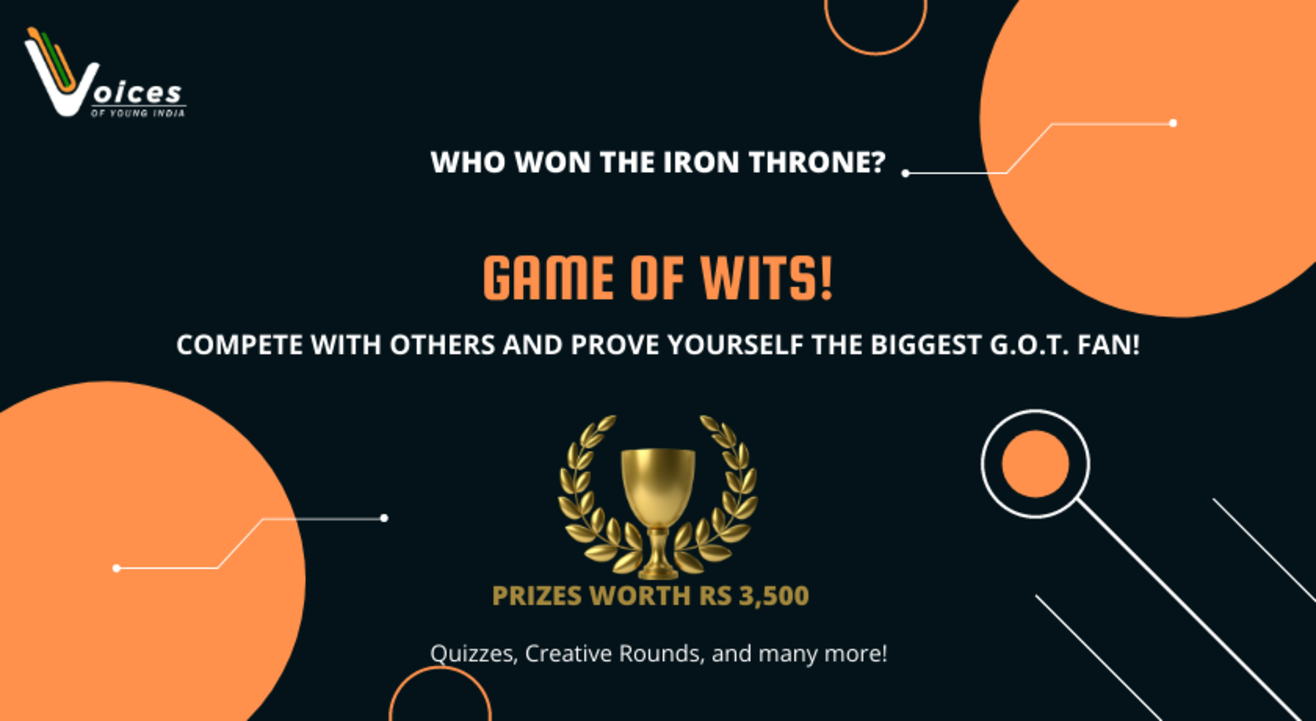 GAME OF WITS- Community event on GAME OF THRONES
Enjoy this event from your home
Event Guide
For Age(s)
Family Friendly
Online Game
Participate and have fun
Invite your friends
and enjoy a shared experience
Event Guide
For Age(s)
Family Friendly
Online Game
Participate and have fun
Invite your friends
and enjoy a shared experience
About the Event
Game of Wits is a community meeting for all Game of Throne fans. The event will host formal and informal discussions, quizzes & ice-breaking sessions all based on Game of Thrones. The event would have four rounds. All the participants would be eligible for all four rounds.
ROUND 1:
The Wits Quiz
Let's find out who has the best Game of Thrones knowledge. Afterall, knowledge is power.
ROUND 2:
Lord Varys Creative Round
Be unique like Lord Varys and Create your own house in Westeros. In this round the participants would have to create and design their own houses. This round will test the creativity of the participants. (More details would be shared on the day of the event)
ROUND 3:
The Red Wedding
Get ready to send your regards to your close ones like Lannisters. In this rounds the participants would be exposed to situations and they would need to face and show the solution to the same. This round would test decision making power of the participants.
ROUND 4:
Trial by Combat
Let the Gods decide the fate and demand Trial by Combat. Tell us why you deserve to be on the Iron Throne. This round would test Convincing Abilities of the participants.
Rules for Participation:
The event would be online and hosted on Zoom.
None of the rounds are eliminator and all the participants would be eligible to participate in all the rounds.
Participants would have to pay certain registration fees once they submit their form.
The event would be hosted on the 23rd of May '21.
Participation Certificates would be produced for all the participants attending the event.
Prizes would be given to the winners.
More details, rules, and regulations, the itinerary would be emailed or briefed to the participants 7 days before or on the day of the event depending upon the importance of the detail.


About Organizer:
Voices Of Young India is an organization that aims to provide a platform to amplify the voices of individuals especially youth, inclusive of various backgrounds to bring them closer. We plan to create a huge network of young individuals to provide them with a platform to express their talents and creativeness to the world and conduct different events to connect to one another.
More about organization at: https://voicesofyoungindia.com