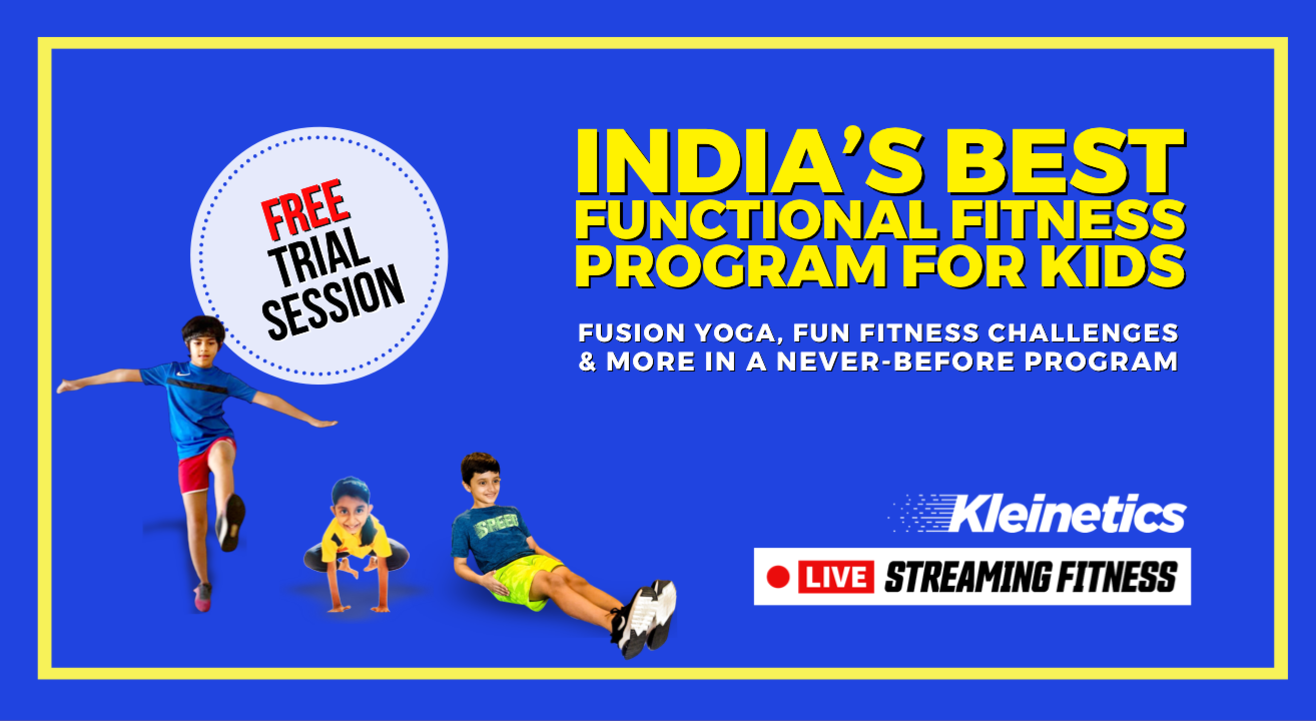 GAMIFIED WORKOUTS AT HOME - By Kleinetics Fitness For Kids & Teens
October 24 | 6PM - October 8 | 5PM
Invite your friends
and enjoy a shared experience
Invite your friends
and enjoy a shared experience
About the Event
Kleinetics Fitness for Kids & Teens
India's leading fitness program Kleinetics' core competency lies in truly adding the "FUN" in *Fun*ctional Fitness, keeping students fit and healthy in all aspects of life - Social, Physical, Mental and Educational by incorporating the element of structural & non-structural play in our drills.
Services provided by us are:
Fun Fitness
Sports Fitness
Teen Fitness
Fusion Yoga
Dance Fitness
Kickboxing
BOOK YOUR FREE VIRTUAL TRIAL SLOT NOW AND LEAD YOUR KID TO A HEALTHY PATH WITH KLEINETICS KLASS!
[Once the booking is done, we'll connect you via zoom link on WhatsApp]
PROGRAM DETAILS
The following are our services for healthy and active screen time:
Building strength, endurance and improving overall fitness and stamina through 'Fun'ctional fitness with gamified workouts featuring
Strength training
Tabata
HIIT
Animal Crawls
Agility Drills
Cardio
Time: Afternoon and evening batches
Duration: 45 minutes
Batch: Max of 20 students per session, with two senior coaches
Equipment: A PC/Mac laptop or mobile phone running the Zoom app
PRAISES & TESTIMONIALS
The Indian Education Awards 2020 adjudged Kleinetics as the Best Physical Education and Sports Education Program in the nation, competing with major national brands.
Mumbai Mirror
"...(Kleinetics Streaming Fitness) is a great idea to keep kids physically active in their own homes."
TOI"...(Kleinetics Streaming Fitness) is a great idea to keep kids physically active in their own homes."
Testimonial - Usha Bairagi, mother of Ishan. Dhirubhai Ambani Int'l School
"Superb session for kids who are homebound and desperately in need of exercise"
Varun Mundra, father of Tavish. Oberoi Int'l School
"My child (5 years of age) looks forward to every session... Highly recommended for children of all ages."
About the Educator
Kleinetics is a leading, award winning kids FUN fitness program. Keeping sessions fresh and fun, drawing from diverse styles and disciplines of Functional Fitness, Dance, Kickboxing, Fusion yoga and much more. Gamified workouts featuring home obstacle courses, Tabata, plyometrics, HIIT, animal walks honing motor coordination and cardio fitness with a healthy dose of LOLs.
Healthy+Active Screen Time makes sure that the kid is completely engaged in the session. We make sure that workouts are more 'PLAY' than 'work' and the kids would want to come back for the next session. Regular physical activity further boosts immunity, and is an aid in better academic performance. The energy of the group session also provides vital social interaction.
Fun At Home Workouts for Kids & Teens