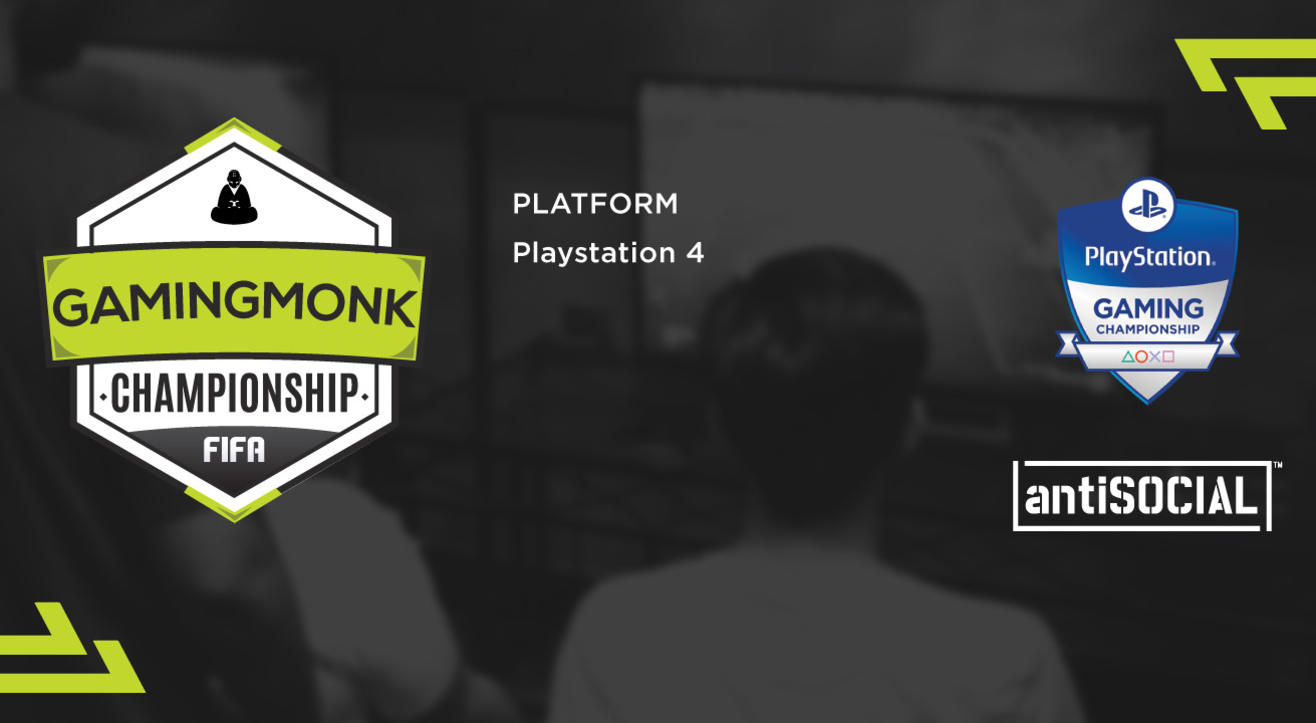 GamingMonk Championship Series - FIFA, Mumbai
Step out and enjoy this event
Invite your friends
and enjoy a shared experience
GamingMonk Championship Series - FIFA, Mumbai
Step out and enjoy this event
Invite your friends
and enjoy a shared experience
Invite your friends
and enjoy a shared experience
GamingMonk Championship Series challenges everyone who plays FIFA to get down there and compete with other FIFA fanatics!
With a grand cash prize pool of INR 8,00,00, the event is set to be super competitive with every player putting everything on the line to make it to the top. You can get your own controller as well as your friends. Food and beverage will be provided so you won't have to scramble and lose focus. The platform console will be a Playstation 4, so Xbox users, get the hang of it! You don't want to lose out on this one!
What are the timings of the event? When will the matches start?
Event timings: 11 AM - 8 PM, Sat, Sun. Your name will be called out depending on your batch. Gamingmonk will be announcing your name as soon as your batch starts.

Can I bring my own controller at the event?
Yes, indeed you can. But be careful of your belongings as Gamingmonk will be not responsible for any damage or theft.

How are the matches/fixtures decided?
Matches are decided via batches, a batch contains 16 participants. Once a batch gets filled, the organizers randomize all the names in that particular batch and fixtures are shown as to who plays who. As you progress through the tournament, you'll be facing different opponents.

Is it compulsory to come on both the days?
No, it is not compulsory to come on both the days but if you come on Saturday and qualify (batch winner), you'll have to come on the 2nd day as well for the next stage.

I have pre-registered, what do I have to do next?
Once you come to the venue, approach the registration desk and Gamingmonk will validate your entry.

How many matches do I get to play?
That will depend on your wins, the more you win, the more you play. Since the tournament is structured in a single elimination format, a loss will lead to a knockout.

If I win my batch, when will my finals be held?
Sunday after 4:00 PM

Can I bring a friend/parent along? Do they need to pay for entry?
Yes, you're free to bring your friends/parents as spectators and they don't need to pay for the entry.

What arrangement has been made for the F&B at the venue?
Food and beverage will be available at the venue

How will I know when my batch is about to start?
Gamingmonk will be calling out your name as soon as the fixtures are made.

Where do I have to report my scores? And do I need to take a screenshot?
You can report your scores to the staff members present in the playing area.

Which platform will the be tournament held on?
PlayStation4

What happens if I lose my first match?
Since the tournament is structured in a single elimination format, loss in any match will lead to a knockout; you can re-enter if you want to participate again.
The following game settings will be used on PlayStation 4:
Level: Legendary
Time of day: 08:00 PM
Season: Summer
Time of day: Day
Weather: Clear
Game speed: Normal
Team : Club/Nation
Half length: 4 mins; 5 mins in final rounds
Multiplayer camera: Tele-broadcast
Time/score display: On
Radar: 2D or 3D
Injuries: Off
Offsides: On

The following team and controller settings will be used:
Custom tactics: Allowed (custom formations not allowed)
Defending : Tactical defending
FIFA Trainer: Off

Player can pause the game to change strategy and players only two times per game and when game is stopped (ie: offside, touchline, fouls etc). Exceptionally player can pause the game each time one of his player is sent off or is injured to change him and his strategy.

In case of any conflict, the decision of GamingMonk is final and binding. Rest of the game settings to remain default.

​ With respect to teams, Classic 11 and World 11 are not permitted.
Both participants can use the same teams but have to choose different jerseys (Home/Away)
GamingMonk is an eSports company based out of New Delhi, India. eSports - competitive gaming tournaments across PC, console & mobile. Offline tournaments & a subscription based online eSports portal.
antiSOCIAL is literally an underground venue. A versatile space, it is perfect for hosting poetry readings, music showcases, film screenings and a lot more.
antiSOCIAL khar
Rohan Plaza, 5th Rd, Ram Krishna Nagar, Khar West, Mumbai, Maharashtra 400052
GET DIRECTIONS
GamingMonk Championship Series - FIFA, Mumbai
Step out and enjoy this event
Invite your friends
and enjoy a shared experience