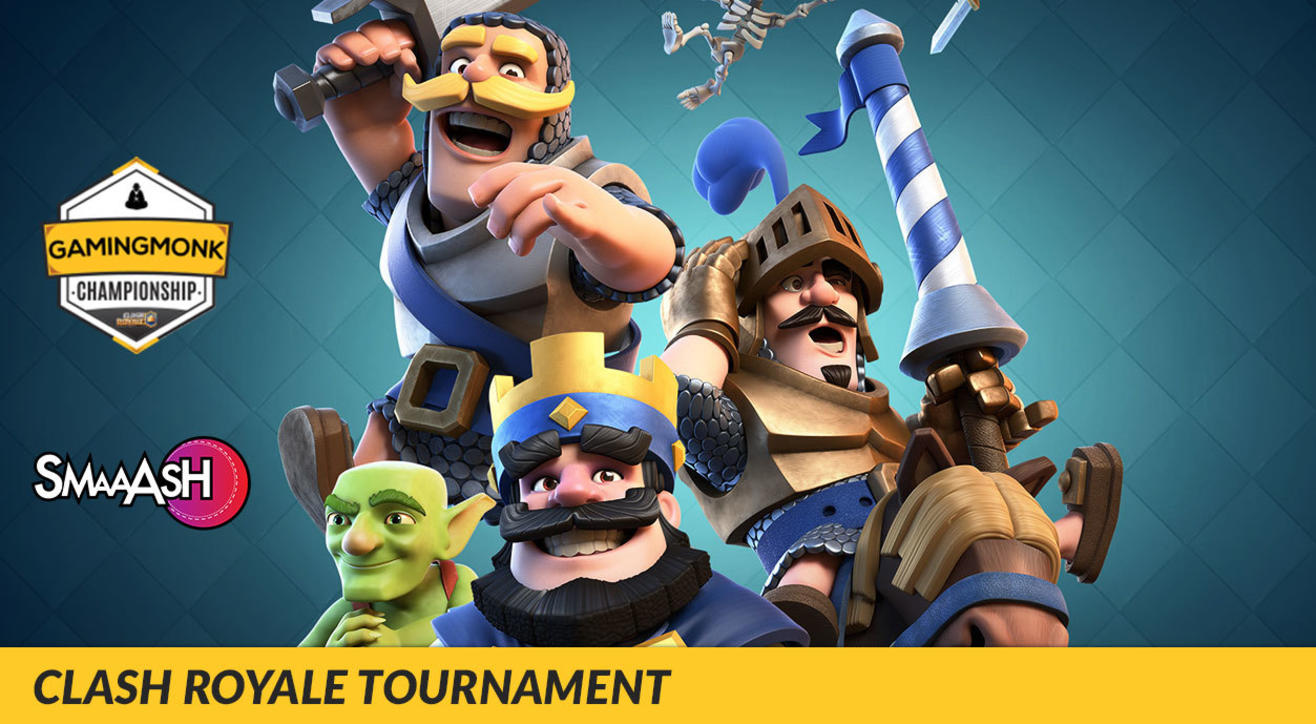 Games
GamingMonk Clash Royale Tournament, Bangalore
Smaaash, 1MG Mall, Bangalore
About
GamingMonk Clash Royale Tournament will challenge the Clash Royale gamers in India and provide them a platform to showcase their skills, compete for cash prizes and much more.
What are the timings of the event? When will the matches start?
Event Timings: 11:00 AM - 5PM, Saturday. Your name will be called out depending on your batch. GamingMonk will be announcing your name as soon as your batch starts.

How are the matches/fixtures decided?
Matches are decided via batches, a batch contains 32 participants; once a batch gets filled, they randomize all the names in that particular batch and fixtures are shown as to who plays who. As you progress through the tournament, you'll be facing different opponents.

I have pre-registered, what do I have to do next?
Once you come to the venue, approach the registration desk and your entry will be validated.

How many matches do I get to play?
At least 3 depending upon your wins/losses, the more you win, the easier you progress up the brackets. Since the tournament is structured in a best of 3 format.

If I win my batch, when will my finals be held?
Sunday after 4:00 PM

Can I bring a friend / parent along? Do they need to pay for entry?
Yes, you're free to bring your friends/parents as spectators and they don't need to pay for the entry.

What arrangement has been made for the F&B at the venue?
Food and beverage will be available at the venue

How will I know when my batch is about to start?
The organizers will be calling out your name as soon as the fixtures are made.

Where do I have to report my scores? And do I need to take a screenshot?
You can report your scores to the staff members present in the playing area.

Which platform will the tournament be held on?
Mobile (Android/iOS)

What happens if I lose my first match?
Since the tournament is structured in a best of 3 format, you will have 2 more chances to save your tournament run.
Venue
Smaaash, 1MG Mall, Bangalore
Smaaash Bengaluru, 2nd Floor, 1 MG - Lido Mall, Trinity Circle, MG Road, Bengaluru, Karnataka, Bengaluru, Karnataka 560008