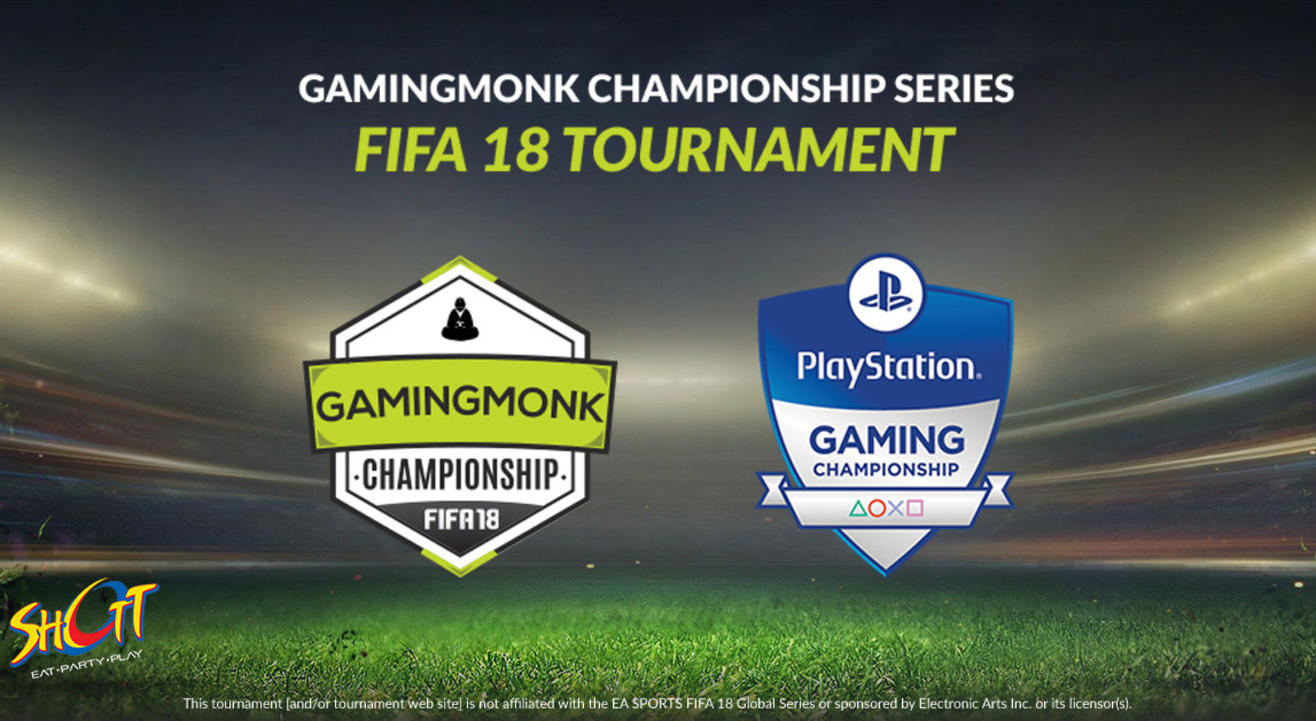 Games
GamingMonk FIFA Tournament - Ahmedabad
SHOTT The Arena by TransStadia
About
GamingMonk FIFA Tournament will challenge the FIFA gamers in India, and provide them a platform to showcase their skills, compete for cash prizes and much more!
Can I bring my own controller at the event?
Yes, indeed you can. But be careful of your belongings as Gamingmonk will be not responsible for any damage or theft.

How are the matches/fixtures decided?
Matches are decided via batches, a batch contains 16 participants. Once a batch gets filled, the organizers randomize all the names in that particular batch and fixtures are shown as to who plays who. As you progress through the tournament, you'll be facing different opponents.

Is it compulsory to come on both the days?
No, it is not compulsory to come on both the days but if you come on Saturday and qualify (batch winner), you'll have to come on the 2nd day as well for the next stage.

I have pre-registered, what do I have to do next?
Once you come to the venue, approach the registration desk and Gamingmonk will validate your entry.

How many matches do I get to play?
That will depend on your wins, the more you win, the more you play. Since the tournament is structured in a single elimination format, a loss will lead to a knockout.

If I win my batch, when will my finals be held?
Sunday after 4:00 PM

Can I bring a friend/parent along? Do they need to pay for entry?
Yes, you're free to bring your friends/parents as spectators and they don't need to pay for the entry.

What arrangement has been made for the F&B at the venue?
Food and beverage will be available at the venue

How will I know when my batch is about to start?
Gamingmonk will be calling out your name as soon as the fixtures are made.

Where do I have to report my scores? And do I need to take a screenshot?
You can report your scores to the staff members present in the playing area.

Which platform will the be tournament held on?
PlayStation4

What happens if I lose my first match?
Since the tournament is structured in a single elimination format, loss in any match will lead to a knockout; you can re-enter if you want to participate again.

What are the rules to remember in-game?
Difficulty level: Legendary
Half length: 4 minutes; 5 minutes in playoffs
Legacy defending prohibited
Commentary volume: 0
Music volume: 0
Time/score display: On
Camera: Tele Broadcast
Radar: 2D
HUD: Indicator
FIFA Trainer: OFF
Goalkeeper switching is not allowed
Custom tactics are allowed
Custom formations are disallowed
Modifying controls to your configuration is permitted.
GamingMonk is an eSports company based out of New Delhi, India. eSports - competitive gaming tournaments across PC, console & mobile. Offline tournaments & a subscription based online eSports portal.
Venue
SHOTT The Arena by TransStadia
SHOTT, Transstadia - The Arena, opp gate no 3, Kankaria Lake, Kankaria, Ahmedabad, Gujarat 380002