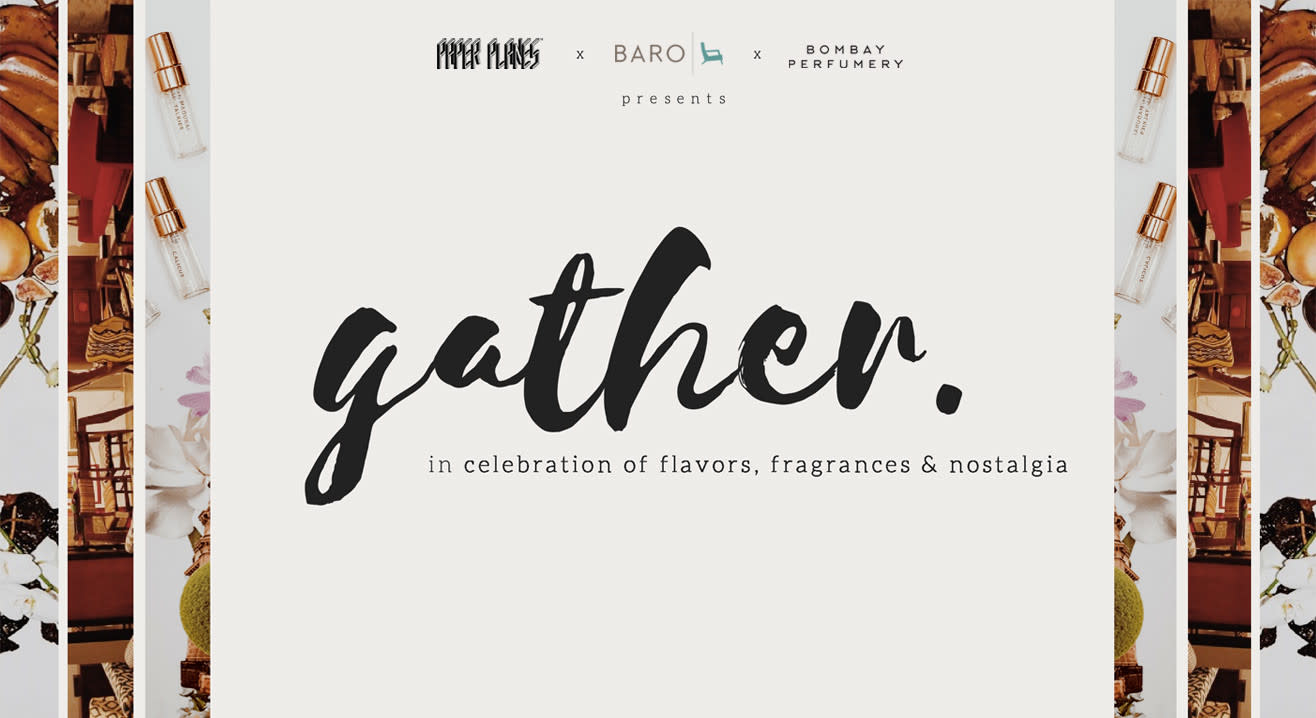 Gather - A Collaboration of Paper Planes, Bombay Perfumery and BARO.
Step out and enjoy this event
Invite your friends
and enjoy a shared experience
Invite your friends
and enjoy a shared experience
About the Event
Gather to celebrate culinary journeys and olfactory sensations.
BARO, Bombay Perfumery and Paper Planes come together for a day long celebration of flavours and fragrances with unforgettable stories and an intimate introduction to our most primary sense.
Begin the journey with Bombay Perfumery's founder Manan Gandhi, as he introduces you to the world of fragrances - with a focus on food ingredients that play a significant role in the creation of perfumes. Acquaint yourself with delicious notes and bottle them up for nostalgic indulgences as you build your own signature scent from scratch.
During the second half of the day, celebrate the release of Gather Journal (a Brooklyn based food magazine) with Paper Planes. Much like the magazine, Paper Planes is committed to the idea of sharing good content and experiences that people can treasure. For this reason, Paper Planes has invited some of the most recognized names in the food content space for a session of storytelling. Decadent drinks courtesy Aspri Spirits will be there too!
Fabulous guests, chic drinks, and scintillating conversations - this fun day is being hosted at BARO, a lifestyle store and a space for aesthetics and creative expression, making it ideal for the event.
Guest Speakers for the Gather Release Party:
Kurush F Dalal
Archaeologist & Food Writer
Meher Mirza
Food & Travel Writer
Roshni Bajaj Sanghvi
Food & Travel Writer
Sana Javeri Kadri
Food & Culture Writer, Visual Artist
Vikram Doctor
Food Writer and Editor, special features for The Economic Times
Neysa Mendes
Founder, Good Slice + Co-founder, Neighbourhood
To know more about Bombay Perfumery click, here
To know more about Paper Planes click, here
To know more about BARO click, here
BARO
Sun Mill Compound, 12, Lower Parel Bridge, Lower Parel, Mumbai, Maharashtra 400013
GET DIRECTIONS