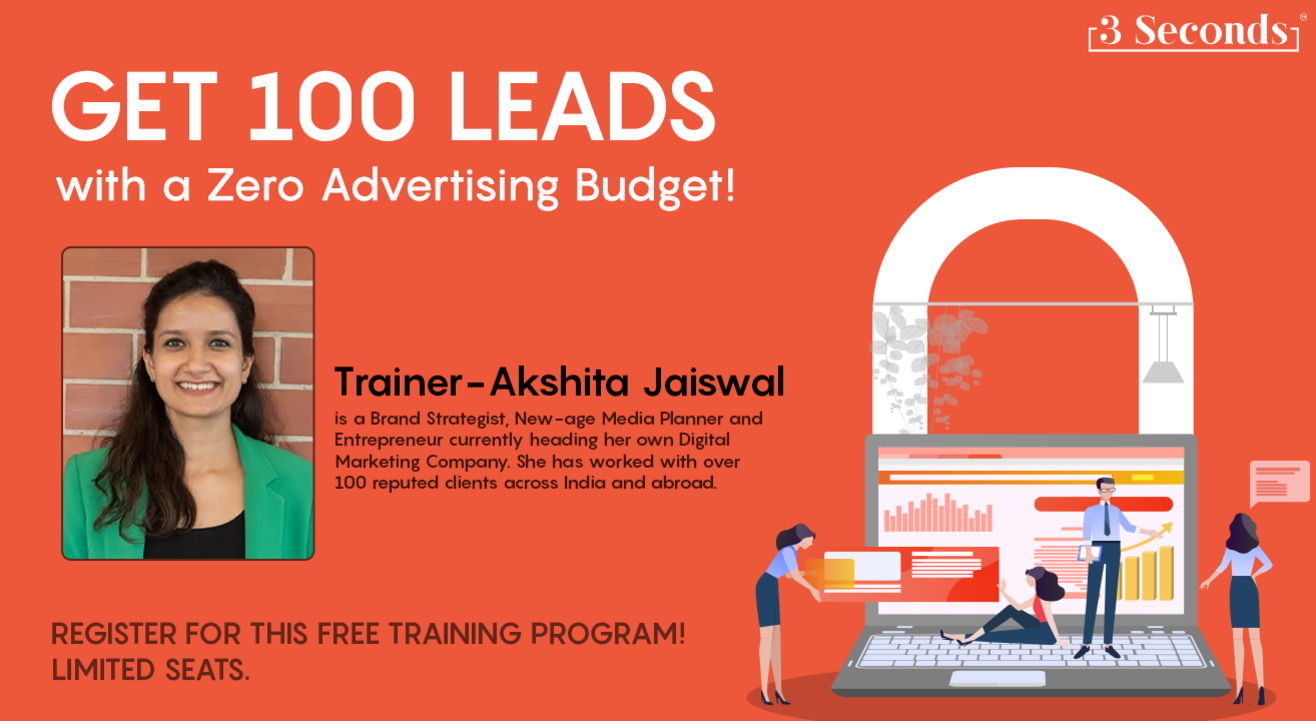 Get 100 Leads with a ZERO Advertising Budget
Invite your friends
and enjoy a shared experience
Invite your friends
and enjoy a shared experience
About the Event
YOU DON'T NEED 10,000 FOLLOWERS TO EARN $100,000.
All you need are the RIGHT FOLLOWERS. Having 100 followers who are ready to buy from you is better than 10,000 followers who are not buying from you!
With advertising companies and marketing professionals constantly telling you that it's not possible to reach your audience without spending on Google Ads, Facebook Ads & Instagram Ads, I know that it seems like you'll never be able to grow your business quickly without shelling out loads of money on ads!
THERE HAS TO BE A BETTER WAY, RIGHT?
Fortunately, I've created PROVEN TRICKS & TECHNIQUES that will show you how to have clarity and focus when it comes to identifying your IDEAL AUDIENCE and CREATING CONTENT which speaks to them!
Remember, if they know you well, that's when they start liking you and trusting you enough to BUY from you.
This quick workshop is going to show you a few techniques you can use to attract the audience who will buy from you and also provide a preview of what the COMPLETE MASTER COURSE is about. Thousands of people have already enrolled for the master course to make sure they are speaking to their ideal audience and reaching them everyday ORGANICALLY, without tiring themselves out!
Learn from someone who's 'been there, done that'
Akshita Jaiswal is the founder and social media head of Ctrl N, a branding and digital marketing company. She has worked with over 100 clients globally in her 5-year experience in the world of advertising. This experience matters because - as you'll discover in the course - being able to reach your ideal audience effectively is one of the most crucial factors for revenue building.
In her career, she has worked with executives at a wide range of global organisations - from tech start-ups to global banks to national and international regulatory bodies. As a tutor at 3 Seconds, and a corporate, she has taught over 5,000 students on how to reach their audience without spending on ads!
Who is this for?
Startup Owners
Small Business Owners
People who are tired of spending money on Digital Ads and not receiving Conversions
Those who are looking at building a Personal Brand
Freelancers and Digital Nomads who wish to gain more clients
Anyone who wishes to establish themselves as a leader in their niche
Enroll for this free webinar today! Don't miss out, save your seat now.
Spots are limited so make sure you register and show up early!