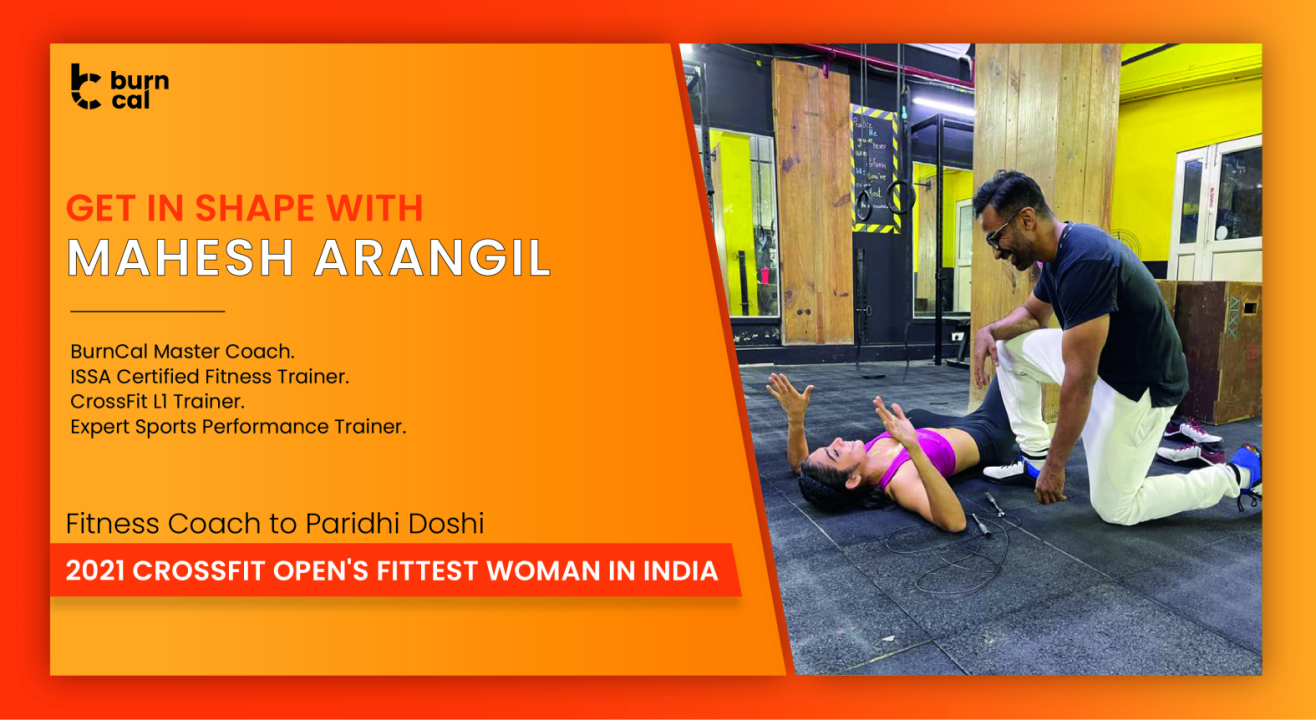 Personalized Fitness, Nutrition and Lifestyle Coaching for Women
Enjoy this event from your home
Event Guide
Live Fitness
Workout with a pro
Invite your friends
and enjoy a shared experience
Event Guide
Live Fitness
Workout with a pro
Invite your friends
and enjoy a shared experience
About the Event
Limited Slots only, first come first serve basis!
Personalized Fitness and Nutrition Coaching for Women by Master Coach Mahesh Arangil
· Are you someone who is struggling to achieve your fitness goals?
· Are you someone who is struggling with consistency?
· Are you someone who has thought of running a marathon or finish a race?
Start your journey with Master Coach Mahesh Arangil to perform better every day.
Why do you think you will succeed with Coach Mahesh Arangil?
1. Successfully trained India's Fittest woman.
2. He will hold you accountable, keep you motivated towards achieving your goals.
3. He is a trusted partner to design your journey that fits your lifestyle seamlessly.
4. He will customize your plan on an ongoing basis based on the progress.
If you're looking to get in shape, be healthy, and feel good about yourself, this is the ONLY fitness membership you need.
The best way to work out is with a Personal Trainer who understands your body and gives you exercise plans that suit your personal fitness goals. That's precisely what you'll get with this Fitness Membership!
BurnCal is India's most advanced virtual fitness solution, designed to enable you to incorporate fitness into your daily life for long-lasting physical and psychological transformations.
What's in it for you?
1:1 Access to a Fitness Coach
Our high touch-point framework ensures that coaches are in constant communication with you, always monitoring your workouts and keeping you accountable.
Personalized Fitness Plan
Fitness Coach Mahesh Arangil will give you a highly personalized workout plan based on your initial assessment and fitness goals. We believe that a one-size-fits-all approach does not work with fitness.
Tailor-made Nutrition Plans
Your fitness coach will make a detailed diet plan to suit your body type, and help you achieve your fitness goals in a sustainable, healthy manner. BurnCal's nutrition plans are designed to complement your existing eating patterns and your workout intensity.
Real-time Scoring and Performance Tracking
Say no to boring workouts. Your workouts are being tracked in real-time by our technology. Track your progress through our mobile application and stay motivated by seeing the results.
WHY CHOOSE THIS FITNESS MEMBERSHIP?
Get the BurnCal Advantage:
The World Health Organization recommends exercising for an average of 150 minutes/week. BurnCal members are consistently working out more than that at 160 minutes/week.
Consistency - 90% of BurnCal members exercise more often after taking our membership
Duration & Regularity - Despite hectic lives, BurnCal members exercise for an average of 43 minutes/day
Engagement - BurnCal members are extremely active on the app; we have a better engagement rate than 90% of fitness solutions across the world.
Sign up today and join our 2500+ community of members!
Time to reach your fitness goals. We'll make sure of it.