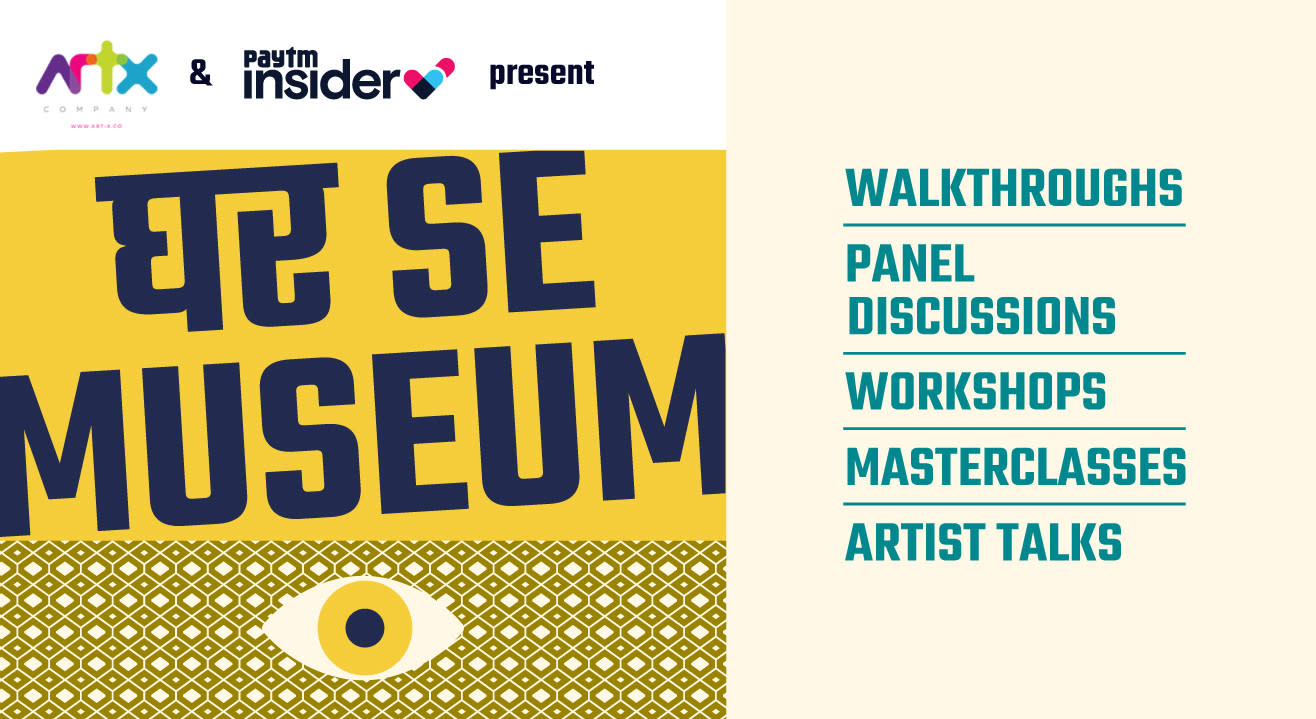 Time to travel from home with Ghar Se Museum
Get up-close with history & heritage along with India's top museums, one weekend every month. Walkthroughs, virtual tours, workshops, masterclasses, panel discussions & so much more - all happening online
Invite your friends
and enjoy a shared experience
Ghar Se Museum Edition 02 was awesome
It was World Heritage Week aaand we thought what better time to do the 2nd edition of Ghar Se Museum. It was really cool. We learnt ​how to make GIFs​ using artworks from DAG Kolkata's cultural heritage collections, hopped around galleries virtually​ with Art Walks Mumbai. ​Explored hidden stories​ from the partition of 1947 with the Partition Museum in Amritsar, learnt how to ​identify and record oral history​ by ourselves. But something that we tried for the first time and absolutely loved it was the art appreciation workshop​ by Piramal Museum of Art Mumbai. Btw it was great to meet museum professionals from all over the country.
Point being. There was so much happening online at the second edition of Ghar Se Museum. If you missed this one, keep an eye out for the next edition. We'll ping you.
List of participating museums from Edition 02
International Museum Day 2020 (May 17-18) saw us come together to celebrate India's rich heritage and culture with Ghar Se Museum, a digital initiative by Paytm Insider, and Art X Company to bring history to homes. Come back soon for the next one and make the most of this celebration as we travel back in time with these experiences.
Join us as we set out on a discovery of India through its heritage and art. India's finest museums are here and they are presenting collections, objects, and ideas through online workshops, talks, discussions, Ask Me Anything (AMAs) sessions, masterclasses, lectures, guided walkthroughs, and more such digital events, based on this year's theme, 'Equality: Diversity & Inclusion'.
List of participating museums from Edition 01
Ghar Se Museum will continue to run on Paytm Insider one weekend every month in multiple languages and formats, bringing the magic of museums from across India.
About Ghar Se Museum -
We recreated International Museum Day 2020 online in an enterprising project titled, Ghar Se Museum – a digital initiative to bring Indian museums online for a local-global audience by Art X Company, a strategic and research cultural consultancy, and Paytm Insider, India's leading entertainment ticketing platform. Ghar Se Museum features a series of free and paid digital events in collaboration with #MuseumsOfIndia
Subscribe to receive our newsletter!
Find the best experiences happening out there in your city or enjoy handpicked content while sitting comfortably at home. Paytm Insider is your go-to place to figure out what to do today!