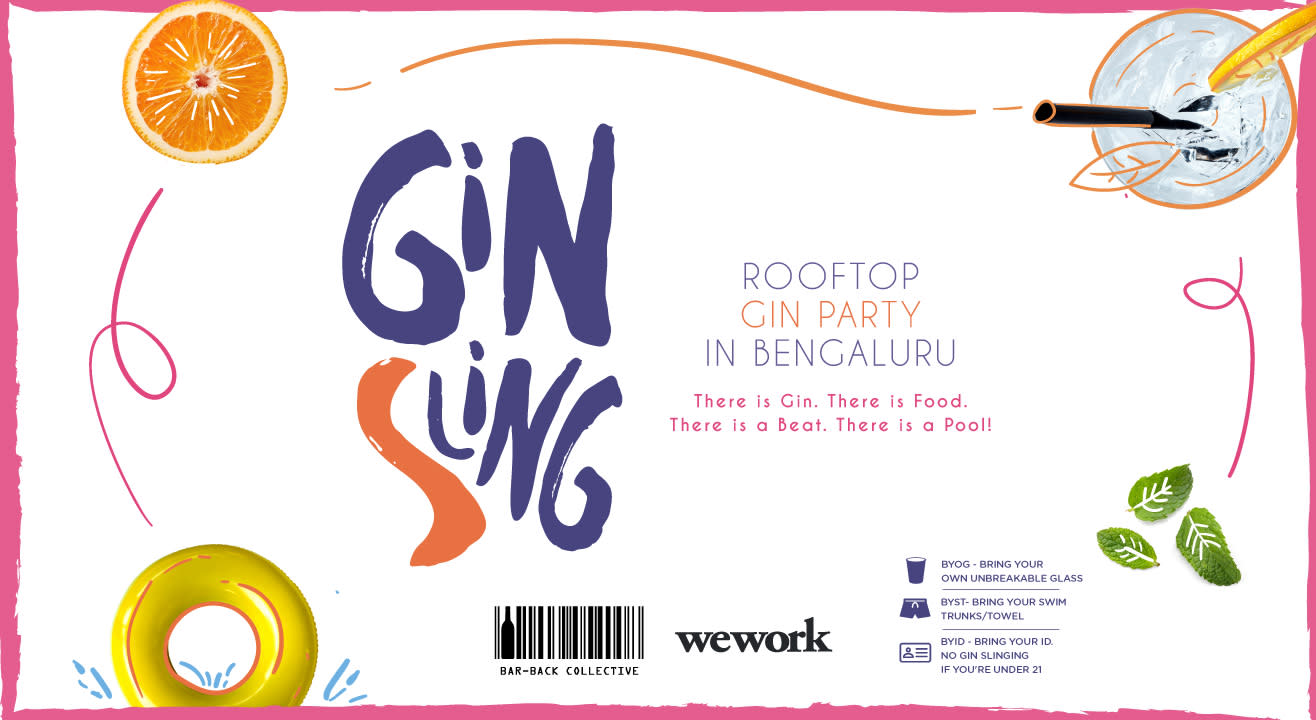 Drinks & More
Gin Sling
July 21 | 4PM - July 22 | 12PM
About
Bengaluru's Rooftop Gin Festival! We have invited all of the best Gins found in the city of Bangalore to show us what they're made of! Come say hi to them as they Sling out some excellent drinks with the help of some of the best bartenders you have never seen...or have you?
There's Gin: There's Food; There's a Beat, And there is a POOL! Get your swim trunks, get a towel, and make a full day out of it. Most importantly though, get your own unbreakable glass with you from home - there will be no disposable glasses here! Finally, make sure you remember to sign up here. Entry is very limited and will ONLY be provided to you if you are on the list - a fairly easy thing to do :)
1. Is this only open for WeWork members? No. This is open to anyone, as long as they sign up to the guest list.
2. Is there limited space? Yes, the sign up is on a first-come-first basis and walk-ins will not be entertained.
3. Why do we need to bring our own glasses? In a bid to be environmentally friendly, we are not providing any disposable glasses for the event. Hence, please bring your own unbreakable glasses for your drinks to be served in.
4. What if I forget to get my glass from home? We will have a hard plastic glass that you can purchase at the venue to take home with you after the event
5. What is different between Saturday and Sunday? The vibe. Sunday also begins earlier and will be like an extended brunch while Saturday is only the sun-downer
6. How much do the drinks cost? All drinks cost Rs. 250
7. There is a swimming pool. Can we get in? Yes, please bring your swim trunks and your towel.
8. Can we take drinks into the pool? No. Drinks are not allowed in the pool
9. I am a WeWork member. Do I need to sign up? Yes. You need to sign up so that we are prepared for you and we don't delay your entry into the event due to capacity issues.
10. I am a WeWork member. Can I bring guests? Yes. You can register up to 2 guests in addition to yourself for Free. You as a member shall receive a drink on-the-house at the BarBackCollective counter.
Venue
WeWork Galaxy, Bengaluru
43, Residency Rd, Srinivas Nagar, Shanthala Nagar, Ashok Nagar, Bengaluru, Karnataka 560025