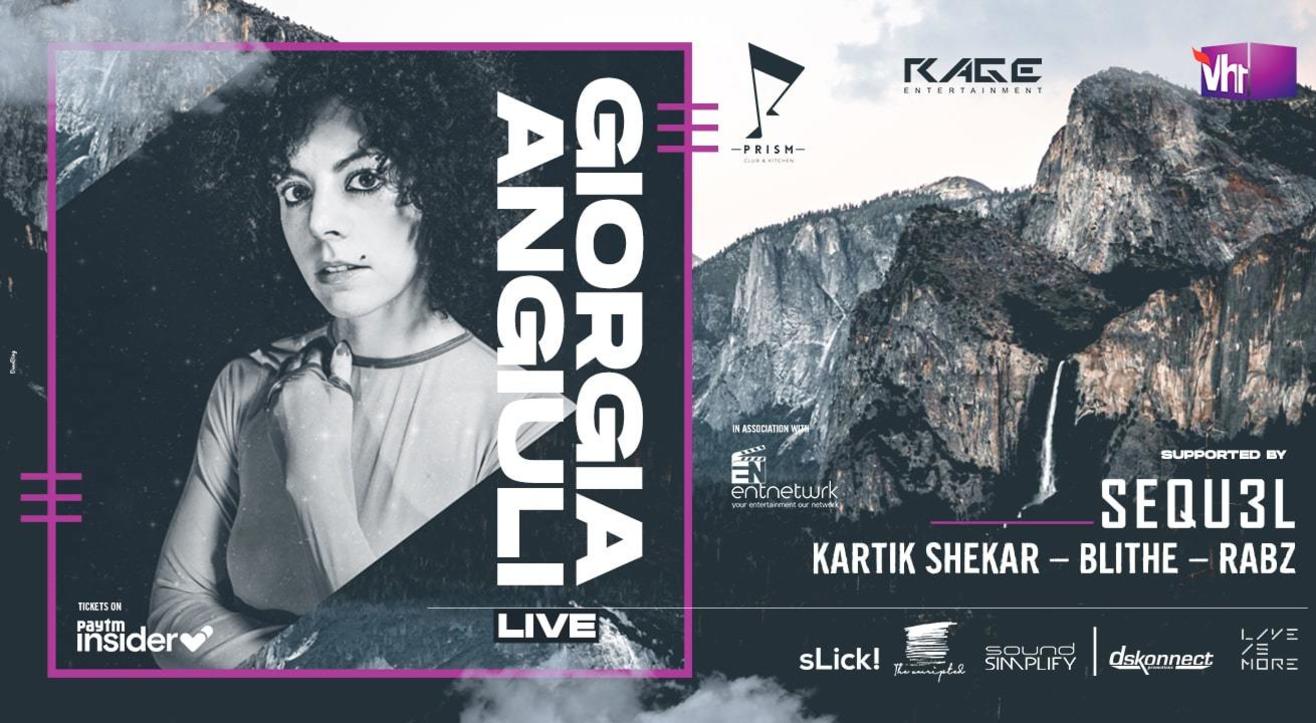 Music
Giorgia Angiuli (Live) in Hyderabad
December 15 | 8PM - December 16 | 1AM
About
RAGE ENTERTAINMENT in association with Ent Netwrk proudly presents GIORGIA ANGIULI Live at Prism Hyderabad, on Sunday(December 15th).
Prepare to be mind blown by this powerhouse— you don't want to miss this!
About the Artist
Giorgia Angiuli
Born in Puglia, also known as the heel of Italy's boot, Giorgia is a classically trained musician, composer and multi- instrumentalist. Very early on she developed a strong interest for electronic music and started to experiment with new live techniques. The solo project of Giorgia Angiuli stylistically moves between pop, techno and house. She uses her voice to create a dreamy dimension intensified by the use of unique toy instruments. During her set she combines keyboards, drum pad and theremin with the sounds of a toy flute, sax, trumpets and many other toys. Mixing all of these samples and loops she shapes a vibrating and energetic groove that sets the dance floor on fire.
From 2013 to the present Giorgia has had success releasing on some of the biggest labels, Stil vor Talent, Crosstown Rebels, Kindisch, Kevin Saunderson's legendary techno KMS, Harry Klein, Einmusika, Systematic and Suara to name few. In 2018 she released her EP "No Body No Pain" and in the on the 23rd of November 2018 her debut album 'In a Pink Bubble', both on the label Stil Vor Talent. Her album "In A Pink Bubble" gained the attention of the press worldwide. A long series of premieres, articles and reviews followed this release. The album received positive reviews on Dj Mag Spain with 9.5/10 and on the German Faze Magazin with 10/10. Other articles were published on Dj Mag UK/worldwide, TRAX (France), Dj Mag Italy, Magnetic Magazine (USA), Electronic Groove, Attack Magazine (UK), Dj Mag (Mexico), Wired (Italy), Soundwall (Italy), LIFO (Greece), ClubbingSpain (Spain), on the Brazilian DJ Mag, Phouse, House Mag and on Radionica (Colombia)
When it comes to touring the globe, Giorgia is no stranger to the club scene. In 2013 when she began her solo project she started her residency at Tenax Club in Florence, Italy. Since then she has played at some of the most renown clubs in the world including Berghain in Berlin, Output in New York, Rex in Paris, Hive in Zürich, The Egg in London, Harry Klein in Munich, Studio in Essen, Nox in Madrid, Rex Club in Paris, Metro in Alicante, Privilege Ibiza, KaterBlau in Berlin, Sisyphos in Berlin, Watergate in Berlin, Wilde Renate in Berlin, Warung + D-Edge + Beehive + Club 88 in Brazil, Le Bataclan in Paris, Tanzhaus West in Frankfurt, Artel Bessonnica in Moscow, Amnesia in Ibiza, The Grand Factory in in Beirut, Input in Barcelona, Soho Garden in Dubai, Beit Maariv in Tel Aviv, De Marktkantine in Amsterdam, Oval Space in London, D! Club in Lausanne, Caos in Campinas Brasil, Industria in Porto, Sonora in Bilbao, Pacha in Munich, Smolna in Warsaw and more.
Venue
Prism Club & Kitchen
Old Mumbai Hwy, Financial District, Gowlidoddy, Hyderabad, Telangana 500075