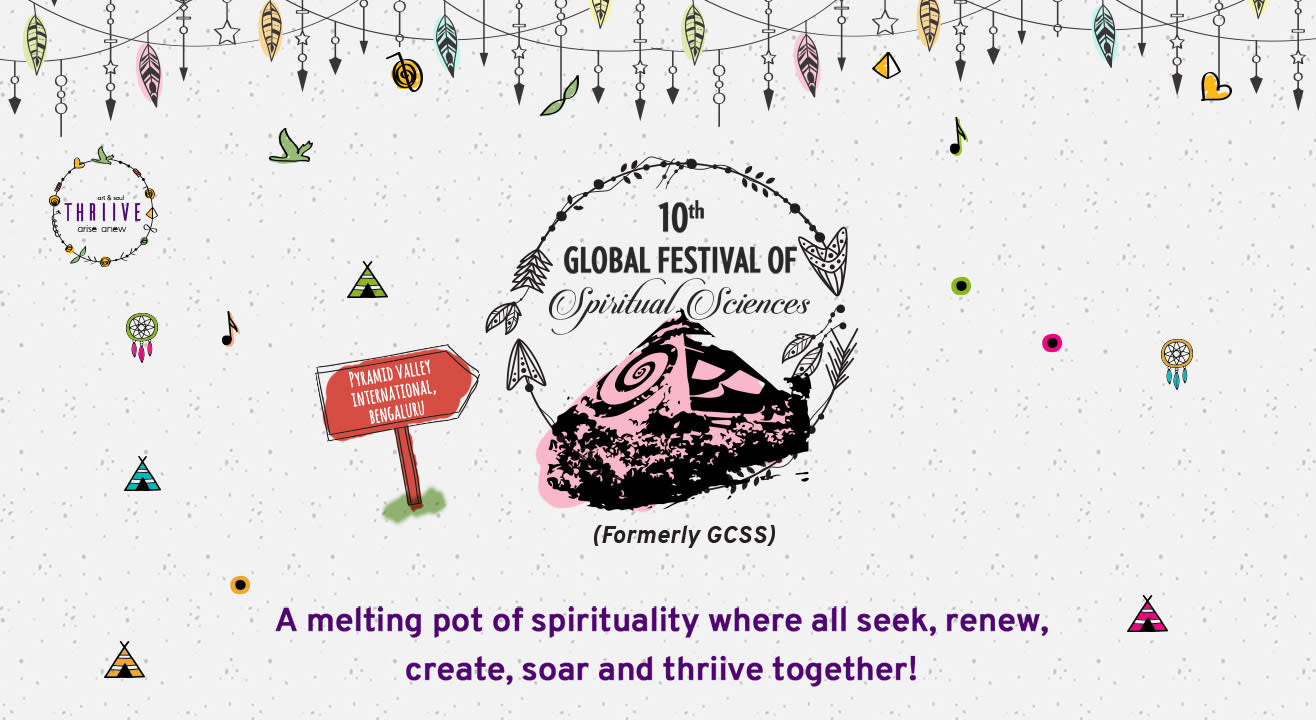 Global Festival of Spiritual Sciences
September 30 - October 4 | 5:30AM
Pyramid Valley International
Step out and enjoy this event
Invite your friends
and enjoy a shared experience
Invite your friends
and enjoy a shared experience
About the Event
Global Festival of Spiritual Sciences
A melting pot of spirituality where all seek, renew, create, soar and thriive together.
For 9 years, the GCSS has brought you International Spiritual Masters who've opened your mind and touched your soul!
In our 10th year, we've turned it into one big celebration of humanity! GCSS is now 'The Global Festival of Spiritual Sciences,' India's biggest spiritual festival!
The Global Festival Of Spiritual Sciences (formerly GCSS) welcomes you to its 10th year of celebrating Oneness through Meditation, Art and Music. Revel in the soothing beauty of Pyramid Valley even as you interact with International Masters through talks, meditations and workshops. Catch up with your local and global network of new and old friends. Quench your soul-thirst with music, dance and yoga.
Brahmarshi Patriji (India) Founder, GFSS
Jasmuheen (Australia) President, GFSS
Dr. Newton Kondaveti and Dr. Lakshmi (India) Founder, GFSS
Rae Chandran (Japan)
Amara Tia Ann (Singapore)
Sonya Sophia (USA)
Ladan Ratcliffe (Iran)
Trish Watts (Australia)
Taniah T Kamadon (Penang, Malaysia)
Songs of Kabir by Vipul Rikhi
Creative Dance Movements Therapy by CMTAI (Creative Movement Therapy Association of India)
Spiritul Dance Show by Natya STEM Dance Kampni
Taoist Harmony Yoga by La Force Vitale
Power Yoga by Shorey YogAyush
Be a part of the unparalleled energy that has ignited deep transformation in the hearts and minds of 5000+ like-minded souls across the world—our Thriive tribe!
Celebrate with us! Meditate, sing, dance, connect and raise your vibrations straight through the roof to the 5th dimension!
Listen to some of today's greatest minds reveal the inner secrets of the Universe and the time you exist in!
Learn unique techniques to break out of your mould, quench your soul-thirst and soar above mundane routines.
Steep yourself in the serenity of the gorgeous Pyramid Valley and its energising vibrations.
Spiritual Seekers
Meditators
Healers
Students
Doctors
Scientists
Businessmen
An Initiative by Pyramid Valley
Pyramid Valley is an International Meditation Center serving individuals, societies and organizations in their quest for self realization and spiritual wisdom and helps them unlock their hidden potential. It is also a proud home for the first Largest Meditational Pyramid. Inspired by the vision of our Founder Brahmarshi Patriji's that "Masters of the World .. Unite". Pyramid Valley is setup with a core objective of providing a COMMON PLATFORM for all world spiritual masters, to collaborate for a peaceful and love filled planet Earth in the shortest possible time. Pyramid Valley is a very energetic and wonderful place for meditation.
Event Managed by Thriive Art & Soul
Thriive is a theory. A simple one - a belief that all it takes to transform the ordinary to extraordinary is a pulse of energy. That all it takes to go from struggling "inside the box" to leaping "outside the box" is but a vibrating thought. A single instant, a moment of light, a revelation can at times break down those walls, and suddenly we begin to Thriive. STAY TUNED to connect to our growing network of Thriivers - people like us - homemakers, teachers, lawyers, entrepreneurs, artists, musicians, actors, healers, therapists, and global coaches.
Registrations must be accompanied by the full program donation as mentioned in the registration form or online payment form.

CANCELLATION BY PARTICIPANTS: There are several costs involved in making preparations for the event very early on. Partial refund will be given at the request of the participant as per the following:
Cancellation on or before September 20th, 2017: 50% of donation amount refund.
Cancellation between September 21st - 28th, 2017: 25% of donation amount refund.
Cancellation on or after September 29th, 2017: No refund

TRANSFERRING THE NAMES: Transferring of the participant entry to another person is allowed upon request if adequate notice is given.

EVENT ALTERATIONS: The Pyramid Spiritual Trust reserves the right to alter any aspect of the event due to any events beyond the control of the Trust.

CANCELLATIONS OF EVENT: We reserve the right to cancel any part of the event because of circumstances beyond our control. There will be a refund of the donation in such a case.
Pyramid Valley International
Maitreya-Buddha Vishwalayam, Kanakapura Road, Kebbedoddi Village, Kanakapura Taluk, Ramanagar, Harohalli Hobli, Karnataka 562112
GET DIRECTIONS