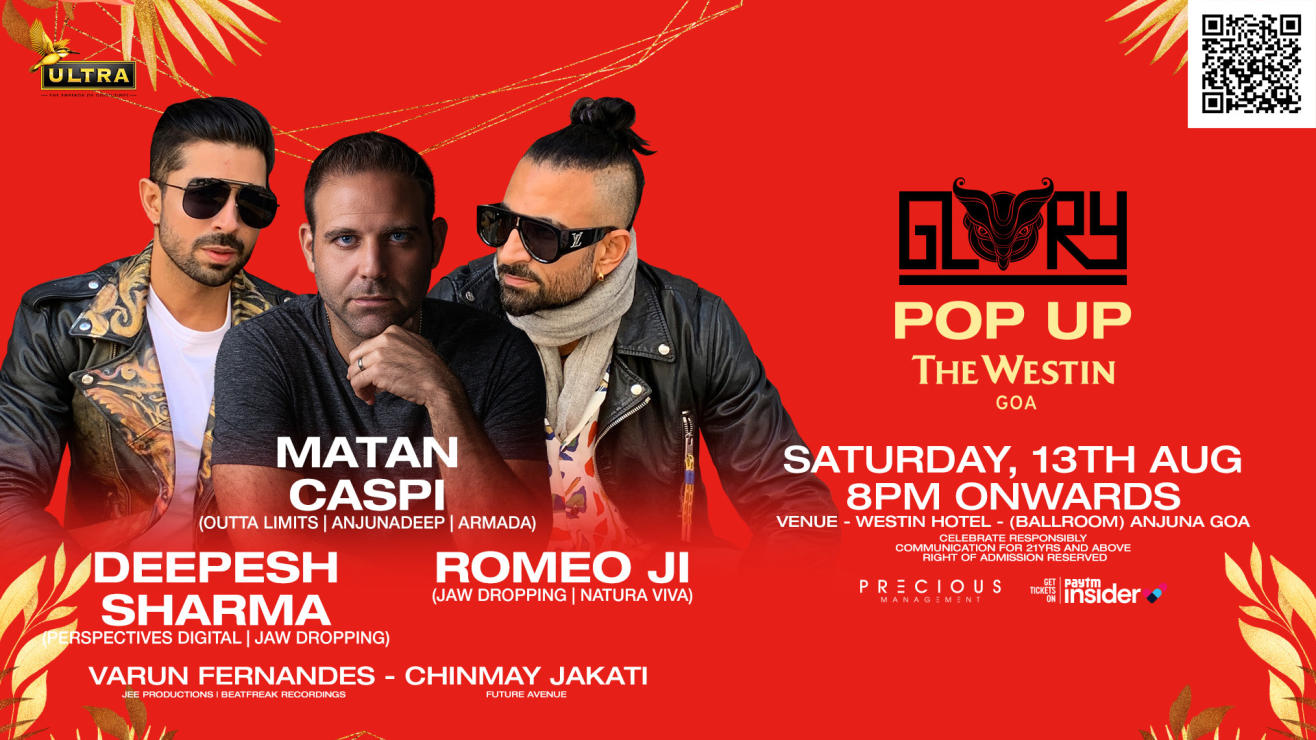 GLORY MONSOON POP UP @ WESTIN GOA
Step out and enjoy this event
Event Guide
Live Performance
Enjoy a unique experience
Invite your friends
and enjoy a shared experience
GLORY MONSOON POP UP @ WESTIN GOA
Step out and enjoy this event
Event Guide
Live Performance
Enjoy a unique experience
Invite your friends
and enjoy a shared experience
Event Guide
Live Performance
Enjoy a unique experience
Covid 19 Safety Measures
This event adheres to the following

Health & safety measures
Temperature Checks
Hand Hygiene Stations
Organisers wear masks
Invite your friends
and enjoy a shared experience
Covid 19 Safety Measures
This event adheres to the following

Health & safety measures
Temperature Checks
Hand Hygiene Stations
Organisers wear masks
Yaaaaaaaasssss Back by popular demand! We are ready to rock this show! With our Glory family!!
Popping up @thewestingoa in the Ball Room!
We are recreating the GLORY dance floor & experience just for you !
𝗠𝗔𝗧𝗔𝗡 𝗖𝗔𝗦𝗣𝗜 (𝑶𝒖𝒕𝒕𝒂 𝑳𝒊𝒎𝒊𝒕𝒔)
A MAJOR name that has toured almost every country & chart-topper on
leading record labels such as Universal Music, Global Underground, Anjunabeats, Spinnin' to name a few, along with his successful imprint in his own record label 'Outta Limits Recordings' & his strong footprint in the progressive house genre with support from the likes of Carl Cox, Tiesto, Above and Beyond, is testament to what a musical powerhouse he is!
He created history @GLORYgoa with longest ever 7 hour set spinning his acclaimed Supernova on a SuperNova night! Let's give up for more magical moments with Matan
Alongside
𝗗𝗘𝗘𝗣𝗘𝗦𝗛 𝗦𝗛𝗔𝗥𝗠𝗔 x 𝗥𝗢𝗠𝗘𝗢 𝗝𝗜 (𝑷𝒆𝒓𝒔𝒑𝒆𝒄𝒕𝒊𝒗𝒆𝒔 𝑫𝒊𝒈𝒊𝒕𝒂𝒍 | 𝑱𝒂𝒘 𝑫𝒓𝒐𝒑𝒑𝒊𝒏𝒈 | 𝑵𝒂𝒕𝒖𝒓𝒂 𝑽𝒊𝒗𝒂))
The visionaries of GLORY!
𝗥𝗢𝗠𝗘𝗢 𝗝𝗜 (𝑱𝒂𝒘 𝑫𝒓𝒐𝒑𝒑𝒊𝒏𝒈 | 𝑵𝒂𝒕𝒖𝒓𝒂 𝑽𝒊𝒗𝒂)
Romeo Ji
Romeo the Founder of GLORY, his vision is undoubtedly seen and heard throughout the property, with his enthusiasm to create amazing events and his ear for great sound, Romeo is a pioneer in the Indian electronic music culture.
Recently debuting in techno as an artist Romeo Ji (Jaw-Dropping | Natura Viva) he has shared the stage with the likes of Adana Twins, Stereo Express, Kiko & more!
Romeo Ji has been producing music and is crossing over to the international community with his latest releases on the likes of - record labels Jaw Droppings & Natura Viva.
Parties are part of his being and he wouldn't have it any other way.
𝗗𝗘𝗘𝗣𝗘𝗦𝗛 𝗦𝗛𝗔𝗥𝗠𝗔 (𝑷𝒆𝒓𝒔𝒑𝒆𝒄𝒕𝒊𝒗𝒆𝒔 𝑫𝒊𝒈𝒊𝒕𝒂𝒍 | 𝑱𝒂𝒘 𝑫𝒓𝒐𝒑𝒑𝒊𝒏𝒈) has been taking over the national & international scenes by storm, through his appearance at multiple international festivals & playing alongside Techo aces such as Black Coffee, Dixon, Artbat, Adana Twins & more!
Another feather to his hat is his own artist management agency "Precious Management" that has been building bridges across countries to programme top music talents!
Catch good vibes and eclectic tunes by 𝗩𝗔𝗥𝗨𝗡 𝗙𝗘𝗥𝗡𝗔𝗡𝗗𝗘𝗦
( 𝑱𝑬𝑬 𝑷𝒓𝒐𝒅𝒖𝒄𝒕𝒊𝒐𝒏𝒔 | 𝑩𝒆𝒂𝒕𝒇𝒓𝒆𝒂𝒌 𝑹𝒆𝒄𝒐𝒓𝒅𝒊𝒏𝒈𝒔 ) A long standing member of the musical culture of GLORY family - Varun Fernandes with release on Zephyr Music, BeatFreak Recordings, JEE Productions & more.
Warm up to the main acts with our resident 𝗖𝗛𝗜𝗡𝗠𝗔𝗬 𝗝𝗔𝗞𝗔𝗧𝗜 (𝑭𝒖𝒕𝒖𝒓𝒆 𝑨𝒗𝒆𝒏𝒖𝒆)
Let's get popping!
Tickets selling out fast!
This communication is for 21years and above.
The Westin Goa
Survey No : 204/1, Dmello Vaddo, Anjuna, Goa 403509, India
GET DIRECTIONS
GLORY MONSOON POP UP @ WESTIN GOA
Step out and enjoy this event
Event Guide
Live Performance
Enjoy a unique experience
Invite your friends
and enjoy a shared experience